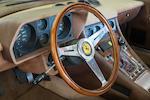 One of a mere 524 examples produced
1973 Ferrari 365GT4 2+2 Berlinetta
Coachwork by Pininfarina
Chassis no. 17293
'Most important was the double overhead cam engine. Like Rolls-Royce, no horsepower figure was quoted, but surely it was at least 320. More important was its massive amount of torque. Taken together with the turbine-like characteristics of the V12 engine, it mattered little which gear one was in or at what speed.' – Stanley Nowak on the 356GT4 2+2, 'Ferrari on the Road'.

By the mid-1960s, 50 percent of all Ferraris produced were being built with four seats, and the 365GT4 2+2, introduced towards the end of 1972, was the biggest and best equipped of this family of four-seaters that had begun with the 250GTE back in 1960. Flagship of the Maranello range, it reaffirmed Ferrari's determination to compete with the world's finest luxury saloons. Based on the preceding 365GT 2+2, albeit lower, longer and wider, the newcomer was fitted with a four-cam version of the 4.4-litre V12 engine while retaining its predecessor's mechanical underpinnings. Thus the '4' featured all-independent suspension featuring Koni's self-levelling system at the rear while further refinements included mounting the engine and drive train in rubber bushes to insulate the car's occupants from noise and vibration, and offering air conditioning and ZF power-assisted steering as standard equipment. A total of only 524 had been completed by the time production ceased in 1976.

This Ferrari 365GT4 was delivered new to Switzerland where it remained for many years before passing to the second owner in Greece. Copies of the Swiss and Greek registration documents are on file. In 2011 the car was bought by the current vendor, who had it extensively mechanically rebuilt by Klassik Garage Kronberg of over a three-year period (2011-2014) at no expense saved, as evidenced by invoices totaling more than €50,000 in the history file. Currently displaying a believed-genuine total of approximately 83,000 kilometres on the odometer, this beautiful Ferrari four-seater is 'on the button' and ready to go.

Cette Ferrari 365 GT4 livrée neuve en Suisse y demeura de nombreuses années avant de passer aux mains de son deuxième propriétaire en Grèce. Son dossier contient les copies des documents d'immatriculation dans ces deux pays. En 2011, la voiture fut achetée par l'actuel vendeur qui fit reconditionner sa mécanique par Klassik Garage Kronberg sur une période de trois ans (2011-2014) et sans considération de coût comme le montrent les factures jointes dont le total dépasse €50 000. Affichant actuellement 83 000 km au compteur – kilométrage vraisemblablement exact - cette superbe Ferrari à quatre places prête à prendre la route démarre « au quart de tour ».