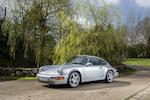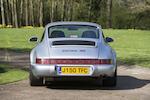 1992 Porsche 911 Carrera RS Type 964 Coupé
Chassis no. WPOZZZ96NS491086
Engine no. 62N81685
Representing a major step forward in the development of Porsche's perennial 911, the Carrera 4 and Carrera 2 ('Typ 964' in factory parlance) had been launched in 1989, the former marking the first time that four-wheel drive had been seen on a series-production model. Porsche had experimented with four-wheel drive on the 959 supercar, and many of the lessons learned from the latter influenced the design of the new Carreras' chassis and suspension. Face-lifted but retaining that familiar shape, the newcomers had been given a more extensive work-over mechanically, 87% of parts being claimed as entirely new. The pair shared the same 3.6-litre flat-six engine, while power-assisted steering (another 911 'first'), anti-lock brakes and a five-speed manual transmission were standard on both. Its new engine enabled the 964 to out-perform the old '3.2' yet still met the latest emissions regulations, top speed increasing to 267kmh with 100kmh attainable in 5.6 seconds.

Evoking memories of the legendary 2.7 and 3.0-litre RS and RSR 'homologation specials' of the 1970s, in 1991 Porsche introduced the Type 964 Carrera RS, which was a lightweight variant like its illustrious forebears. It was based on the 'Carrera Cup' competition car and sold in Europe only, though there was a lower-specification 'RS America' for the United States market. There was also a Touring version that kept most of the road equipment fitted to the standard Carrera.

The Carrera RS retained the 3.6-litre engine, albeit boosted in maximum output to 260bhp and equipped with a lightened flywheel for improved response. The G50/10 five-speed transmission featured closer ratios, an asymmetrical limited-slip differential and steel synchromesh, while the suspension was lowered and stiffened. The interior was stripped out completely and the power steering, power windows and seats, rear seats, air conditioning, cruise control, sound deadening material and stereo system removed. Two lightweight racing bucket seats were fitted instead.

The front bonnet was made of aluminium and the chassis was seam welded, while the side windows were made from thinner and lighter glass. Rounding off this radical exercise in weight reduction, the Carrera RS was equipped with 17" Cup magnesium wheels. The result was a total weight saving of around 150kg compared to the Carrera 2, transforming the RS into a faster, more agile and responsive car. For the following Carrera RS '3.8', the bore size was increased by 2mm for a capacity of 3,746cc. Maximum power went up to 300bhp and this M64/04 engine was installed in a wider, Turbo-style body, also used for the RSR competition version. Excluding America and RSR variants, only 2,051 units of the Typ 964 Carrera RS were produced, with approximately 10% being Polar Silver like that offered here.

This example was sold new in Italy on 11th March 1992, subsequently passing to Surjid Chatterjee, an optometrist from Exeter, UK. A Porsche enthusiast, Mr Chatterjee arranged the necessary changes for UK MoT certification such as headlight lenses and an MPH speedometer (the odometer remains in kilometres). The current owner purchased the car in November 2001, since when it has been used primarily for touring from the UK to France, Germany, Italy and Switzerland, always being driven in a mature manner. An Alpine stereo and two door speakers were added for touring purposes but can easily be removed. There is a front stabiliser bar attached to the front strut towers and the engine has been fitted with a 'mild' chip (original with the car). The interior features tri-colour leather seats and signature red safety belts.

The Carrera has always been stored under cover in a purpose-built warehouse and always hand washed. To the owner's best knowledge, it has never been used on a racetrack, raced or crashed. The paintwork remains original. A 48,000-mile major service has just been completed; new Michelin Pilot Sport tyres fitted; and the original magnesium wheels refurbished at a cost of £3,000. In addition, the engine bay has been detailed recently (post-photography). Rare and highly desirable, this exclusive Porsche Carrera RS comes complete with its original books, tools, paperwork and service receipts.

Cette voiture vendue neuve en Italie le 11 mars 1992 devint ensuite la propriété de Surjid Chatterjee, optométriste à Exeter (Royaume-Uni). Passionné de Porsche, M. Chatterjee fit procéder aux modifications nécessaires à la mise en conformité aux règlements du Royaume-Uni afin de passer le MoT : changement des projecteurs et compteur de vitesse en mph (le totalisateur demeurant en kilomètres). L'actuel propriétaire acheta la voiture en novembre 2001 et l'utilisa principalement lors de randonnées touristiques entre le Royaume-Uni et la France, l'Allemagne, l'Italie et la Suisse en la conduisant de façon très responsable. Un système stéréo Alpine et deux haut-parleurs qui ont été ajoutés en vue de cette utilisation touristique peuvent être aisément déposés. On notera la présence d'une barre anti-dévers avant entre les tourelles de suspension et le moteur a été doté d'une cartographie « calme » (d'origine sur la voiture). L'intérieur se distingue par une sellerie tricolore en cuir et des ceintures de sécurité rouge.

La Carrera a toujours été stockée à l'abri dans un garage dédié et lavée à la main. Aux dires du vendeur, elle n'a jamais couru sur piste ni ailleurs et n'a jamais été accidentée. La peinture est d'origine. Un entretien complet vient d'être effectué à 48 000 miles, des pneus neufs Michelin Pilot Sport ont été montés et les roues d'origine en magnésium ont été reconditionnées pour un coût de £3 000. En outre, le compartiment moteur a été récemment remis en état. Rare et très recherchée, cette exclusive Porsche Carrera RS est accompagnée de ses manuels d'origine, de son outillage, de ses documents et d'attestations des travaux d'entretien effectués.