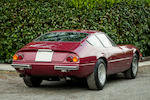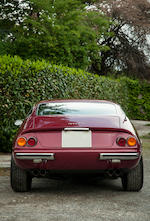 Single family ownership for the last 27½ years
1970 Ferrari 365GTB/4 'Daytona' Berlinetta
Chassis no. 13315
The ultimate expression of Ferrari's fabulous line of V12 front-engined sports cars, the 365GTB/4 debuted at the Paris Salon in 1968, soon gaining the unofficial name 'Daytona' in honour of the sweeping 1-2-3 finish by the Ferrari 330P4 at that circuit in 1967. The influential shark-nosed styling was by Pininfarina's Leonardo Fioravanti, later the famed carrozzeria's director of research and development, who later revealed that the Daytona was his favourite among the many Ferraris he designed. The bonnet, extending for almost half the car's total length, was complimented by a small cabin and short tail; the overall effect suggesting muscular horsepower while retaining all the elegance associated with the Italian coachbuilder's work for Maranello. An unusual feature of the show car was a full-width transparent grille panel behind which sat the headlamps, though this was replaced by electrically-operated pop-up lights to meet US requirements soon after the start of production, with deliveries of cars to this specification getting under way in mid-1970. Although the prototype had been styled and built by Pininfarina in Turin, manufacture of the production version was entrusted to Ferrari's subsidiary Scaglietti, in Modena.

The Daytona's all-alloy, four-cam, V12 engine displaced 4,390cc and produced its maximum output of 352bhp at 7,500rpm, with 318lb/ft of torque available at 5,500 revs. Dry-sump lubrication enabled it to be installed low in the oval-tube chassis, while shifting the gearbox to the rear in the form of a five-speed transaxle meant 50/50 weight distribution could be achieved. The all-independent wishbone and coil-spring suspension was a recent development, having originated in the preceding 275GTB. Unlike the contemporary 365GTC/4, the Daytona was not available with power steering, a feature then deemed inappropriate for a 'real' sports car. There was, however, servo assistance for the four-wheel ventilated disc brakes. Air conditioning was optional, but elsewhere the Daytona remained uncompromisingly focussed on delivering nothing less than superlative high performance.

With a top speed in excess of 170mph, the Daytona was the world's fastest production car in its day, and surely is destined to occupy the front rank of high-performance sports cars for the foreseeable future. A mere 1,300 Berlinetta models and 123 Spyder convertibles had been made when Daytona production ceased in 1973.
Its accompanying Massini Report reveals that chassis number '13315' was completed on 4th April 1970 and originally finished in Rosso Rubino with Nero leather interior. Later that same month the Ferrari was delivered to the dealership of Romeo Pedini in Perugia, Italy and on 30th May was sold to its first owner, Augusto De Megni of Perugia. De Megni kept the car for the next four years before selling it in April 1974 to one Nicola Campanile, a resident of Naples. The Daytona next changed hands in May 1975, passing to Mrs Maria Rosario Ascione of Naples. Its fourth owner, Ciro Nappi of Naples, bought the Ferrari from Mrs Ascione in March 1976.

Repainted yellow, the Daytona appeared at the Raid Ferrari d'Epoca meeting at Modena in September 1981 driven by Antonio Carrotta of Naples, entered by Scuderia Vesuvio (competitor number '29'). The current vendor, only the fifth owner in 45 years, purchased the Daytona from Ciro Nappi in November 1987. Now repainted in its original colour of Rosso Rubino, '13315' has covered some 80,000 kilometres from new and is described by the private vendor as in generally good original condition. The car is offered with its operating/maintenance handbook and Italian Libretto di Circolazione, Estratto Cronologico, ACI Pubblico Registro Automobilistico and Foglio Complementare.

Le rapport Massimi joint au dossier signale que le châssis n° 13315 fut achevé le 4 avril 1970 et peint initialement en Rosso Rubino avec intérieur en cuir Nero, comme actuellement. Dans le mois, la voiture fut livrée au distributeur Romeo Pedini à Pérouse (Italie) et vendue le 20 mais à son premier propriétaire, Augusto De Megni de cette même ville. De Megni conserva la voiture pendant quatre ans avant de la céder en avril 1974 à un certain Nicola Campanile, résidant à Naples. La Daytona changea de main en mai 1975, achetée par Mme Maria Rosario Ascione de Naples. Son quatrième propriétaire, Ciro Nappi de Naples acheta la Ferrari à cette dernière en mars 1976.

Repeinte en jaune, la Daytona apparut au raid Ferrari d'Epoca à Modène en septembre 1981 aux mains d'Antonio Carrotta de Naples, engagée par Scuderia Vesuvio (sous le n° 29). Le vendeur actuel, le cinquième seulement en 45 ans, acheta la Daytona à Ciro Nappi en novembre 1987. Actuellement repeinte dans sa teinte d'origine, « 13315 » qui a couvert environ 80 000 km depuis l'origine est décrite par le vendeur (privé) comme étant en bon état général d'origine. La voiture est accompagnée de son carnet d'entretien et du Libretto di Circulazione italien, de l'Estratto Cronologico, de l'ACI Pubblico Registro Automobilistico et du Foglio Complementare.