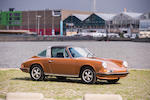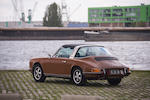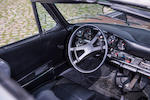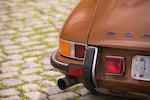 1971 Porsche 911S 2.4-Litre Targa Coupé
Chassis no. 9112310558
Engine no. 6329090
The first of countless upgrades to Porsche's perennial 911 came in 1966 with the introduction of the 911S. Easily distinguishable by its stylish Fuchs five-spoked alloy wheels, the 'S' featured a heavily revised engine producing 160bhp, the increased urge raising top speed by 16km/h to around 217km/h. By this time the models on offer had stabilised at three: the entry-level 911T, middle ranking 911E and top-of-the-range 911S, all of which were available as either a closed coupé or Targa convertible. A lengthened wheelbase introduced in 1969 improved the 911's handling, and then in 1970 the air-cooled, 'flat six' engine underwent the first of many enlargements - to 2.2 litres. For 1972 all 911 variants received the 2.4-litre unit, which in 'S' specification produced a maximum of 190bhp. By this time the 911S also featured a five-speed gearbox (or four-speed Sportomatic) and 6" wheel rims as standard.

Two years after the coupé's introduction in 1964, a convertible 911 - the 'Targa', named in honour of Porsche's numerous victories in the Sicilian classic – had become available. Expected US safety legislation had prompted an ingenious approach to the soft-top 911, the Targa sporting a hefty roll-over bar to protect the occupants in the event of an inversion, together with removable roof and rear hood sections, which were stowable in the boot. For 1969 a quieter and less leak-prone fixed rear window replaced the less than perfect rear hood, and the ever-popular Targa would continue in this form well into the 1990s, sharing countless mechanical and styling developments with its closed cousin along the way. The much loved and instantly recognisable Targa finally bowed out at the decade's end when the Cabriolet became the sole open-topped 911 with the introduction of the Type 996 range for 1999, only to make a reappearance in the 2014 range.

A matching numbers example finished in its original colour scheme of Sepia Brown, this manual transmission 911S Targa was restored in 2011 and is described by the vendor as in generally good/very good condition. The car is offered with Belgian Carte Grise and Contrôle Technique.

Exemplaire à numéros concordants livré neuf en Belgique, dans ses couleurs d'origine brun Sepia avec transmission manuelle, cette 911 S Targa, bien que livrée d'origine avec une transmission Sportomatic, a été restaurée en 2011 et est décrite par son vendeur comme en très bon état général. La voiture qui a toujours été équipé des sièges optionnels entièrement en cuir de type Recaro est vendue avec sa carte grise belge et son contrôle technique.

Saleroom notices
Please note that the car is not a Belgian delivery car from new as stated in the printed catalogue, but a German delivery car from new Veuillez noter que cette voiture est une voiture delivree neuve non pas en Belgique,mais en Allemagne.