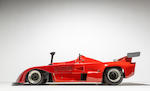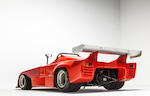 From the Maranello Rosso Collection
1974 Osella PA3-5 / 2000 Sport
Chassis no. 028
During the later 1970s, Abarth's reputation was defended across a broad spectrum of motor sport by a loyal clientele of private owners. Their cars were variously prepared, maintained, developed and modified by assorted mainly Italian specialists. At the beginning of 1971, Carlo Abarth had set up a separate organisation under the direction of entrepreneurially-minded engineer Vincenzo 'Enzo' Osella. He was tasked with maintaining and updating racing cars sold by Abarth to private entrants. This innovation was intended to counteract the growing impression that the works-entered cars would always be superior in specification and performance to those offered for customer sale.

Osella operated from a workshop in the Via Guastalla, Turin, and he went so far as to guarantee to his customers that their cars would be mechanically identical to the factory entries. He also distributed aftermarket parts and components to other tuners – all to bolster the belief that they had access to the self-same components as the factory itself.

Having made his name in racing with Abarth cars, Enzo Osella eventually took over the former factory's Abarth sports car programme once Fiat decreed that what had become their wholly-owned subsidiary should in fact concentrate upon engine R&D and the Fiat-cum-Lancia works rally campaign.

From 1974 Enzo Osella began to manufacture both sports-racing and single-seater competition cars under his own name. They should be regarded as products of an independent marque, as distinct from 'Abarth' itself, and this 1974 PA3-5 model formerly celebrated this life-change within the Abarth section of the magnificent Maranello Rosso Collection museum displays at Falciano, San Marino.

This car is offered here as a rolling chassis/body entity, its original BMW M12 4-cylinder racing engine having been removed, although its valuable Hewland FG400 transaxle gearbox is still installed. An Italian Carnet Vettura 'racing passport' accompanies the car as offered here.

Ce modèle PA3-5 de 1974 faisait partie de la section Abarth de la magnifique collection Maranello Rosso exposé au musée de Falciano, à San Marin.
La voiture est vendue comme un ensemble châssis roulant/carrosserie, son moteur 4 cylindres BMW M12 a été démonté, mais sa précieuse boîte transaxle Hewland FG400 est toujours en place. Un passeport de compétition Carnet Vettura italien est vendue avec la voiture sous cette forme.

Saleroom notices
Please be advised this Lot features a Hewland FT400 gearbox, and not an FG400 as stated in the catalogue. Veuillez noter que ce lot presente une boite de vitesse FT400 Hewland et non pas un FG400 comme indiqué sur le catalogue imprimé