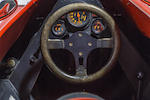 From the Maranello Rosso Collection
circa 1980 Formula FIAT-Abarth Racing Single-Seater
Chassis no. SE033/041
Here we offer this example of the last Abarth car to be produced during the long and productive life of company founder and long-time principal, Carlo Abarth. During the spring of 1979, his Fiat-promoted replacement as company head of the former Abarth & C, Renzo Avidano, received a telephone call from his rugged former boss in Vienna. Carlo Abarth informed Avidano that he (Abarth) had been diagnosed with stomach cancer and that he wished to visit the Turin factory one final time. Avidano had worked faithfully with the Austrian-born engineer/entrepreneur for some 25 years. He met his former superior and took him to the works where the old man studied the brand-new Formula Fiat-Abarth single-seater then under construction. He was critical of the way the car looked and, supported by another of his former colleagues, chief designer Mario Colucci he sat down with some cardboard and a pair of scissors and reworked the car's body shape – in the words of Abarth biographer Luciano Greggio: "...a touch here, a cut there, he worked for an hour in the role that he loved so much because he wanted to leave his mark one last time on a car which, deep down, he still felt was his... That was Carlo Abarth's last, almost mute contribution as a car designer and technician. He died in Vienna on 23 October, 1979...".

So here we offer this example of the last Abarth racing car upon which the great man himself actually had some input.
...
A certificate of origin has survived with this car from its long period of preservation within the Maranello Rosso Collection museum in San Marino. As with all cars that we offer from long-term museum display we are unable to confirm the mechanical condition or completeness of this Lot.

Nous proposons ici cet exemplaire de la dernière Abarth de compétition sur laquelle le grand homme lui-même a été personnellement impliqué.

Cette voiture a conservé son certificat d'origine de sa longue période passée au sein de la collection Maranello Rosso à San Marin. Comme toutes les voitures ayant été exposées pendant de nombreuses années dans un musée, nous ne pouvons garantir son état mécanique ni confirmer qu'elle soit complète.