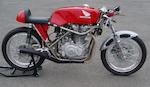 2008 Drixton-Honda 499cc Racing Motorcycle
Engine no. CL450E-4116875
Riders campaigning Honda's air-cooled twins back in the early 1970s frequently turned to alternative frames, the Drixton products of Swiss racer turned frame-maker Othmar 'Marly' Drixl being among the most popular. This modern Drixton-Honda replica was completed in 2008 using a frame built by Bartel Engineering and comes with invoices relating to its construction. The vendor commissioned the machine with the intention of entering it in the Manx Grand Prix but, sadly, his intended rider was killed at the TT before it could be used. Based on a CL450 unit and built to the highest standards, the engine incorporates Arrow con-rods, Wiseco pistons, Nikasil-plated alloy cylinder liners, Megacycle camshafts, R&D valve spring conversion, race-quality valves, Dell'Orto carburettors, Cappelini oil filter kit, external oil lines and PVL ignition. Other noteworthy features include a Nova six-speed gear cluster, six-spring clutch and an oil cooler, while the chassis boasts Ceriani 35mm forks, Maxton rear suspension, Lockheed front brake calliper, Honda master cylinder and a Honda rear drum brake. A Daytona-style seat is included in the sale. Only 10-or-so 'running in' miles have been covered around Mallory Park and the machine is presented ready to race or parade.