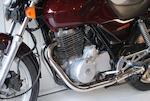 1988 Honda XBR500
Frame no. PC15-5101581
Engine no. PC15E-5101571
Having initially developed large-capacity singles for the off-road market, Honda and its Japanese rivals began offering a succession of purely road-going derivatives. One of the most interesting of these new Hondas was the XBR500 of 1985, the styling of which was unashamedly 'retro' apart from the Comstar wheels. The dry-sump, radial four-valve motor featured electric starting and delivered its claimed 44bhp via a five-speed gearbox, while the entire ensemble weighed in at around 380lbs. Testing an XBR in 1985, Bike magazine managed a best one way speed of 104mph and achieved an overall fuel consumption of 58mpg. Representing a rare opportunity to acquire one of these collectible Honda singles, the restored example offered here is described by the vendor as 'like new' and comes with Netherlands registration papers. A total of 37,887 kilometres (approximately 23,500 miles) is currently displayed on the odometer.