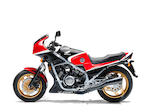 1984 Honda VF750FE
Registration no. B786 WHK
Frame no. RC15-2103933
Engine no. RC07E-2203144
Honda's 1970s domination of the middle and heavyweight classes had been achieved with a succession of across-the-frame, inline fours, but towards the end of the decade the Japanese manufacturer began to turn increasingly to vee-configuration engines, the first four-cylinder example, the shaft-driven VF750 tourer, arriving in 1982. Smaller VF400 and VF500 v-fours followed, together with the range-topping VF1000F and VF1000R, while the sportier VF750F of 1983 switched to chain drive and came with those two 1980s 'must haves': a 16" front wheel and anti-dive forks. Today's VFR800F is a direct descendent of the original VF750, making it one of Honda's longest-running models. The original is already approaching classic status. This particular VF750 was acquired by the vendor in November 2011 having belonged to the previous owner for some 21 years. The machine has not been used since it was treated to a full 'last nut and bolt' restoration in 2014, with no part left untouched. Described by the vendor as in generally excellent condition, this collectible classic Honda is offered with an expired MoT certificate (1994) and V5C registration document.