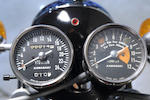 1968 Kawasaki 498cc Mach III
Frame no. KAF 10505
Engine no. KAE 08751
'Only the shotgun acceleration of a Kawasaki can make you feel that good, throttle screwed round as the corner opens up into the next bit of straight as you hit the apex, 'bars shimmying slightly as the front lightens under the power, back end flexing as the engine tries to pull the wheel sideways against all those G's forcing it into the road, oh boy!' – Bike magazine on the H1. From the Z1 to the ZX10R, Kawasaki has long enjoyed a reputation for building uncompromising - often outrageous - high performance motorcycles. However, the machine that started it all was not a four-stroke like the forgoing but a two-stroke – the awesome, legendary 'Mach III' (H1). Light weight combined with a peaky 60bhp and indifferent handling made the two-stroke triple an exciting machine to ride but one that nevertheless had the legs of just about everything under 750cc when launched in 1968. The H1 triple was regularly revised and updated, gaining a front disc brake, revised steering geometry and rubber engine mounts among other changes before production ceased in 1976, by which time it had become the KH500. This early example is offered fresh from restoration having covered only some 15 'shakedown' kilometres since the work's completion in March 2014 (the odometer was zeroed during the rebuild). The machine is offered with Federazione Motociclistica Italiano Registro Storico Nazionale certificate.
Saleroom notices
The Engine Number is KAE09751