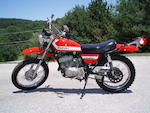 1972 Suzuki TS250J
Frame no. TS2503-28875
Engine no. TS2503-28934
Like all the Japanese manufacturers, Suzuki recognised the importance of the North American 'off-road' market and began offering appropriate models in the mid-1960s. Its first efforts were modified roadsters but as development progressed Suzuki's street scramblers became more capable on the dirt. One of the most successful was the TS range of single-cylinder two-stroke trial bikes, which commenced in 1969 with the TS250, while the successor ER series shifted the focus even more towards off-road capability. This TS250J was restored in the USA and formed part of a private collection in Glen Rock, Pennsylvania together with numerous other motorcycles and priceless cars until the owner decided to thin out his collection. Imported into the UK in March 2015 and described by the vendor as in generally excellent condition, it comes with US title, customs document and NOVA declaration to facilitate an application to register it as an imported vehicle. A total of only 1,861 miles is displayed on the odometer and this has to be one of the best examples of its type currently available. An opportunity not to be missed.