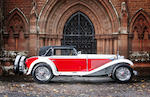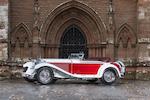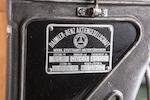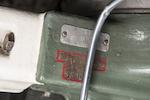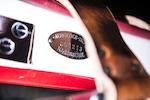 Single family ownership since 1978
1931 Mercedes-Benz 15/75 PS Mannheim 370 S Roadster
Chassis no. U 83903
Engine no. U 83903
Following the merger of Daimler and Benz in June 1926, Hans Nibel, creator of the legendary 200 horsepower 'Blitzen Benz', took over sole responsibility as Technical Director on 1st January 1929, having shared the post with Ferdinand Porsche since the two companies' amalgamation.
Although the firm's large supercharged models attracted the headlines, the 'bread-and-butter' Stuttgart was of far greater commercial importance, and it was Porsche's perceived failure to get it right that contributed to his resignation in 1928. Revised by Nibel after Porsche's departure, the Stuttgart in its many forms would go on to become the backbone of Mercedes-Benz production and a huge success. Nibel also improved another of Porsche's designs, the mid/upper range Mercedes-Benz 300, which had been introduced at the 1926 Berlin Motor Show. Massive and lumbering, the 300 was extensively revised by Nibel, emerging smaller, lighter and with more attractive styling. Given the name 'Mannheim', this new model was built as the 350 (3.5-litre, 14/70PS), the 370 (3.7-litre, 15/75PS) and the 370 S (3,7 Liter, 15/75 hp) as well as the 370 K (3.7 litre, 15/75 hp short wheel base)

A well-engineered car, the Mannheim nevertheless represented the last of the old technology rather than the first of the new. A six-cylinder, seven-bearing sidevalve engine provided the power, while the channel-section chassis featured live axles, semi-elliptical springs and cable brakes. The gearbox was a three-speed unit with floor change; the radiator was flat-fronted and the steel wheels were of the artillery type. Top speed of the 370 model was in the region of 100km/h (62mph). Featuring coachwork by Sindelfingen, the Mannheim was manufactured in a wide variety of forms including saloons, cabriolets and a roadster. Total production of the Mannheim had amounted to 1,896 cars when the model was superseded in 1933, only 195 of which were 370 S models like that offered here.
Only produced as a roadster or cabriolet, the 370/380 S represents the Mannheim in its ultimate form, boasting a shortened chassis, twin-carburettor engine, overdrive gearbox, pointed radiator and wire wheels. Top speed of these models was in the region of 130km/h (80mph). This particular example was first owned by Union Automobil GmbH in Berlin and then by an architect in Stuttgart. Its third owner was a cinema manager and its the fourth a film producer in Bavaria. The current owners discovered the Mannheim in the mid-1960s. They had just finished restoring another 370 S and were told about this car, which was stored in a garage next to a film studio. (The number plates from their first 370 S are currently on this one). After some 13 years of trying they finally managed to buy it in 1978.

A 'frame off' restoration was commenced in 1985 in the course of which a new fuel tank was made in stainless steel, the lighting and interior leather restored, and the woodwork and electrics renewed. Otherwise the car remains outstandingly original, its rust-free body having required no welding (see photographic record on file). One particularly noteworthy feature is this car's shallow windscreen, which is 11cm shorter than those of other cars in this series, and contributes to its sporting appearance. The restoration was finished in 2000, since when the car has been driven only some 300-500 kilometres, remaining on display in the vendors' garage at other times. Originally black but strikingly refinished in two-tone white/red with red leather interior, '83903' represents a wonderful opportunity to acquire one of these rare Mannheim sports cars.

Seit 1978 im Familienbesitz
1931 Mercedes-Benz 15/75 PS Mannheim 370 S Roadster
Fahrgestell-Nr.U 83903
Motor-Nr.U 83903

Hans Nibel, der Konstrukteur des legendären, 200 PS starken 'Blitzen Benz', übernahm am 1. Januar 1929 die alleinige Verantwortung als technischer Direktor des Unternehmens. Seit dem Zusammenschluβ von Daimler und Benz im Juni des Jahres 1926 hatte er sich diesen Posten mit Ferdinand Porsche geteilt. Obwohl die groβen Kompressorwagen im Rampenlicht standen, waren die ,,Brot- und Butter" Autos vom Typ Stuttgart von weitaus gröβerer wirtschaftlicher Bedeutung und der Eindruck, dass Porsche dies vernachlässigt hatte, führte unter anderem zu seinem Ausscheiden aus der Firma im Jahre 1928.
Danach überarbeitete Nibel den Stuttgart, der dann in seinen vielen Versionen zum Rückgrat der Mercedes-Benz Produktion und ein groβer Erfolg wurde. Nibel verbesserte auch eine andere Entwicklung Porsche's, den Mercedes-Benz 300 aus dem mittleren/oberen Segment der Marke. War er vorher doch eher groβ und schwerfällig, so wurde er nach Nibel's umfassender Überarbeitung kleiner, leichter und attraktiver gestaltet. Er erhielt den Namen ,,Mannheim" und war in den Versionen 350 (3,5 Liter, 14/70 PS), 370 (3,7 Liter, 15/75 PS) und 370 S (3,7 Liter, 15/75 hp) as well as the 370 K (3.7 litre, 15/75 hp short wheel base) erhältlich.

Der Mannheim war ein solide konstruiertes Auto, repräsentierte allerdings eher den Ausklang alter Technologie als den Beginn einer neuen. Ein siebenfach-gelagerter, seitengesteuerter Reihensechszylinder sorgte für den Antrieb, während das U-Profil Fahrgestell über Starrachsen, halb-elliptische Blattfedern sowie Seilzug-Bremsen verfügte. Das Getriebe hatte drei Gänge mit einem Bodenschalthebel, der Wagen verfügte über einen Flachkühler und Vollspeichenräder. Die Höchstgeschwindigkeit lag bei 100 km/h. Die Karosserien wurden in Sindelfingen in verschiedenen Versionen als Limousinen, Cabriolets und Roadster gebaut. Als das Modell 1933 auslief, waren 1,896 Wagen gebaut worden, davon nur 195 als 370 S, wie der hier angebotene.
Der 370/380 S wurde nur als Roadster oder Cabriolet gebaut und war die Krönung der Modellreihe. Er hatte ein Fahrgestell mit verkürztem Radstand, einen Motor mit zwei Vergasern, ein Getriebe mit Overdrive, einen V-förmigen Kühler sowie Speichenräder. Die Höchstgeschwindigkeit dieser Modelle lag bei ca. 130 km/h.
Die Auslieferung dieses Wagens erfolgte an die Union Automobil Gmbh in Berlin, der zweite Besitzer war ein Stuttgarter Architekt, der dritte ein Kinobetreiber und der vierte ein bayrischer Filmproduzent. Die aktuellen Besitzer entdeckten den Mannheim Mitte der sechziger Jahre – sie hatten gerade einen anderen 370 S restauriert und erfuhren von der Existenz dieses Wagens in einer Garage neben einem Filmstudio. (Die Nummernschilder ihres ersten 370 S sind zur Zeit an diesem Wagen angebracht.) Nach 13 Jahren gelang ihnen endlich der Ankauf im Jahre 1978.

Die Restaurierung begann 1985 – die Karosserie wurde vom Fahrgestell getrennt, ein neuer Benzintank wurde aus rostfreiem Stahl angefertigt, die Beleuchtungsanlage und die Innenausstattung wurden restauriert, und das Holz und die elektrische Anlage erneuert. Davon abgesehen ist der Wagen noch immer sehr original, die rostfreie Karosserie bedurfte keiner Schweiβarbeiten (Fotos der Restaurierung sind vorhanden). Eine Besonderheit dieses 370 S ist die niedrige Windschutzscheibe, die 11 cm niedriger als die anderen Modelle ist und zu dessen sportlichem Erscheinungsbild beiträgt. Die Restaurierungsarbeiten endeten im Jahr 2000, seitdem wurde der Wagen nur ca. 300 – 500 km gefahren und ansonsten in der Garage des Einlieferers ausgestellt. Ursprünglich in schwarz ausgeliefert, wurde der Wagen im Zuge der Restaurierung zweifarbig in weiβ und rot lackiert und mit einer roten Lederinnenausstattung versehen, eine Farbkombination, die hervorragend zu diesem 370 S paβt. Eine wunderbare Gelegenheit, einen der seltenen Sportwagen vom Typ Mannheim zu erwerben.

Saleroom notices
Please note that this is a Mercedes-Benz Mannheim 370 S Sport Cabriolet and not roadster as stated in the catalogue