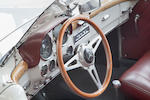 Ex-Joseph F Weckerle
1955 Mercedes-Benz 190 SL Clubsport Roadster
Chassis no. 121.042-5500594
Engine no. 121.921-7500896
'The outstanding achievement of the 190 SL is without doubt its quality in design and workmanship. But a close second is the general feeling of solidity it conveys.' – Road & Track.
Alongside its hyper-expensive race-bred sports car - the 300 SL - Mercedes-Benz offered the less exotic but no less refined 190 SL. Announced in 1954 and based on the 180 saloon whose all-independently-suspended running gear it used, the 190 SL did not enter production until January 1955, the delay being caused by alterations aimed at strengthening the saloon's shortened platform to compensate for the open body's reduced stiffness.

Mounted on a detachable sub-frame together with the four-speed manual gearbox, front suspension and steering gear, the power unit was a 1,897cc overhead-camshaft four - the first such engine ever to feature in a Mercedes-Benz. Breathing through twin Solex downdraft carburettors, the M121 unit produced 105bhp DIN (120bhp SAE) at 5,700rpm, an output sufficient to propel the 190SL to 100km/h (62mph) in 14.5 seconds and on to a top speed of 171km/h (106mph). With its four-speed, all-synchromesh gearbox, servo-assisted hydraulic drum brakes and fully independent suspension, the 190SL was both more refined and more comfortable than any British sports car. The model was a big hit in the USA where many of the slightly fewer than 26,000 produced between 1955 and 1963 found homes.

According to the accompanying copy of the original Mercedes-Benz delivery note, this stunning 190 SL was delivered new in Casablanca, French Morocco to Josef F Weckerle, the company's local main agent. The delivery date was 29th September 1955 and it is recorded that the customer was to drive the car himself. The original specification included white gloss paint; red leather seats; Becker 'Le Mans' radio with automatic aerial; ATE braking system with Alfin brake drums; chrome bumpers with over-riders; lockable glove box; two fog lights with yellow glass; a spare hood in rubberised fabric; two external rear view mirrors; and a second spare wheel.

For Mercedes-Benz's wealthier customers wanting to race, the 300 SL sports car was the weapon of choice. For those with shallower pockets, the factory offered the Rennsport and Clubsport packages of performance improvements for the 190 SL, which were available for only two years. It is believed that this car's is one of the very rare original Clubsport kits, and the current owner has checked and confirms that it is an original and not a more recent after-market addition. Joseph F Weckerle rose to fame when he entered a Clubsport-equipped 190 SL in the 1956 Casablanca Grand Prix, winning the 2-Litre GT class at that event, and it is strongly believed that the car offered here is that very car.

The 190 SL remained in Morocco until 1988 when it was exported to Germany. Registered there on 30th June 2000, it was purchased in Germany in 2009 and brought to Austria, where it was registered as a historic vehicle. At some time the engine had been changed to an original standard 190 SL unit, most likely after the car's racing career was over. The car is described as in generally good condition, and apparently has never needed a full restoration. As the Clubsport kits were only ever sold as an after-market addition and never pre-installed in a car, it is difficult to prove conclusively that this 190 SL was the class winner at the Casablanca Grand Prix, though the circumstantial evidence suggests that it is. If so, this is one of the most important 190 SLs in existence.

1955 Mercedes Benz 190 SL Clubsport Roadster
Fahrgestell-Nr. 121.042-5500594
Motor-Nr. 121.921-7500896

Die herausragende Leistung des 190 SL ist ohne Zweifel die Qualität seines Entwurfes und seiner Verarbeitung. An zweiter Stelle folgt direkt das grundlegende Gefühl seiner Solidität." – Road and Track. Für diejenigen, die sich den sehr exklusiven und exorbitant teuren Sportwagen mit Renngenen, den 300 SL, nicht leisten konnten, hatte Mercedes-Benz den weniger exotischen aber nicht weniger hochwertigen 190 SL im Programm. Angekündigt im Jahr 1954 und auf der 180 Limousine basierend, dessen Fahrgestell mit rundum einzeln aufgehängten Rädern er nutzte, wurde der 190 SL seit Januar 1955 produziert. Die Verspätung wurde durch die Verstärkungen der Bodengruppe, die nötig waren, um den Wegfall des Daches zu kompensieren, herbeigeführt. 'Sehr wenige neue Sportwagen wurden so herbeigesehnt wie die Version vom Mercedes-Benz SL, die sich auch weniger Betuchte leisten konnten', beobachtete 'Road and Track'. Der Motor, der zusammen mit dem manuellen Vierganggetriebe, der Vorderradaufhängung und der Lenkung auf einem separaten Fahrschemel montiert war, hatte 1,897 cc Hubraum und war ein Reihenvierzylinder mit obenliegender Nockenwelle, der erste Motor dieser Art in einem Mercedes-Benz. Beatmet durch zwei Solex-Fallstromvergaser leistete der M121 Motor 105 PS bei 5,700 Umdrehungen, genug, um den 190 SL in 14,5 Sekunden auf 100 km/h zu beschleunigen und zu einer Höchstgeschwindigkeit von 171 km/h zu verhelfen. Die Tatsache, dass der 190er mehr komfortabler Reise- als Sportwagen war und dass zahlreiche Sportwagen jener Zeit dem Fahrer deutlich höhere Fahrleistungen bei geringerem Preis boten, tat dem Erfolg dieses Modells keinen Abbruch. Der 190 SL war ein groβer Erfolg in den Vereinigten Staaten, wo ein groβer Teil der knapp unter 26,000 zwischen 1955 und 1963 gebauten Wagen Kunden fanden.

Laut der beiliegenden Kopie des originalen Mercedes-Benz Lieferscheins wurde dieser umwerfende 190 SL an Josef F Weckerle in Casablanca, Französisch Marokko, ausgeliefert. Weckerle war der Mercedes-Benz Generalvertreter für Marokko. Das Auslieferungsdatum war der 29. September 1955 und es wurde notiert, dass der Kunde ihn auf eigener Achse überführen würde. Ferner sind unter anderem folgende Ausstattungen vermerkt: Hochglanzlack weiβ, rote Ledersitze, Becker Le Mans Radio mit automatischer Antenne, ATE-Bremsanlage mit Alfin-Trommelbremsen, Stoβstangen mit Hörnern, verschlieβbarer Handschuhkasten, zwei Nebellampen mit gelbem Glas, ein zweites Verdeck, Gummistoff schwarz, je ein Rückblickspiegel links und rechts auβen und ein zweites bereiftes Reserverad.

Für wohlhabende Kunden mit Rennambitionen war der 300 SL das Auto der Wahl. Für diejenigen, die nicht so tiefe Taschen hatten, hatte Mercedes-Benz die Rennsport- und Clubsport Pakete für den 190 SL im Programm, sie waren jedoch nur in den Jahren 1955 und 1956 erhältlich. Es wird angenommen, dass der hier angebotene Wagen eines der äuβerst seltenen, originalen Clubsport-Pakete erhielt. Der aktuelle Besitzer hat den Wagen eingehend geprüft und kann bestätigen, dass es sich definitiv nicht um einen Nachbau handelt. Joseph F Weckerle kam zu Ruhm, als er mit einem 190 SL Clubsport die 2-Liter-Klasse beim Groβen Preis von Casablanca gewann und es wird stark angenommen, dass es sich hierbei um genau diesen Wagen handelt.

Der 190 SL blieb bis zum Jahr 1988 in Marokko und wurde dann nach Deutschland exportiert. Dort wurde er am 30. Juni 2000 mit deutschen Papieren zugelassen. 2009 wurde er nach Österreich gebracht und dort mit historischen Zulassungspapieren angemeldet. Im Laufe der Jahre wurde der originale Motor durch einen korrekten 190 SL-Motor ausgetauscht, wahrscheinlich nach dem Ende der Rennkarriere. Der Wagen wird als in durchgehend gutem Zustand beschrieben und bedurfte nie einer Komplettrestaurierung.
Da die Clubsport-Varianten immer nur als Zubehörpakete verkauft wurden und nie vom Werk direkt eingebaut wurden, ist ein hundertprozentiger Nachweis, dass es sich bei diesem Wagen um den Klassensieger des Groβen Preises von Casablanca handelt, leider nicht möglich, es deutet jedoch alles darauf hin. In diesem Falle handelte es sich wohl um einen der historisch bedeutendsten Mercedes-Benz 190 SL.