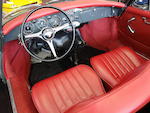 Porsche 356B Cabriolet 1962
Carrosserie par Reutter
Châssis n° 156159
Moteur n° 607661

« Les gens chez Porsche avaient tous une vision de la production automobile différente de celle de la plupart des autres usines. À leurs yeux, la conduite automobile était une source de plaisir et la Porsche était une voiture de conducteur ... Une toute nouvelle image se dessinait de voitures de sport souples, silencieuses, bien suspendues et confortables qui marchaient fort et qui se pilotaient vraiment. » - Denis Jenkinson, Porsche 356.

Le tout premier prototype Porsche, la 356/1 à moteur central, avait été un modèle découvert et les cabriolets furent fabriqués dès le début de la production de la 356, 23 des 46 premières voitures de Gmünd carrossées en aluminium ayant été habillées d'une carrosserie décapotable. La majorité de celles-ci furent carrossées en Suisse par Beutler, mais lorsque la production des 356 en acier commença, Gläser fut chargée des caisses de cabriolets tandis que Reutter Karrosserie fabriquait les coupés, avant de produire aussi des cabriolets lorsque les volumes augmentèrent.

Au moment de son introduction en septembre 1959, la 356 B avait été dotée d'un pare-brise à glace courbe en une seule pièce et de roues de 15 pouces qu'accompagnaient sur cette nouvelle version plusieurs retouches de style. Le moteur désormais de 1 600 cm3 en version standard était proposé selon trois niveaux de préparation, le plus puissant – à l'exception du Carrera à 4 ACT – étant le groupe de 90 ch de la Super 90. La 356 B qui représente un progrès significatif au point de vue comportement, agrément de pilotage et confort par rapport aux modèles 356 précédents constitue donc un moyen aussi rapide que plaisant d'apprécier les traditionnelles valeurs Porsche de qualité, de fiabilité et de robustesse mécanique.

Livré neuf à Francfort (Allemagne) par l'intermédiaire du distributeur Otto Glöckler, ce remarquable cabriolet Porsche 356 B, à numéros concordants, a été repeint selon son schéma de teintes original. Le premier propriétaire, M. Winton E. Cass, citoyen américain résidant en Allemagne, emmena la voiture avec lui quand il regagna les Etats-Unis. Cette Porsche est accompagnée d'un dossier historique conséquent contenant le carnet d'entretien d'origine dûment tamponné, le manuel d'utilisation et le bon de commande, le certificat d'authenticité émis par Porsche, de nombreuses factures d'entretien et d'autres documents et photos. La voiture est décrite comme étant « proche du neuf » après une restauration par Restocar SA en Suisse aux mains de son précédent propriétaire et demeurée en grande majorité d'origine, elle en tire un supplément de charme. Carte grise suisse.

1962 Porsche 356B Cabriolet
Coachwork by Reutter
Chassis no. 156159
Engine no. 607661

'The people at the Porsche factory all had a different outlook on car manufacturing compared to most factories. To them motoring was something to enjoy and the Porsche was a car to motor in... A whole new scene was growing, of smooth, quiet well-sprung, comfortable sports cars that really went and really handled.' – Denis Jenkinson, Porsche 356.

The very first Porsche prototype, the mid-engined 356/1, had been an open design and cabriolets were manufactured right from the start of 356 production, 23 of the 46 early Gmünd-built alloy cars having been completed with some form of open-top coachwork. The majority of these were bodied by Beutler of Switzerland, but when production of the steel-bodied 356 commenced, Glaser was entrusted with building the cabriolet body while Reutter Karosserie manufactured the coupé, although as production increased Reutter turned to building cabriolets also.

By the time the 356B arrived in September 1959, the car had gained a one-piece rounded windscreen and 15"-diameter wheels, and the newcomer's introduction brought with it further styling revisions. The engine, now standardised at 1,600cc, was available in three different stages of tune, the most powerful - apart from the four-cam Carrera - being the 90bhp unit of the Super 90. The 356B represents significant advances in driveability and comfort over earlier 356 models and is a pleasingly quick way to enjoy the traditional Porsche values of quality, reliability and mechanical robustness.

Delivered new in Frankfurt, Germany via the Otto Glöckler dealership, this remarkable Porsche 356B cabriolet is a matching-numbers example that has been refinished in its original colour scheme. The first owner, Mr Winton E Cass, was an American citizen resident in Germany, who took the car with him when he returned to the USA. It comes with a substantial history file containing the original stamped service book, handbook and order form; Porsche Certificate of Authenticity; sundry service invoices; and many additional documents and photographs. The car is described as in mint condition, having been restored by Restocar SA in Switzerland while in the previous owner's possession, and remains substantially original, which enhances its charm. Offered with Swiss Carte Grise.