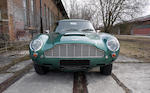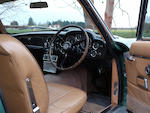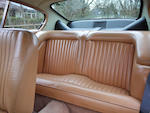 L'une des 46 livrées neuves avec l'injection en option
Aston Martin DB6 Mk2 FI coupé 1970
Châssis n° DB6MK2FI/4224/R
Moteur n° 400/4537/FI

Au cours de l'été 1969, Aston Martin annonçait les versions coupé et cabriolet de la DB6 Mark 2, dernier développement de la noble lignée initiée par la DB4 en 1958. La DB6 Mark 2, qui se distinguait par ses lèvres de passages de roues et ses roues de DBS, recevait la direction assistée en série et pouvait être commandée avec une injection électronique AE Brico. Quand la production prit fin en 1970, un total de 245 DB 6 Mark 2 avait été construites dont 46 avec l'injection en option, comme cet exemplaire.

Le châssis 4224 à conduite à droite a été construit pour le marché britannique et expédié par l'usine au concessionnaire Wharfe Garages Ltd le 28 juillet 1970. La voiture, peinte en Verde Aqua avec un intérieur en peau de porc, a été livrée avec deux ceintures de sécurité et un autoradio. Un certificat du BMIHT confirmant les numéros concordants du châssis et du moteur et une estimation (en allemand) sont vendus avec la voiture.

L'histoire de cette Aston Martin n'est pas connue avant 1983, lorsqu'elle fut vendue à un Dr à Francfort (Fahrzeugbrief allemand d'origine au dossier). En 1986, la voiture fut vendue à un concessionnaire BMW et stockée non immatriculée pendant 20 ans. Convertie de l'injection à une alimentation par trois carburateurs SU, elle a été vendue à l'actuel propriétaire en 2006. Le système d'injection d'origine est vendu avec la voiture et on nous signale qu'une société spécialisée peut la transformer pour accepter une injection moderne.

En 2007, la DB 6 a été révisée selon ses besoins, a passé son TÜV allemand et a été repeinte métal nu dans sa couleur d'origine, telle qu'on l'a retrouvée sous la peinture d'alors, en 2009 (reportage photographique au dossier). En 2014, l'électricité a été passée avec négatif à la masse et le coffre a été garni d'une nouvelle moquette. L'estimation en allemand en date du 24 octobre 2014 stipule que l'Aston Martin est en « état 2 » sur une échelle de 1 à 5, 1 étant le meilleur. L'état de la voiture est considéré comme très bon, sans problème de fonctionnement, d'origine ou parfaitement restaurée, avec quelques traces d'usure possibles. Cette DB 6 Mark 2, l'une des plus rares Aston Martin de l'ère David Brown, est vendue avec la documentation mentionnée plus haut et son Fahrzeugbrief en cours.

1970 Aston Martin DB6 Mk2 FI Sports Saloon
Chassis no. DB6MK2FI/4224/R
Engine no. 400/4537/FI

In the summer of 1969 Aston Martin announced the DB6 Mark 2 in saloon and convertible versions, this being the final development of the noble line begun with the DB4 back in 1958. Distinguishable by its flared wheelarches and DBS wheels, the DB6 Mark 2 came with power-assisted steering as standard and could be ordered with AE Brico electronic fuel injection. When DB6 Mark 2 production ceased in 1970, a total of 245 had been made, of which only 46 left the factory fitted with the optional fuel injection like this example.

Right-hand drive chassis number '4224' was built for the UK market and despatched from the factory on 28th July 1970 to the Wharfe Garages Ltd dealership. The car was finished in Verde Aqua with Pigskin interior trim, and was delivered equipped with two seatbelts and a Radiomobile radio. A BMIHT certificate confirming matching chassis and engine numbers, and an appraisal (in German) comes with the car.

The Aston's subsequent history is not known prior to 1983 when it was sold to a doctor in Frankfurt (original German Fahrzeugbrief on file). In 1986 the car was sold to a BMW dealer, de-registered and stored for some 20 years. Converted from fuel injection to triple SU carburettors, it was sold to the present owner in 2006. The original fuel injection system comes with the car, and we are advised that a specialist company can convert it to accept modern injectors.

In 2007 the DB6 was serviced as necessary, receiving German TüV, and in 2009 was stripped to bare metal and repainted in its original colour, as found upon stripping the paint (photographic record on file). In 2014 the electrics were converted to negative earth and new carpet fitted in the boot. The aforementioned German appraisal, dated 24.10.2014, states that the Aston is in 'Condition 2' of 1 to 5, 1 being the best. It describes the car's condition as very good, with no malfunctions, original or thoroughly restored, possibly with slight traces of use. One of the rarer of the David Brown-era Aston Martins, this DB6 Mark 2 is offered with aforementioned documentation and current German Fahrzeugbrief.