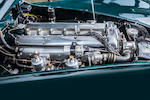 Jaguar XK120 Drophead Coupé (Cabriolet) 1954
Châssis n° 678314

« Nous revendiquions 120 mph (192 km h) pour la XK 120, une vitesse inouïe pour une voiture de série à l'époque ». –William Heynes, ingénieur en chef de Jaguar Cars.

Conçue et construite en quelques mois, la XK 120 fit ses débuts au salon d'Earls Court en 1948 où la ligne étonnante du roadster fit sensation. La XK 120 fixa de nouveaux standards de confort, de tenue de route et de performance pour les voitures de sport britanniques et, conformément à la tradition Jaguar, rien ne pouvait l'égaler à son prix. Les versions coupé et cabriolet suivirent et pour les clients très amateurs de vitesse, il existait un ensemble d'améliorations Special Equipment (SE) qui portait la puissance à 180 ch . Quel que fût le moteur et indépendamment de la carrosserie, la XK 120 atteignait vraiment 190 km/h et pouvait croiser longtemps à grande vitesse sans peiner.

La XK 120 produite jusqu'en 1954 allait être la plus diffusée de la série XK avec 12 048 exemplaires construits dont seulement 1 471 décapotables à conduite à gauche comme la voiture proposée ici Introduite en 1953, vers la fin de la période de production de la XK 120, le cabriolet est considéré par beaucoup de passionnés comme la meilleure de la famille avec les lignes originales du roadster associées à un caractère plus pratique et à un plus grand raffinement dû à des glaces latérales à manivelle, des déflecteurs orientables, un chauffage, une ventilation améliorée et une capote repliable doublée de mohair, équipements qui avaient presque tous fait leur apparition sur le coupé lancé en 1951.

Achevée le 30 avril 1954, « 678314 » est la 158e XK 120 fabriquée décomptée de la fin de la production. Elle fut exportée chez James L. Cook Motors à Toronto au Canada le 13 mai 1954, peinte en British Racing Green avec intérieur fauve et capote assortie. La voiture demeura à Toronto pendant toute son existence immatriculée « 54 XK120 ».

En 2009, le propriétaire de l'époque (à Toronto) entreprit une restauration totale de la voiture avec dépose de tous les composants mécaniques et décapage du châssis jusqu'au métal nu avant de la repeindre dans son vert d'origine. Les moteur, boîte de vitesses et pont arrière furent refaits comme tout l'intérieur. Malheureusement, vers la fin des travaux, le propriétaire tomba gravement malade et comprit qu'il ne pourrait pas mener à bien cette restauration. En 2011, le vendeur actuel importa la voiture partiellement restaurée au Royaume-Uni où le travail fut achevé, y compris le montage des roues à disque et des « spats », la pose d'un nouveau faisceau électrique, la réfection du double circuit de freinage et la finition de l'intérieur à un très haut niveau de qualité. La voiture est offerte avec son document d'immatriculation au Royaume-Uni V5C.

1954 Jaguar XK120 Drophead Coupé
Chassis no. 678314

'We claimed 120 mph (for the XK 120), a speed unheard of for a production car in those days' - William Heynes, Chief Engineer, Jaguar Cars.

Conceived and constructed in but a few months, the XK120 debuted at the 1948 Earls Court Motor Show where the stunning-looking roadster caused a sensation. The XK120 set new standards of comfort, roadholding and performance for British sports cars and, in keeping with the Jaguar tradition, there was nothing to touch it at the price. Coupé and drophead coupé versions followed, and for customers who found the standard car too slow, there was the Special Equipment (SE) package which boosted power to 180bhp. With either engine and regardless of the type of bodywork, the XK120 was a genuine 120mph car capable of sustained high-speed cruising.

The XK120 was produced until 1954 and would prove to be the most popular of the XK series with 12,078 examples built, of which only 1,471 were left-hand drive dropheads like that offered here. Introduced in 1953, late in the XK120 production run, the drophead coupé is considered by many enthusiasts to be best of the breed, retaining the original open roadster's lines while boasting much greater practicality and refinement courtesy of its wind-up windows, opening quarter lights, heater, improved ventilation and a permanently attached lined Mohair hood, all of which had been first appeared on the fixed-head coupé in 1951.

Completed on 30th April 1954, '678314' is the 158th from last XK120 manufactured. It was exported to James L Cooke Motors of Toronto, Canada on 13th May 1954 finished in British Racing Green with tan interior and matching hood. The car remained in Toronto all its life, carrying the registration number '54XK120'.

In 2009 the then owner (in Toronto) started a complete restoration of the car, removing all the mechanical components and stripping the chassis back to bare metal before repainting it in its original British Racing Green. The engine, gearbox and rear axle were all rebuilt and a completely new interior fitted. Unfortunately, towards the end of the restoration the owner became very ill and decided he would be unable to complete the project. In 2011 the current vendor imported the partly restored car into the UK where the project was completed, including the fitted of solid wheels and spats, a new wiring loom, rebuilt tandem braking system and the completion of the interior to a high standard. The car is offered with a UK V5C registration document.