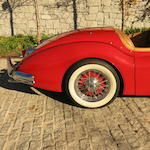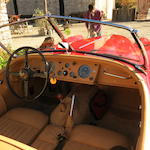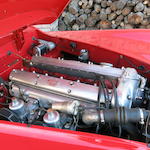 Equipée de l'option culasse Type C
Jaguar XK140 SE roadster 1955
Châssis n° S810495
Moteur n° G1650-8S

« Si la XK 140 est extrêmement rapide, c'est aussi une voiture très docile. Elle se comporte parfaitement dans la circulation... Mais c'est surtout une voiture idéale sur les longues distances et ce serait un pur délice pour les balades sur le continent. » John Bolster Autosport.

Dévoilée en 1955, la Jaguar XK 140 était globalement similaire - bien que plus raffinée – à son extraordinaire devancière, la XK 120, les modifications mécaniques les plus notables étant son moteur avancé de 7, 5 cm et l'adoption d'une direction à crémaillère. Freins et suspensions restaient identiques avec des barres de torsion plus rigides à l'avant et des amortisseurs télescopiques à l'arrière à la place de ceux à levier. Extérieurement, la nouvelle venue se distinguait par sa calandre modifiée, ses feux arrière intégrant les clignotants et ses pare-chocs plus épais. Le moteur était toujours le six cylindres double arbre Jaguar 3, 4 litres bien au point qui développait désormais 190 ch dans sa version de base. Une boîte à étagement resserré permettait de mieux profiter du surcroît de puissance et un overdrive était pour la première fois proposé en option. Des versions Special Equipment (SE) étaient proposées avec roues fil et antibrouillard Lucas, et pouvaient être commandées avec un moteur développant 210 ch, grâce à la séduisante option culasse Type C. Les performances de la XK 140 étaient bien supérieures à celles établies par sa prestigieuse devancière, la XK 120, les essais des magazines d'époque enregistrant régulièrement des vitesses maximales supérieures à 120 miles par heure (190 km/h).

Vende par le concessionnaire Jaguar de la côte est aux États-Unis, Hoffmann de New York, ce superbe roadster XK 140 SE est équipé de l'option culasse Type C. La voiture n'avait connu que trois propriétaires aux États-Unis lorsque le vendeur en a fait l'acquisition en 2010, date depuis laquelle elle a séjourné en Espagne. Le châssis numéro S810495 a été la propriété de Hal Graham pendant les 23 premières années de sa vie, suivi de Floyd Mitchell pendant douze années et William Burnette de Huntsville, dans l'Alabama. En sa possession, elle a été entièrement restaurée, ce travail ayant été effectué dans les années 1990 (factures au dossier). Les particularités les plus remarquables sont l'électricité avec négatif à la masse, un alternateur (la dynamo d'origine est vendue avec la voiture), un ventilateur électrique de refroidissement Kenlowe, des pneus radiaux Vredestein neufs et ses clés originales. Décrite comme étant en excellent état général, la voiture est vendue avec son manuel « Operating, Maintenance and Service Handbook » d'origine, son titre de propriété américain, ses papiers d'immatriculation espagnole (permiso de circulacion), un contrôle technique en cours de validité (il expire en mai 2016) et un certificat du Jaguar Heritage confirmant tous ses numéros concordants.

1955 Jaguar XK140SE Roadster
Chassis no. S810495
Engine no. G1650-8S

'If the XK140 is an extremely fast car, it is also a very docile one. It has absolutely perfect traffic manners... Above all though, this is an ideal long-distance car, and would be sheer heaven for Continental touring.' – John Bolster, 'Autosport'.

Newly introduced for 1955, the Jaguar XK140 was broadly similar to, though more refined than, its sensational XK120 predecessor, major engineering changes being confined to the repositioning of the engine 7.5cm further forward and the adoption of rack-and-pinion steering. The suspension and brakes remained much as before, though with stiffer torsion bars at the front and telescopic shock absorbers replacing lever type at the rear. Outwardly the newcomer was distinguishable by its revised radiator grille, rear lights incorporating flashing indicators, and larger bumpers. The power unit remained Jaguar's well-tried, 3.4-litre, twin-cam six, which now produced 190bhp in standard trim. A close-ratio gearbox enabled better use to be made of the increased performance and overdrive became an option for the first time. Special Equipment (SE) cars came with wire wheels and Lucas fog lamps, and could be ordered with an engine developing 210bhp courtesy of the C-type cylinder head. XK140 performance was well up to the standards set by its exemplary predecessor, contemporary road-tests regularly recording top speed figures in excess of 120mph.

Sold new via Jaguar's East Coast, USA distributor, Hoffman of New York, this beautiful XK140SE roadster has the desirable C-type cylinder head option. The car had enjoyed only three owners in the United States prior to its acquisition by the current vendor in 2010, since when it has been resident in Spain. Chassis number 'S810495' was owned by Hal Graham for the first 23 years of its life, followed by Floyd Mitchell (12 years) and then William Burnette of Huntsville, Alabama, during whose ownership it was extensively restored, the work being carried out in the 1990s (invoices on file). Noteworthy features include negative earth electrics, an alternator (original dynamo with car), a Kenlowe electric cooling fan, new Vredestein radial tyres, and its original keys. Described as in generally excellent condition, the car is offered with an original 'Operating, Maintenance and Service Handbook', US Certificate of Title, Spanish registration papers ('Permiso de Circulation'), valid technical inspection (expires May 2016), and Jaguar Heritage Certificate confirming all matching numbers.