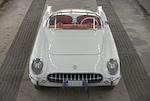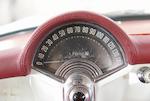 Datant de la première année complète de production
Chevrolet Corvette C1 roadster 1954
Châssis n° E54S002755
Moteur n° 060T354

En 1953, lancer une sportive deux places était, pour Chevrolet, marque jusque-là cantonnée au transport familial basique, un tournant radical. Prenant comme base le concept car EX-122 dessiné par Harley Earl en 1952, la Corvette reprenait un train roulant Chevrolet existant, adapté au besoin, et un châssis raccourci sur lesquels était posée une carrosserie en fibre de verre spectaculaire. Ce matériau nouveau à l'époque permettait de réduire les frais d'outillage et était parfaitement adapté aux productions en petite série et permit à la « Vette » de passer du concept car à la série en moins de deux ans. La puissance motrice était fournie par le six cylindres en ligne à soupapes en tête Chevrolet 235.5 ci (3, 8 litres) qui, dans sa configuration Blue Flame (Corvette), développait 150 ou 155 ch. Assez inhabituel sur une sportive, on trouvait une transmission automatique GM Powerglide à deux rapports qui reçut de nombreuses critiques négatives à l'époque.

Censée concurrencer les MG de la série T, la Corvette, tarifée bien au-dessus de son objectif, se retrouvait sur le terrain de la Jaguar XK 120. Les ventes ne décollèrent pas et la Corvette faillit être abandonnée, mais survécut parce que Chevrolet avait besoin d'une concurrente, face à la Thunderbird de Ford. Un V8 en 1955 et un restyling radical en 1956 raffermirent la position de la Corvette sur le marché. Elle allait devenir la sportive à la durée de production la plus longue et connaître une réussite spectaculaire.

Datant de la première année complète de production de la Corvette, cet exemplaire est blanc avec intérieur rouge et possède une boîte automatique. Restaurée aux environs de 2009, elle est décrite comme étant en bon état général, le moteur démarrant instantanément et produisant un joli bruit via ses trois carburateurs Carter. La voiture est vendue avec son libretto et son certificato di proprieta italiens.

1954 Chevrolet Corvette C1 Roadster
Chassis no. E54S002755
Engine no. 060T354

Back in 1953, Chevrolet's launch of a two-seater sports car was a radical departure for a marque hitherto associated almost exclusively with sensible family transport. Based on Harley Earl's EX-122 show car of 1952, the Corvette made use of existing General Motors running gear, suitably modified, and a shortened chassis frame around which was wrapped striking glassfibre coachwork. A novelty at the time, glassfibre construction kept tooling costs down to a level commensurate with low-volume production and enabled the 'Vette to go from design to introduction in less than two years. Motive power came from Chevrolet's 235.5ci (3.8-litre) overhead-valve straight six, which in 'Blue Flame' (Corvette) specification produced 150 or 155bhp. Unusually for a sports car, there was automatic transmission, GM's two-speed Powerglide, a feature that attracted much adverse criticism at the time.
Intended as competition for the T-Series MG, the Corvette cost way above the target figure, ending up in Jaguar XK120 territory. Sales were sluggish initially and the Corvette came close to being axed, surviving thanks to Chevrolet's need to compete with Ford's Thunderbird. A V8 engine for 1955 and a radical restyle for '56 consolidated the 'Vette's position in the market. It would go on to become the world's longest running and most successful sports car.

Dating from the first full year of Corvette production, this example is finished in white with red interior and has the automatic gearbox. Restored circa 2009, it is described as in generally good condition, the engine firing instantly and emitting a lovely sound from the three Carter carburettors. The car is offered with Italian libretto and Certificato di Proprieta.