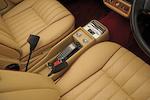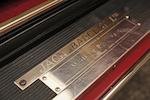 Livrée neuve à Sir Elton John, utilisée dans la vidéo Nikita
Bentley Continental cabriolet 1985
Carrosserie H J Mulliner Park Ward
Châssis n° SCBZD0002FCH10168
Moteur n° 10168

Le re-lancement de la marque Bentley, dans les années 1980, était au cœur de la stratégie marketing de Rolls-Royce. Pour redorer le blason de la marque, on ressuscita un nom glorieux de son passé, Continental, qu'on réserva au modèle deux portes, auparavant connu sous le nom de Corniche, comme son équivalent Rolls-Royce. Une idée particulièrement bienvenue puisque le changement de nom de la Bentley en 1984 eut l'effet escompté, les ventes qui avaient culminé à 77 exemplaires au cours des treize années écoulées depuis le lancement de la Corniche sous la marque Bentley, totalisèrent 421 exemplaires au cours des 11 années suivantes, sous le nom de Continental.

Dévoilée en mars 1971, la Corniche était une variante deux portes à carrosserie H. J. Mulliner Park Ward des berlines Rolls-Royce Silver Shadow et Bentley Série T, elles-mêmes remarquables pour avoir été les premières voitures monocoques construites à l'usine de Crewe. Dans sa version Corniche, le V8 Rolls-Royce 6, 7 litres, bien rôdé, développait une puissance d'environ 10% supérieure à la version de base, propulsant la voiture au-delà des 190 km/h, avec les accélérations d'une sportives. Le modèle s'avéra un succès pour Rolls-Royce, et bien que son style restât identique à celui de la Silver Shadow, la Corniche/Continental reçut par la suite régulièrement des retouches alignées sur celles de la gamme Silver Spirit contemporaine, restant en production jusque dans les années 1990 avec un dernier exemplaire (un cabriolet) livré en 1995.

Cette belle et rare Bentley Continental à conduite à droite à été livrée à son premier propriétaire, Sir Elton John, par Jack Barclay limited, de Berkeley Square à Londres, le 15 février 1985 avec l'immatriculation B120 WYM. Elle figure en vedette dans le clip du tube d'Elton John de cette même année, Nikita, où on le voit véhiculé dans des conditions hivernales et admirant un soldat russe portant ce prénom. Par la suite, l'immatriculation fut changée pour un numéro personnalisé, B20 ELT, qu'elle conserve encore aujourd'hui.

En 2008, la voiture a été achetée par son actuel propriétaire, un passionné de longue date demeurant près de Venise, qui l'a utilisée parcimonieusement, le compteur affichant un total que l'on pense authentique de moins de 40 000 km. Récemment révisée et dotée de nouveaux pneus et d'une nouvelle batterie, la voiture est décrite comme en bon état général. La seule entorse à l'authenticité est l'installation, probablement à la demande d'Elton John, d'un distributeur de CD et d'un ampli basse dans le coffre. Peinte en rouge Tudor avec intérieur en cuir beige à passe-poil rouge et capote assortie, la voiture est vendue avec ses papiers d'immatriculation V5C du Royaume-Uni, son carnet d'entretien tamponné (attestant que son premier propriétaire est Elton John), sa carte de garantie, etc.

Delivered new to Sir Elton John and used in the video 'Nikita'
1985 Bentley Continental Convertible
Coachwork by H J Mulliner, Park Ward
Chassis no. SCBZD0002FCH10168
Engine no. 10168

A key factor in Rolls-Royce's marketing strategy for the 1980s was the re-launch of Bentley. To rekindle interest in the marque, a glorious name from its past was resurrected - 'Continental' - and applied to the two-door model previously known, like its Rolls-Royce equivalent, as the Corniche. An inspired move, the Bentley's 1984 name change had the desired effect; sales, which in the 13 years since the Corniche's launch had amounted to a mere 77 Bentley-badged cars, totalling 421 for the succeeding 11 years of Continental production.

Introduced in March 1971, the Corniche was a revised version of the H J Mulliner, Park Ward-bodied two-door variants of the Rolls-Royce Silver Shadow and Bentley T-Series saloons, themselves notable as the Crewe factory's first unitary-construction cars. In Corniche form Rolls-Royce's well-tried 6.7-litre V8 produced around ten percent more power than standard and proved capable of propelling the car to a top speed in excess of 120mph, with sports car-beating acceleration to match. The model proved a major success for Rolls-Royce, and although its exterior style remained recognisably Silver Shadow, the Corniche/Continental benefited from the regular up-dates and improvements made to the contemporary Silver Spirit range, remaining in production well into the 1990s, the last (Convertible) examples being delivered in 1995.

A right-hand drive model, this beautiful and rare Bentley Continental was delivered to its first owner, Sir Elton John, via Jack Barclay Ltd of Berkeley Square, London on 15th February 1985 with the registration number 'B120 WYM'. It featured prominently in the video for Elton John's hit single of that same year, 'Nikita', where he is seen being driven in icy conditions admiring a Russian soldier of that name. Subsequently the registration was changed to the personalised 'B20 ELT', which is extant today.

In 2008 the Bentley was acquired by the current owner, a long-time classic car enthusiast based near Venice, who has used it sparingly, the odometer showing a believed-genuine total of little more than 40,000 miles. Recently serviced and fitted with new tyres and a new battery, the car is described as in generally good condition. The only deviation from original specification is the installation, probably on Sir Elton's instructions, of a boot-mounted CD changer and bass unit. Finished in Tudor Red with red-piped beige leather interior and matching hood, the car comes complete with a UK V5C registration document, the original stamped service book (recording Elton John as the first owner), warranty card, etc.