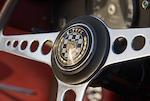 Livrée neuve en Italie ; trois propriétaires depuis sa livraison
Jaguar Type E 3.8-Litre série 1 roadster 1962
Châssis n° E877746
Moteur n° R6715-8

« Si les Vingt-quatre Heures du Mans sont à l'origine de la nouvelle Jaguar Type E, alors cette course homérique sur le circuit sarthois est pleinement justifiée. Nous avons ici l'une des voitures les plus silencieuses et les plus souples du marché, capable de flâner dans un murmure à 10 km/h sur le rapport supérieur, mais aussi de bondir d'un coup à 240 km/h sur une simple pression de l'accélérateur. Cette voiture de tourisme pratique avec ses larges portes et son grand coffre à bagages arbore aussi des lignes d'une beauté stupéfiante qui fait sans problème jeu égal avec les italiennes sur leur propre terrain. » John Bolster, Autosport.

Présentée en 1961, la Jaguar Type E fit sensation lorsqu'elle fut dévoilée avec ses lignes classiques et ses 240 km/h. La conception de la nouvelle venue devait en fait beaucoup aux sportives Type D victorieuses au Mans, un caisson monocoque formant sa structure principale, prolongé par une structure tubulaire à l'avant qui recevait le moteur. Avec les 265 ch revendiqués par son moteur 3, 8 litres, la Type E ne décevait pas, d'abord en raison d'un poids sensiblement moindre que celui de sa devancière XK 150 et ensuite parce que l'aérodynamicien Malcolm Sayer avait versé toute l'expérience acquise avec la Type D dans l'une des carrosserie les plus efficaces et les plus élégantes qui ait jamais habillé une automobile. Aujourd'hui, les élégantes lignes de la Type E se retrouvent sur les Jaguar modernes et il ne fait aucun doute que la sublime création de William Lyons, le patron de Jaguar, figurerait dans n'importe quelle liste des dix plus belles voitures du monde de tous les temps.

Cet étonnant roadster type E fut immatriculé neuf dans la province de Bologne, au nord de l'Italie, passant des mains du grand-père aux mains de sa petite-fille en 1980, lorsqu'elle fut ré-immatriculée tout près, à Modène. Le vendeur, un collectionneur bien connu du sud de l'Italie, a acheté la voiture en 2010, devenant ainsi son troisième propriétaire seulement. Une restauration complète de la carrosserie, de l'intérieur et de la capote a alors été entreprise, tandis que le moteur, jugé en bon état, ne réclamait que le remplacement de quelques pièces mineures, les paliers, les joints et les soupapes. Seulement 2 000 km ont été parcourus depuis cette restauration et, comme toutes les autres voitures de la collection du vendeur, la Type E a été remisée dans un garage déshumidifié sur des chandelles afin d'éviter les méplats sur les pneus. Blanche avec intérieur en cuir rouge, la voiture est décrite comme étant en excellent état général et vendue avec son libretto, son certificato di proprieta italien et sa certification ASI.

Original Italian delivery; three owners from new
1962 Jaguar E-Type Series 1 3.8-Litre Roadster
Chassis no. E877746
Engine no. R6715-8

'If Les Vingt Quatre Heures du Mans has been responsible for the new E-Type Jaguar, then that Homeric contest on the Sarthe circuit will have been abundantly justified. Here we have one of the quietest and most flexible cars on the market, capable of whispering along in top gear at 10mph or leaping into its 150mph stride on the brief depression of a pedal. A practical touring car, this, with its wide doors and capacious luggage space, yet it has a sheer beauty of line which easily beats the Italians at their own particular game.' - John Bolster, Autosport.

Introduced in 1961, the Jaguar E-Type caused a sensation when it appeared, with instantly classic lines and 150mph top speed. The newcomer's design did indeed owe much to that of the Le Mans-winning D-Type sports-racer: a monocoque tub forming the main structure while a tubular spaceframe extended forwards to support the engine. With a claimed 265bhp available from its 3.8-litre engine, the E-Type did not disappoint; firstly, because it weighed significantly less than the preceding XK150 and secondly because aerodynamicist Malcolm Sayer used experience gained with the D-Type to create one of the most elegant and efficient shapes ever to grace a motor car. Today, the E-Type's graceful lines live on in modern Jaguar sports cars, and there can be little doubt that William Lyons' sublime creation would feature in any knowledgeable enthusiast's 'Top Ten' of the world's most beautiful cars of all time.

This stunning E-Type Roadster was first registered in the Bologna province of Northern Italy, changing hands from grandfather to granddaughter in 1980 when it was registered in nearby Modena. The current vendor, a noted collector from Southern Italy, purchased the car in 2010 and is thus only its third owner. A comprehensive restoration of the body, interior and hood was carried out subsequently, while the engine was found to be in very good order and only required minor parts such as bearings, gaskets and valves. Only some 2,000 kilometres have been driven since the restoration, and like all cars in the owner's collection the E-Type has been kept in a dehumidified garage with tyre savers to avoid flat spots. Finished in white with red leather interior, the car is described as in generally excellent condition and offered with Italian libretto, Certificato di Proprieta and ASI certification.