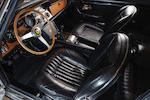 Modèle du Salon de Paris
Ferrari 330GT 2e série Berlinetta 1966
Carrosserie Pininfarina
Châssis n° 9097
Moteur n° 9097

À la fin des années 1950, le marché des voitures de sport offrant les prestations d'une « familiale » était suffisamment porteur pour donner à Ferrari l'idée d'un modèle à quatre places. Présenté en 1960, la première de ces Ferrari, la 250 GTE 2+2 carrossée par Pininfarina, prenait pour base la très réussie 250 GT. À son tour, la 250 GTE servit de base à la 330 GT 2+2 qui lui succéda en janvier 1964. Le style était à nouveau confié à Pininfarina qui adopta un traitement de l'avant à quatre phares qui reflétait le goût du plus important marché d'exportation pour Ferrari, les États–Unis. L'empattement du châssis tubulaire de la 330 GT était 50 mm plus long et rendait les places arrière moins exigües pour les passagers. La suspension indépendante à l'avant se faisait par triangles superposés et ressorts hélicoïdaux, tandis qu'on trouvait un essieu rigide à l'arrière avec ressorts semi-elliptiques. L'amélioration du système de freinage par disque aux quatre roues consistait en un double circuit hydraulique séparé à l'avant et à l'arrière.

Le V12 type Colombo de la 330 GT avait une cylindrée de 3 967 cm3 et délivrait plus de 300 ch, une puissance suffisante pour propulser la 330 GT à une vitesse maximale de 245 km/h ce qui en faisait, à son lancement, La Ferrari de route la plus rapide. Équipée à l'origine d'une boîte à quatre rapports plus overdrive, la 330 GT gagna une transmission à cinq rapports à la mi-1965 et vit ses quatre phares remplacés par un avant à seulement deux phares à la fin de l'année, pour la 2e série. Les vitres électriques, des roues en alliage et un pédalier suspendu étaient les autres améliorations apportées sur la 2e série. La 330 GT, l'une des préférées d'Enzo Ferrari, fut la première de ses voitures à dépasser les 1 000 unités.

Le châssis numéro 9097 fut exposé sur le stand Ferrari du Salon de l'Auto à Paris en 1966 et fut livré à son premier client en France par la Franco-Britannic. Le propriétaire précédent immédiat, Ando Wikström, a acheté la voiture en 1997 et l'a faite restaurer au Royaume-Uni par le spécialiste réputé Fullbridge Carriage Company. Après l'achèvement de la Restauration, la voiture a été immatriculée en Suède en 1998 et l'année suivante, le moteur fut reconstruit et converti au sans plomb par Gipimo Automobiles à Bruxelles, en Belgique. Le vendeur a acheté la voiture à M. Wikström en 2007. Un système d'échappement avait été installé en 2004 et, depuis son achat, la pompe à eau a été révisée, la chaîne de distribution remplacée en 2007, des pneus Michelin XWX montés et le boîtier de direction et le démarreur révisés en 2014. La voiture est décrite comme en excellent état général, même si l'on décèle une légère fumée à l'échappement droit. Elle est vendue complète avec son cric, son marteau, sa brochure de vente et deux manuels d'instruction (un original et une reproduction). La documentation fournie consiste en ses papiers d'immatriculation suédoise en cours de validité, le contrat de vente de 2007 et différents MoT et factures.

The Paris Auto Show
1966 Ferrari 330GT Series II Berlinetta
Coachwork by Pininfarina
Chassis no. 9097
Engine no. 9097

By the end of the 1950s, the market for sports cars with 'family accommodation' had grown sufficiently for Ferrari to contemplate the introduction of a four-seater model. Introduced in 1960, the first such Ferrari, the Pininfarina-styled 250GTE 2+2, was based on the highly successful 250GT. In turn, the 250GTE provided the basis for the 330GT 2+2 that followed in January 1964. Pininfarina was once again entrusted with the styling, adopting a four-headlamp frontal treatment that reflected the tastes of Ferrari's most important export market, the USA. The 330GT's tubular chassis was 50mm longer in the wheelbase, which made conditions less cramped for the rear passengers. Suspension was independent at the front by wishbones and coil springs, while at the back there was a live axle/semi-elliptic set-up. Improvements to the discs-all-round braking system saw separate hydraulic circuits adopted front and rear.

The 330GT's Colombo-type V12 engine displaced 3,967cc and was good for 300-plus horsepower, an output sufficient to propel the 330GT to a maximum velocity of 245km/h making it, when introduced, the fastest road-going Ferrari. Equipped at first with a four-speeds-plus-overdrive gearbox, the 330GT gained a five-speed transmission in mid-1965 and later that year had its four-headlight front end replaced by a two-lamp arrangement, becoming the 'Series II'. Electric windows, alloy wheels and hanging control pedals were other Series II improvements. A favourite of Enzo Ferrari, the 330GT was the first of his cars to sell in excess of 1,000 units.

Chassis number '9097' featured on the Ferrari stand at the 1966 Paris Auto Show and was delivered to its first owner in France via Franco-Britannic Automobiles. The immediately preceding owner, Ando Wikström bought the car from one Paul Baber in April 1997 and had it restored in the UK by the renowned Fullbridge Carriage Company. After the restoration's completion the car was registered it in Sweden in 1998, and the following year the engine was rebuilt and converted to unleaded compatibility by Gipimo Automobiles in Brussels, Belgium. The current vendor bought the Ferrari from Mr Wikström in 2007. A stainless steel exhaust system had been fitted in 2004, and since acquisition the water pump has been overhauled and the cam chain replaced (2007); new Michelin XWX tyres fitted (2012); and the steering box and starter motor overhauled (2014). The car is described as in generally excellent condition, though there is a little smoke from the right-hand exhaust. It comes complete with jack, hammer, sales brochure and two instruction manuals (one original, one reproduction). Accompanying documentation consists of current Swedish registration papers; the 2007 purchase agreement; and sundry MoTs and invoices.