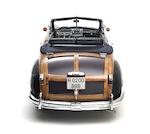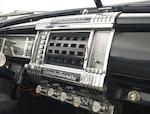 Chrysler New Yorker Town & Country cabriolet 1948
Châssis n° 7407193
Moteur n° 66639

La demande automobile était telle dans l'immédiat après-guerre que les modèles Chrysler de 1946 – comme la plupart des autres marques – réapparurent presque sous le même aspect qu'en 1942, bien que la Town & Country avec ses décorations en bois qui n'était jusque-là disponible qu'en version break, était désormais déclinée en berline et en cabriolet deux portes sur châssis New Yorker (huit cylindres) et Windsor (six cylindres). Avec leur structure en frêne et acajou contrastant avec les panneaux d'acier de la carrosserie dont la finition aurait fait pâlir les plus beaux yachts, ces nouveaux modèles étaient vraiment spectaculaires. Elles étaient aussi les modèles de la gamme Chrysler les mieux équipés et les plus chers et font aujourd'hui partie des automobiles américaines le plus recherchées de cette époque

Présentée en 1938 sous le nom de New Yorker Special, l'élégante New Yorker était construite sur la base du haut de gamme Chrysler, l'Imperial, et recevait le huit cylindres en ligne à soupapes latérales de cette dernière. Dans la nomenclature interne de Chrysler, New Yorker signifiait luxe, ces modèles se distinguant par leur intérieure de haute qualité et un choix de garnitures extraordinaires qui allait jusqu'au tartan écossais (sur la New Yorker Highlander). Les Chrysler de 1947 et 1948 montraient seulement quelques modifications de détail par rapport aux modèles de la gamme 1946, mais la berline Town & Country était désormais proposée seulement sur le châssis Windsor à six cylindres, tandis que tous les cabriolet Town & Country étaient construits sur le châssis New Yorker à huit cylindres.

Cette superbe et authentique Chrysler Town & Country cabriolet a été vendue neuve en 1948 à M. Bob Gault dans l'Ontario (voir extrait du registre au dossier). Cet exemplaire à numéros concordants conserve sa livrée bleu Newport ainsi que son habillage intérieur en cuir bleu et velours Bedford taupe d'origine avec sa capote taupe originale. Vers la fin des années 1980 ou au début des années 1990, la voiture fut exportée en Italie où elle fut achetée par le vendeur en 1998 pour son importante collection privée en Espagne. Depuis, la voiture a participé à de nombreuses manifestations en Espagne. Entretenu régulièrement chaque année, elle est décrite comme en excellent état de marche, les boiseries ayant été restaurées en 2013 et la peinture impeccablement entretenue. L'une des automobiles américaines les plus emblématiques et les plus fascinantes d'après-guerre, cette magnifique Town & Country cabriolet est vendue avec diverses factures, ses papiers d'immatriculation historique en Espagne, un contrôle technique et ses papiers d'identité FIVA et ASI.

1948 Chrysler New Yorker 'Town & Country' Convertible
Chassis no. 7407193
Engine no. 66639

Such was the demand for vehicles in the immediate aftermath of WW2, that the 1946 Chryslers - like most other American makes - reappeared looking much the same as in 1942, though the wood-embellished Town & Country model, previously available only as a station wagon, was now made either as a sedan or two-door convertible on both the New Yorker (eight-cylinder) and Windsor (six-cylinder) chassis. With their contrasting ash framing, mahogany veneer and steel panels, and boasting a level if finish that would be the envy of the finest yachts, these new Town & Country models were certainly very striking. They were also the best-equipped and most expensive models in the Chrysler range, and today are among the most highly prized American automobiles of their era.

First introduced in 1938 as the 'New York Special', the stylish New Yorker was based on Chrysler's up-market Imperial and used the latter's sidevalve straight-eight engine. In Chrysler nomenclature 'New Yorker' signified luxury, these models being distinguished by high quality interior trim and an occasionally adventurous choice of upholstery materials including Scottish tartan (on the New Yorker Highlander). The 1947 and '48 Chryslers exhibited only minor detail changes from the '46 line-up, though now the Town & Country Sedan was available on the six-cylinder Windsor chassis only, while all the T&C Convertibles were built on the eight-cylinder New Yorker chassis.

This superb and highly original Chrysler Town & Country Convertible was sold new in 1948 to Mr Bob Gault from Ontario (see registry extract on file). A matching-numbers example, the car retains its original Newport Blue livery and original interior trim of blue leather and taupe Bedford Cord, with original convertible hood in taupe. At some time around the late 1980s/early 1990s the Chrysler went to Italy where it was purchased in 1998 by the current vendor for his important Spanish private collection. Since then the car has participated in a variety of events in Spain. Serviced annually, it is described as in excellent running condition, the wooden parts benefiting from restoration in 2013 and the paintwork impeccably maintained. One of the most glamorous and iconic of post-war American automobiles, this beautiful Town & Country Convertible is offered with sundry invoices, Spanish Historic registration papers, technical inspection, and FIVA and ASI Identity Cards.