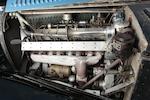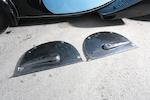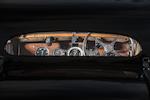 Bugatti Type 57 coupé Ventoux 1936
Châssis n° 57345
Moteur n° 57345 282
Carrosserie n° 57 1146

« La voiture file à 130 km/h avec la douceur et le confort qu'on est en droit d'attendre d'une Type 57... Nous sommes prêt à croire que Jean Bugatti a parcouru les 435 kilomètres vers Paris en moins de trois heures et demie avec sa Type 57 – une moyenne de 124 hm/h... » Motor Sport, mai 1939.

Au début des années 1930, Ettore Bugatti avait acquis une réputation sans précédent avec ses voitures aux performances éblouissantes, tant sur route que sur circuit. Les plus grands pilotes de course du monde remportaient de nombreux succès à bord des productions de l'usine de Molsheim et les choisissaient aussi souvent comme moyen de transport quotidien. Du fait de la longévité de son succès, Ettore Bugatti s'était obstinément attaché à ses moteurs à simple arbre à cames, n'adoptant le système de contrôle des soupapes par double arbre à cames, plus moderne, qu'après les incitations répétées de son fils ainé Jean, sur la Type 50 de 1930. À partir de là, Jean prit une part de plus en plus importante dans la conception des modèles, sa première création étant le superbe roadster Type 55. Il fut suivi d'un modèle de la même veine, la Type 57. Plus grande que la Type 55, la Type 57 adoptait un moteur à huit cylindres en ligne à double arbre à cames en tête de 3, 3 litres très moderne, logé dans un châssis Bugatti, plus traditionnel. La gamme témoignait de la grande influence de Jean et offrait enfin une grande routière civilisée capable de concurrencer les Delage et Delahaye. La Type 57 sous ses diverses formes attira des clients éclairés qui exigeaient le meilleur, parmi lesquels le « roi de la vitesse », sir Malcolm Campbell.

La Type 57 reçut des carrosseries de la meilleure qualité, construites dans une grande variété de styles, mais ce n'était pas un simple « jouet de riche », comme en attestent ses deux victoires aux 24 Heures du Mans. La preuve, s'il en fallait une, que les gênes ancestraux n'avaient pas été abandonnés en créant cette voiture capable de concurrencer les Rolls-Royce et Bentley. Les chiffres de production témoignent de son succès. Quelques 680 exemplaires de Type 57, tous modèles confondus, furent produits entre 1934 et 1940 et la Type 101 d'après-guerre reprenait le même châssis. Bien que de nombreuses Type 57 aient été carrossées sur mesure, les carrosseries les plus populaires étaient construites sur des dessins de Jean Bugatti par le carrossier attitré de la marque, Gangloff de Colmar, situé à quelques kilomètres des usines de Molsheim. L'un des dessins de Jean était le Ventoux, un coupé quatre places deux portes à pare-brise incliné, qui reprenait le nom du sommet provençal, étape incontournable du Tour de France et course de côte réputée de longue date.

Cette Ventoux première série, numéro de châssis 57345, est dans un état d'origine remarquable. Elle a été commandé neuve en décembre 1935 par l'agent Bugatti de Lyon, Arnaud, pour son premier propriétaire, André « Charles » Chauvenet, un éminent chirurgien de Sèvres et l'un des clients privilégié de Bugatti.

Construite en janvier/février 1936, elle a reçu son moteur d'origine numéro 57345 (nomenclature interne 282) qu'elle a conservé. Elle a été achevée et facturée le 14 mars 1936 et livrée peu de temps après. Chauvenet l'a faite équiper du carburateur inversé en option. 57345 est également dotée de freins hydrauliques aux quatre roues ce qui en fait l'un des premiers exemplaires à en être équipé. Le carburateur originel est compris dans la vente, ainsi qu'un certain nombre de pièces. La carrosserie est du premier type avec le coffre à séparation et l'une des rares sans marchepied.

Peu avant la seconde guerre, André Chauvenet déménagea à Paris et la Type 57 fut remisée. Elle a particulièrement bien vieilli et elle fut mise en vente par la famille Chauvenet en 1960 par l'intermédiaire du respectable marchand parisien Edgar Bensoussan. Achetée par J. W. Harrison d'Arlington en Virginie et expédiée aux États-Unis, elle fut inscrite à l'American Bugatti Club et a toujours été considéré comme une référence en termes d'origine et de conformité. Une diapositive datant de 1959/1960 atteste que la voiture était en bon état au moment de son acquisition par Harrison.

En 1967, Harrison vendit la Type 57 au collectionneur David Uihlein dans le Wisconsin qui, au lieu de la considérer comme une pièce de musée, en fit un usage régulier, jusqu'à ce que sa santé ne lui permette plus. Propriétaire de plusieurs rares Alfa Romeo d'avant-guerre, David Uihlein collectionnait uniquement des modèles originaux non restaurés et considérait la Type 57 Ventoux comme l'un des exemplaires les plus conformes et les plus originaux qu'il ait vus. Elle fut bien entretenue, tant mécaniquement qu'extérieurement, avec une attention particulière portée à la préservation de son authenticité.

Pendant plus de quarante années, David Uihlein a profité de cette Type 57, qui lorsqu'elle fut vendue, après sa mort, était pratiquement dans le même état que lorsqu'elle était neuve. Cette Bugatti est depuis 2013 la propriété de son vendeur au Royaume-Uni. C'est aujourd'hui l'une des très rares de son type à ne pas avoir été restaurée, ce qui contribue à sa grande valeur.

57345 a conservé son moteur d'origine 57345, sa boîte de vitesse 113, son pont arrière 585 et sa carrosserie 1146. Les panneaux de carrosserie et les garnitures intérieurs sont estampillés 57 et son numéro de carrosserie, 1146, est inscrit dans l'alliage des principaux panneaux. Tous les panneaux sont originaux et ne portent aucune trace d'accident, de rouille ou de réparation. La peinture d'origine, de type nitro-cellulosique, est dans un état de conservation impressionnant, tout en arborant les signes de près de 80 ans d'usage. Les initiales du propriétaire précédent ont été peintes à la main sur les deux portes et la voiture est vendue avec sa magnifique clé de contact originale, finement ouvragée.

57345 est peinte en bleu de France et noir avec un intérieur en cuir fauve impeccable et apparemment d'origine, ne montrant que quelques légères traces d'usure, compte tenu de son âge et de l'usage précautionneux qui en a été fait. Les instruments de bord et les manettes, en principe tous originaux, sont bien conservés et tous opérationnels, tandis que les vitres paraissent également d'origine sans traces de décoloration ou de délitation.

Tous les éléments du châssis sont conformes et d'origine, sans trace de dommage ou de réparation. Les liaisons au châssis n'ont apparemment jamais été démontées laissant penser que la carrosserie n'a jamais été séparée de son châssis. La suspension avant, en parfait état de fonctionnement, est conforme et d'origine, sans trace de dommage ou de réparation, tout comme les quatre freins hydrauliques.

Les blocs moteur, supérieur et inférieur, et la culasse sont d'origine, sans trace de fêlure, de dommage ou de réparation, bien que les habituelles traces de fuite d'huile soient visibles. La compression est excellente dans chaque cylindre et on ne signale ni fumée, ni bruits inquiétants lorsque le moteur tourne.

La boîte de vitesse est d'origine, sans fêlure, ni dommage, ni aucune trace de réparation, malgré les mêmes traces d'huile habituelles que sur le moteur. L'arbre de transmission, le tube de réaction, l'essieu et la suspension arrière sont tous d'origine et en excellent état, à l'exception des joints élastiques en toile qui auraient besoin d'être remplacés. Les roues fil sont également d'origine, conformes et en très bon état général, y compris la roue de secours. Les quatre roues sont chaussées de pneus ballon Englebert qui, à plus de 50 ans, ne sont montés que pour les besoins de l'exposition, de même que la roue de secours montée en Pirelli.

La documentation accompagnant la voiture comprend les notes manuscrites de David Uihlein datant des années 1960 et 1970, ses instructions de démarrage pour la voiture, divers rapports et autres documents et plusieurs bulletins et manuels.

Une fois chaussée de pneus plus appropriés, cette exceptionnelle Type 57 Ventoux fera une monture idéale pour le tourisme, le rallye, le plaisir de la conduite et les catégories « origine » à n'importe lequel des prestigieux concours d'élégance internationaux, tels que Pebble Beach, Amelia Island, etc... Une alléchante perspective pour son futur propriétaire.

1936 Bugatti Type 57 Ventoux Coupé
Chassis no. 57345
Engine no. 57345 282
Body no. 57 1146

'The car sped along at 80mph with the comfort and quietness one associates with the Type 57... We were quite willing to believe that Jean Bugatti has achieved the 435 kilometres to Paris in just under 3½ hours in the Type 57 - an average of 77mph...' - Motor Sport, May 1939.

By the early 1930s Ettore Bugatti had established an unrivalled reputation for building cars with outstanding performance on road or track; the world's greatest racing drivers enjoying countless successes aboard the Molsheim factory's products and often choosing them for their everyday transport. Because of its lengthy run of success, Ettore Bugatti remained stubbornly committed to his single-cam engine, only adopting the more advanced double-overhead-camshaft method of valve actuation, after much prompting by his eldest son Jean, on the Type 50 of 1930. From then on Jean Bugatti took greater responsibility for design, his first car being the exquisite Type 55 roadster. He followed that with a design of equal stature: the Type 57. A larger car than the Type 55, the Type 57 was powered by a 3.3-litre, double-overhead-camshaft straight eight of modern design housed in Bugatti's familiar Vintage-style chassis. The range showed the strong influence of Jean Bugatti and at last gave the marque a civilised grande routière to match those of rivals Delage and Delahaye. The Type 57 in all its forms attracted discerning owners who were satisfied only with the best, among them 'speed king' Sir Malcolm Campbell.

The Type 57 attracted coachwork of the finest quality executed in a startling variety of styles but was no mere rich man's plaything, as evidenced by two outright wins at Le Mans. Proof, if it were needed, that ancestral virtues had not been abandoned when creating a car fit to rank alongside Rolls-Royce or Bentley. Its success is revealed by the production figures: some 680 examples of all Type 57 models were produced between 1934 and 1940, and the post-war Type 101 was based on its chassis. However, although many Type 57s were fitted with bespoke bodies, the most popular coachwork was built to Jean Bugatti's designs by the marque's preferred carrossier, Gangloff of Colmar, just a few miles from the Bugatti works at Molsheim. One of Jean's own designs was the Ventoux, a two-door four-seat coupé with steeply raked windscreen, which took its name from the forbidding Provençal mountain best known for its role as a regular Tour de France stage and long-established motoring hill climb.

A 1st Series Ventoux, chassis number '57345' remains outstandingly original. The car was ordered new in December 1935 by the Lyonnaise Bugatti agent Arnaud on behalf of its first owner, André 'Charles' Chauvenet, a prominent surgeon from Sèvres and one of Bugatti's most favoured clients.

Assembled in January/February 1936, the car was fitted from new with engine number '57345' (with internal number '282'), which it retains. It was completed and invoiced on 14th March 1936 and delivered shortly thereafter. Chauvenet had the car fitted with the optional downdraft carburettor. '57345' also has four-wheel hydraulic brakes, making it one of the earliest known examples with this feature. The original carburettor is included in the sale together with a substantial quantity of spare parts. The body is early 1st Series with the separate partitioned boot, and is one of few without running boards.

Shortly before the outbreak of war, André Chauvenet moved to Paris and the Type 57 was placed in storage. It survived remarkably well and in 1960 was sold on the Chauvenet family's behalf by the respected Parisian classic car dealer Edgar Bensoussan. Bought by J W Harrison of Arlington, Virginia and shipped to the USA, the Type 57 was registered with the American Bugatti Club and has always been considered a benchmark of originality and correctness. A colour transparency dating from circa 1959/60 shows that car was in good condition at the time of Harrison's acquisition.

In 1967 Harrison sold the Ventoux to collector David Uihlein of Wisconsin, who rather than treat the car as a 'museum piece' drove it regularly well into the 1990s until his health declined. Owner of a number of rare pre-war Alfa Romeos, David Uihlein only collected original and un-restored motor vehicles and considered the Type 57 Ventoux one of the most original and correct examples he had ever encountered. While in his ownership the car was well maintained both mechanically and cosmetically, with careful attention paid to preserving its originality.

For more than 40 years David Uihlein enjoyed the Type 57, which when sold after his death was essentially the same as when it had been delivered new. The Bugatti has been in the current UK-based vendor's care since early in 2013. Today it is one of the very few of its type left in un-restored condition, and accordingly is highly valued.

Chassis number '57345' retains its original engine '57345', gearbox '113', rear axle '585' and body '1146'. Body panels and trim components are stamped '57' and the body number, '1146', is stamped on the alloy coachwork's main panels. All panels are original and without any signs of accident damage, corrosion or past repairs. Paintwork is original nitro-cellulose, which is in surprisingly good condition while displaying the inevitable signs of almost 80 years use. The former owner's initials have been hand-applied to both doors and the car comes with its original ignition key, the latter intricately fashioned and quite beautiful.

'57345' is finished in French Blue and black, with original and apparently unaltered tan leather interior showing signs of only moderate wear and tear commensurate with age and careful use. Apparently all original, the instruments and controls are well preserved and fully functional, while all glass appears original and shows no signs of damage, discoloration or de-lamination.
All chassis elements are original and correct, showing no signs of either damage or repair. Indeed, the body mounts appear never to have been undone, suggesting that the body has never been separated from the chassis. Functioning properly, the front suspension is original and correct, with no signs of damage or repair, likewise the four-wheel hydraulic brakes.

The engine's upper and lower blocks and cylinder head castings are original, showing no signs of cracks, damage or repairs, though the customary oil leaks are evident. Compression is reported as excellent in all cylinders and there is no smoke or worrying noises when the engine is running.

The gearbox is original, showing no signs of cracks, damage or repairs, though like the engine it does leak oil. The drive shaft, torque tub, rear axle and rear suspension are original and in generally excellent condition apart from the canvas flexible couplings, which need replacing. The wire wheels too are original, correct and in generally good condition, including the spare. However, the four road wheels are shod with Englebert 'Ballon' tyres which, being 50-plus years old, are fit only for display purposes, likewise the Pirelli spare.

Accompanying documentation consists of David Uihlein's hand written notes dating from the 1960s and 1970s; his starting instructions for the car; sundry records and other documents; and various manuals and bulletins.

Once re-shod with a new set of appropriate tyres, this exceptional Type 57 Ventoux would be an ideal candidate for touring, rallies, leisure driving and the 'preservation' class at any of the world's most prestigious concours events: Pebble Beach, Villa d'Este, Amelia Island, etc. An enticing prospect for the fortunate next owner.

Saleroom notices
Après la parution du catalogue, des recherches complémentaires sur l'histoire de la voiture par Pierre-Yves Laugier ont révélé d'autres informations histoire des voitures d'avant 1960. Il est vivement recommandé que toutes les personnes intéressées par la voiture prennent connaissance du nouveau rapport de Pierre-Yves Laugier avant d'enchérir. Ce rapport se trouve dans le dossier de la voiture. Following publication of the catalogue, further research on this car's history by Bugatti authority Pierre-Yves Laugier has revealed much more of the cars pre 1960 history. It is strongly advised that all interested parties review the report by Laugier which is now included in the history file prior to bidding.