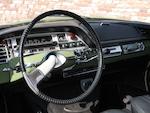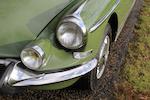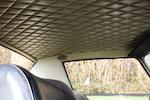 Aux mains de son premier propriétaire pendant 35ans
Citroën DS 21 Le Dandy coupé 1965
Carrosserie Henri Chapron
Châssis n° 4460002

Comme il l'avait fait vingt et un ans auparavant avec la révolutionnaire « Traction avant », Citroën étonnait à nouveau le monde en 1955, en lançant sa DS à la ligne futuriste. L'aspect spectaculaire de la nouvelle venue avait été dicté par les besoins de l'efficacité aérodynamique, alors que sous la carrosserie profilée aux allures de requin, on trouvait une suspension indépendante hydropneumatique à assiette constante aux quatre roues, des freins, un embrayage et une direction assistés. Aucune autre voiture européenne n'allait égaler le confort de la DS pendant plusieurs années. Les autres modèles de DS proposés étaient l'ID (une version simplifiée meilleure marché), l'immense break Safari et la décapotable deux portes. Cette dernière, l'une des plus élégantes voitures des années 1960, était l'œuvre du célèbre carrossier parisien Henri Chapron qui avait baptisé son premier modèle de cabriolet DS, La Croisette. La version décapotable de Chapron ne fut d'abord pas approuvée par Citroën, l'obligeant à acheter des voitures complètes plutôt que des châssis nus, mais le constructeur finit par plier et se mit à construire son propre cabriolet « usine » sur le châssis allongé du break ID. Chapron continua à construire ses propres versions cabriolets Le Caddy et Palm Beach, ainsi que plusieurs variantes limousines et coupés, la plus populaire de ces dernières étant la Le Dandy dont 50 unités furent construites entre 1960 et 1972. Cet exemplaire superbe de l'une des plus rares Citroën carrossées par Chapron conserve sa couleur d'origine verte avec un intérieur en cuir noir et dispose d'une transmission manuelle à quatre rapports.

Le vendeur nous informe qu'il s'agit d'un modèle de la troisième génération et l'un des trois seulement construits sous cette forme. La voiture est restée aux mains de son premier propriétaire à Paris jusqu'en 2000 et se trouve aujourd'hui aux mains de son troisième propriétaire seulement. Elle a été entièrement restaurée en Hollande il y a une dizaine d'années et est décrite comme étant en très bon état général. Elle a figuré dans le bulletin annuel Citroën DS, elle est vendue avec son certificat du club hollandais et ses papiers d'immatriculation hollandaise.

1965 Citroën DS21 Le Dandy Coupé
Coachwork by Henri Chapron
Chassis no. 4460002

Just as it had done 21 years previously with the revolutionary 'Traction Avant', Citroën stunned the world again in 1955 with the launch of the strikingly styled 'DS'. The newcomer's startling appearance had been determined by the requirements of aerodynamic efficiency while beneath the shark-like, low-drag bodyshell there was all-independent, self-levelling, hydro-pneumatic suspension plus power-operated brakes, clutch and steering. No European car would match the DS's ride quality for several years. Other models offered alongside the original DS were the ID (a simplified, cheaper version), the cavernous Safari estate and the two-door Décapotable (convertible). One of the most stylish cars of the 1960s, the latter was the creation of Parisian coachbuilder, Henri Chapron, who called his first such model 'La Croisette'. At first the conversion was not approved by Citroën, forcing Chapron to buy complete cars rather than rolling chassis, but eventually the factory relented and went on to produce its own usine version on the longer chassis of the ID Break (estate) model. Chapron continued to build his own Le Caddy and Palm Beach cabriolets together with various limousines and coupés, the most popular of the latter being Le Dandy, approximately 50 of which were completed between 1960 and 1972.
This superb example of one of Chapron's rarer coachbuilt Citroëns is finished in its original colour combination of green with black leather upholstery, and has the four-speed manual transmission. We are advised by the vendor that it is a '3rd generation' model and one of only two made in this form.

The car remained with first owner in Paris until 2000 and is currently in the hands of only its third owner. It was completely restored in Holland around ten years ago and is described as in generally very good condition. Previously featuring in the Citroën DS Yearbook, the car is offered with Club Holland certificate and Netherlands registration papers.