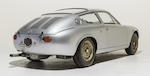 Provenant de la Collection Maranello Rosso
Abarth Simca 1300 GT Course 1965
« Long Nez » Coupé Compétition Champion du Monde
Carrosserie par Beccaris
Non immatriculée dans l'UE
Châssis n°130S-0080
Moteur n° 230-98

Des rumeurs à propos d'un accord de collaboration entre Abarth et la société française Simca commencèrent à circuler en 1961. La firme française avait débuté par l'assemblage sous licence de divers modèles Fiat dans l'intention de fournir au marché automobile français des automobiles de tourisme bon marché. Peu après la fondation de Simca en 1935, une usine fut installée à Nanterre (ancienne usine Donnet) afin de produire des Fiat 508 Ballila. La Simca Cinq qui apparut l'année suivante était à la base une Fiat 500 de l'époque. Vers la fin de 1961, la société Simca, fondée par l'entrepreneur italien Enrico Teodoro Pigozzi , introduisit son modèle le plus réusi, la Simca 1000. Il s'agissait de sa première voiture à moteur arrière, une berline quatre portes bien dessinée, concurrente directe des Renault Dauphine puis R8 contemporaines. Le moteur choisi pour l'équiper était un type à quatre cylindres de 944 cm3 dérivé du Fiat 600 et donnant 35 ch en version de base. La Simca 1000 était plus grande, plus spacieuse, plus puissante et plus rapide que la Fiat 600 D contemporaine et, après son lancement au salon de Paris 1961, sa production explosa en 1962 pour atteindre 162 000 exemplaires dans l'année.

L'ancien partenaire viennois de Carlo Abarth, Rudi Hruska était devenu ingénieur conseil auprès de la société de Pigozzi et il faisait régulièrement état auprès du patron de Simca des victoires d'Abarth avec des voitures sur base Fiat. La valeur promotionnelle des succès en compétition qui profitait donc au constructeur des véhicules sources devint de plus en plus évidente, ce qui eut pour effet d'inviter Abarth à devenir un partenaire pour les essais et la promotion de la firme française. Abarth devait donc produire une Grand Tourisme sur la base des organes de la Simca 1000 d'où l'apparition de la « Simca Abarth « ou « Abarth Simca » - les mots sont interchangeables – 1300.

L'équipe de Carlo Abarth conçut un tout nouveau moteur pour ce nouveau projet en utilisant l'architecture générale bien connue et éprouvée de la 1000 Bialbero (2 ACT) et les cotes de 76 x 71 mm pour obtenir une cylindrée de 1 288 cm3 avec un rapport volumétrique de 10,4 :1 et une alimentation par deux carburateurs double corps Weber 45DCOE. La culasse à deux arbres à cames avait deux soupapes par cylindre disposées à 80 degrés l'une de l'autre. Le plancher, la boîte, la direction et la suspension dérivaient de la Simca 1000 de production, tandis que la carrosserie rappelait la plus récente Fiat Abarth Coupé.

La Simca Abarth 1300 fut introduite en février 1962 au prix de catalogue de 3 300 000 lires. En attendant leur homologation par la FIA en catégorie Grand Tourisme, les Simca Abarth 1300 couraient en catégorie sport où elles ne tardèrent pas à dominer leur classe. Les premières victoires du modèle – notamment en course de côte – incitèrent Carlo Abarth à investir davantage dans le développement du thème sur base Simca.

La Simca Abarth 1300 s'avéra capable de coiffer l'Alfa Romeo Giulietta rivale au cours de la saison 1962 et la variante 1600 ultérieure avec 138 ch à 7 800 tr/min et ses quatre freins à disque Girling pouvait atteindre 240 km/h. De véritables fusées sur les circuits...

Mais la Simca Abarth allait encore franchir une nouvelle étape. Le palmarès 1963 d'Abarth fit état d'un étonnant total de 535 victoires dont 90 pour la seule Simca Abarth 1300, semblable au très bel exemplaire proposé à la vente.

Sur la base des rumeurs qui coururent à la fin de 1961, les médias et les passionnés s'attendaient à ce qu'Abarth travaillât sur les organes mécaniques de la nouvelle Simca 1000 à moteur arrière pour en faire simplement un modèle de sport. Mais la surprise arriva en février 1962 quand la presse put voir en avant-première la nouvelle Simca Abarth 1300 propulsée par un nouveau moteur double arbre – codé en interne « 230 » - qui apparut nettement inspiré pour son archiecture générale par le nouveau 1000 Bialbero des plus récentes Fiat Abarth. La conception de la carrosserie du nouveau coupé Gran Turismo franco-italien fut aussi influencée par les plus récentes GT de petites cylindrées dessinées en interne par Mario Colucci dans la célèbre usine Abarth du Corso Marche et fabriquée tout à côté par la carrozzeria spécialisée d'Edoardo Beccaris.

L'empattement du nouveau modèle, 2 090 mm, donnait une silhouette plus élégante et mieux proportionnée que celle de la GT sœur sur base Fiat 600 de 2 000 mm d'empattement seulement

Carlo Abarth investit lui-même beaucoup de ressources et d'enthousiasme dans la 1300 Coupé qui, selon l'historien de la marque, Luciano Greggio – « comblait un écart au-dessus de la cylindrée d'un litre dans la gamme de voitures qu'il produisait ».

Avec un alésage de 76 mm et une course de 71 mm, la nouvelle cylindrée atteignait 1 288 cm3, avec un rapport volumétrique de 10,4 :1 et, avec deux soupapes par cylindre, le nouveau groupe était alimenté par deux carburateurs Weber double corps 45DCOE. Le graissage était à carter sec et le régime limite était de 7 200 tr/min, la puissance maximale, 125 ch, était obtenue à 6 000 tr/min. Avec un plancher, une boîte, une direction et des suspensions dérivés de la Simca 1000 de production, le nouveau modèle pesant à peine 630 kg était capable d'atteindre 230 km/h. Son prix d'introduction était de 3 300 000 lires et elle devint aussitôt la voiture à battre dans la catégorie 1300...

De la 1300 naquirent la 1600 et finalement le dernière « fusée », la 2000 GT. Elles partageaient toutes un même style de carrosserie et les voitures se multiplièrent vraiment dans les épreuves européennes et américaines du début à la fin des années 1960.

L'exemplaire offert ici – châssis n° 130S/0080 – a été examiné par un des meilleurs spécialistes d'Abarth et, en tant que modèle de compétition du début, décrit comme étant « en état raisonnable » et « presque complet (les étriers de frein à main sont manquants) ». Comme dans le cas de toutes les voitures que nous avons pu présenter en provenance directe du musée de la Collection Maranello Rosso de Falciano, San Marino, « 0080 » offerte ici a été conservée pendant des années en exposition statique. Il est donc recommandé de procéder à une inspection mécanique étendue et à des contrôles essentiels avant d'utiliser la voiture sur la route.

Mais les voitures Abarth GT de la Collection Maranello Rosso sont réputées pour leur qualité intrinsèque et leur classe, ayant été sélectionnées et acquises pour sa collection par le regretté Fabrizio Violati dont la propre carrière en compétition avait commencé au volant d'une Fiat Abarth. Pami cet hommage connu du monde entier à la marque Abarth, cet exemplaire gris argent défie ses rivales en étant l'une des plus désirables de la collection.

La voiture est offerte avec ce qui doit être une plaque d'immatriculation arrière originale de Crémone frappée « CR 66076 » plus une plaque avant frappée « 141485 UD » sans doute du service des immatriculations d'Udine. Malheureusement, excepté certaines plaques, nous tenons à faire savoir aux acheteurs potentiels que la voiture ne possède ni papiers, ni documents d'immatriculation dans son dossier.

On voudra bien noter que le véhicule est soumis à une taxe d'importation réduite de 5,.5 pour cent s'il demeure dans l'Union Européenne.

From the Maranello Rosso Collection
1965 Abarth Simca 1300 GT Corsa
'Long-Nose World Champion' Coupe
Coachwork by Beccaris

Not registered in the EU
Chassis no.130S-0080
Engine no.230-98

Rumours of a collaborative agreement between Abarth and the French company of Simca began to circulate in 1961. The French company had begun to assemble assorted Fiat models under licence in France, intending to provide the French motoring market with low-price utility cars. Upon Simca's establishment in 1935 a plant producing Fiat 508 Balillashad been set-up at Nanterre, and the SimcaCinq began production the following year, exactly replicating the contemporary Fiat 500. Late in 1961 the Simcacompany – which had been founded by Italian entrepreneur Enrico TeodoroPigozzi, launched its most successful model – the Simca 1000. This was its first rear-engined car and also a neat four-door saloon that became the direct competitor of the contemporary Renault Dauphine.Its chosen power unit was Fiat 600-derived, emerging as a 944cc 4-cylinder providing 35bhp in standard form.The Simca 1000 was larger, more roomy, more powerful and faster than the contemporary Fiat 600D, and after its launch at the 1961 Paris Salon its production mushroomed into 1962 to reach 160,000 units for the year.

Carlo Abarth's old Viennese sparring partner, Rudi Hruska, had become a technical consultant with Pigozzi's French venture, and regularly brought Abarth's successes with its Fiat-based cars to the company boss's attention. The powerful promotional platform of competition success reflecting credit upon the source-vehicle manufacturer really appealed and in effect Abarth was then invited to become a test and promotional partner of the French company. Abarth was to produce a Gran Turismo car using Simca 1000 components as its base, and hence the 'Simca Abarth' or 'Abarth Simca' – the terms are interchangeable - 1300 emerged.

Carlo Abarth's team designed a completely new engine for the new venture, using the tried and tested broad architecture of the twin-cam 1000 Bialberobore and stroke dimensions of 76mm x 71mm to displace 1288,compression ratio cited as 10.4:1 and induction via two twin-choke Weber 45DCOE carburettors. The twin overhead-camshaft head disposed its two valves per cylinder at an included angle of 80-degrees. The new model's floor pan, transmission, steering and suspension were drawn from Simca 1000 production, while the body matched the latest Fiat AbarthCoupe configuration.

The Simca Abarth 1300 was launched in February 1962 at a list price of Lire 3,300,000. Pending its homologation by the FIA as a Gran Turismo the Simca Abarth 1300s contested the sports category and immediately became dominant within its International category. The model's early victories –particularly in hill-climbs – persuaded Carlo Abarth to invest in further development of the Simca-based theme.

The Simca Abarth 1300s proved capable of running rings around the rival Alfa Romeo Giulietta during the 1962 season, and the subsequent 1600 variant with 138bhp at 7,800rpm and with Girling disc brakes all round was capable of 240km/h – 149mph. These were rocket ships, indeed.

But still there was a further step that the Simca Abarth series would take. Abarth's 1963 racing record included a staggering 535 victories, of which 90 were scored alone by the Simca Abarth 1300s – such as this extremely attractive example now offered here.

Based on gossip circulating during the closing months of 1961, the media and enthusiast fraternity expected that Abarth would work upon the mechanics of the new rear-engined Simca 1000 saloon model and transform it simply into a sports car. However, the big surprise came in February,1962, when the press were given a preview of the new Simca Abarth 1300, powered by a new twin-overhead camshaft engine – internal code '230' – which was clearly inspired in its general configuration by the new 1000 Bialbero (twin-cam) motor of the latest Fiat Abarths. The body design of the new Franco-Italian Gran Turismo Coupe was also influenced by the latest small-capacity GTs styled in-house by Mario Colucci at Abarth's famous Corso Marche factory, and built "just around the corner" there by OdoardoBeccari's specialist carrozeria.

The new model's wheelbase length of 2090mm also lent itself to a more graceful, better-proportioned and elegant appearance compared to the Fiat 600-based sister GT car's 2000mm length.

Carlo Abarth personally invested considerable resources and enthusiasm in the 1300 Coupe, which – according to marque historian Luciano Greggio – "...plugged a gap beyond the 1-litre capacity in the range of cars he produced".

With bore and stroke dimensions of 76mm x 71mm, the new 1300's swept volume was listed as 1288cc, standard compression ratio 10.4:1, and with two valves per cylinder the unit breathed through two twin-choke Weber 45DCOE carburettors. It had dry-sump lubrication and a rev limit of 7,200rpm, and its claimed power output was 125bhp at 6,000rpm. With its floor-pan, transmission, steering and suspension all derived from the Simca 1000. Weighing-in at barely 630kg – 1,388lbs - the new model was capable of 230km/h – 142mph. Its list price upon introduction in February 1962 was Lire 3,300,000 – and in both International and national competition it instantly became the 1300cc class car to beat...

From the 1300 model grew the 1600 and ultimately the definitive 'rocket ship' 2000GT model. All shared externally quite similar bodywork and the cars absolutely proliferated most notably in European and American competition during the early-to-mid 1960s.

The example offered here – chassis 130S/80 – has been examined by a leading Abarth specialist and as an early competition model, described as being in "reasonable condition", and "nearly complete (hand-brake calipers missing)".As with all the cars that we have been able to offer direct from the Maranello Ross Collection museum in Falciano, San Marino, '0080' offered here has been preserved for many years on static display. Therefore we recommend specialist mechanical inspection and attention before any attempt is made to run the car in earnest.

However, the Maranello Rosso Collection Abarth GT Corsa cars are renowned for their intrinsic quality and class, having been selected and acquired for his Collection by the late Fabrizio Violati, whose own serious competition career had begun with a Fiat-Abarth. Amongst this world-renowned tribute to the Abarth marque this silver-grey liveried example matched its peers as one of the most desirable of them all.

Thecar is offered here together with what are believed to be an original Cremona registration tail plate stamped 'CR 66076' plus a nose-plate stamped '141485 UD' – assumed of course to be from the Udine registration office. Sadly, apart from some number plates, we wish to advise prospective bidders that the car does not have any paperwork or registration documents on file.

Please note this vehicle is subject to the reduced import tax of 5.5% should it remain in the EU.



Saleroom notices
Les taxes européennes ont été payées sur cette voiture. La voiture n'est donc pas sujet à la taxe de 5.5% sur le prix d'adjudication. This motor car is now EU taxes paid will not be subject to 5.5% on the hammer price.