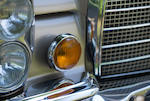 1971 MERCEDES-BENZ 280SE 3.5 CABRIOLET

Chassis no. 111027.12.004323
Engine no. 116980.12.005541

3,499cc SOHC V8 Engine
Bosch Fuel Injection
200bhp at 5,800rpm
4-Speed Automatic Transmission
4-Wheel Independent Suspension
4-Wheel Disc Brakes


*Matching numbers example
*Desirable 3.5 V8 with floor-shift and air conditioning
*Factory livery in Tunis Beige over Cognac
*One of the last great classics from Mercedes-Benz
*Offered with factory records, books and tools


THE MERCEDES-BENZ 280SE 3.5

"If you feel obligated to ask about the price you not only will never understand the car, you have branded yourself incapable of ever appreciating its virtues even if someone gave you one". Car & Driver on the Mercedes-Benz 280SE 3.5.

The 3.5-liter version of the 280SE typifies the resurgence of larger-engined Mercedes-Benz models that began in the late 1960s. The ultra-luxurious 280SE Coupe, Cabriolet and 300SEL saloon models were chosen by Mercedes-Benz to launch its magnificent new 3.5-liter V8 engine in 1969. An over-square design featuring a cast-iron block and aluminum cylinder heads, each equipped with a single overhead camshaft, this all-new, state-of-the-art power unit produced a torquey 200bhp, courtesy of Bosch electronic fuel injection and transistorized ignition. Thus equipped, the 280SE 3.5 was good for cruising speeds up near 125mph, with 60mph reachable in 9.5 seconds, a substantial improvement on the six-cylinder version's figures.

Although the equivalent SEL saloon used the "New Generation" body-shell, the Coupe and Cabriolet kept the coachwork that had debuted back in 1959 on the 220SE and, as befitted top-of-the-range luxury models, came equipped with automatic transmissions, air conditioning, power windows and stereo radio as standard. The 280SE 3.5 was to be the final model to feature this much admired body style, and today these last-of-the-line top quality classics are highly sought after by discerning collectors.


THE MOTORCAR OFFERED

Completed at the Mercedes-Benz's Stuttgart factory in June of 1971, this 280SE 3.5 Cabriolet was prepared for the US market, and finished in DB462 Tunis Beige over a Cognac leather interior. The elegant and sophisticated V8 Cabriolet is believed to have stayed with its first owner until 1995, at which time it only 42,000 miles were recorded on its odometer. The second owner, Tenafly, New Jersey resident Mr. Edward Turen, would keep the 280SE until 2010, at which time the Mercedes was purchased by its third and most recent previous owner, a Mr. Jagindar Singh Dhillon of Victoria, British Columbia.

Today this beautifully presented, top-of-the-range V8 Mercedes Cabriolet shines in its factory-correct, although refinished Tunis Beige over Cognac upholstery. One of approximately 800 examples of the luxurious 280SE 3.5 specified for the US market, this car is equipped with the desirable floor-mounted gear lever, air conditioning, power windows and the classic Becker radio. The car's comprehensive history file includes copies of the Mercedes-Benz factory build records, receipts from service and maintenance work dating back to the 1990's, the original owner's manual and factory warranty card among other factory pamphlets. A tool roll and jack are neatly situated in the trunk.

These incredibly high quality, stylish V8 powerhouses are the last of the classic, hand-built cars to come out of the Mercedes workshops in Stuttgart; they offer timeless styling and extreme luxury in a very usable package. With fewer than 63,000 miles from new, this Tunis Beige Cabriolet must be one of the finest examples on the market today.

Saleroom notices
Please note that the title for this vehicle is in transit.