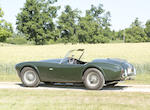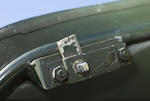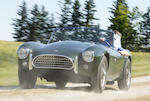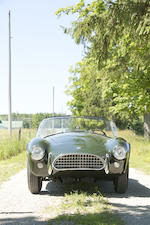 FoMoCo factory demonstrator
1963 SHELBY COBRA 289

Chassis no. CSX2119
Engine no. 1296

289ci OHV V8 Engine
Single Four-Barrel Carburetor
271bhp at 5,800rpm
4-Speed Manual Transmission
4-Wheel Independent Suspension
4-Wheel Disc Brakes


*Exceedingly original and preserved Cobra
*Fewer than 11,300 miles from new and one owner for over 47 years
*Wonderful factory paint and interior with exceptional patina
*Recent mechanical refurbishment
*Offered with substantial history file


THE SHELBY COBRA

The Shelby Cobra story is quite well known, although different people have their own accounts of the story. A.C. Cars, Ltd., was a boutique British automaker whose heritage descended from 1908. Originally makers of small delivery vehicles (the initials came from Auto Carrier), the company got into sports cars in the 1920s. After World War II, there was a sports hiatus while the company built some invalid cars, but in 1954 the Ace debuted, a new tube-frame car with all-independent suspension by John Tojeiro. From 1956, A.C.'s own engines were supplemented with outsourced units from Bristol and Ford of England.

Carroll Shelby, meanwhile, a chicken farmer turned racing driver, approached A.C. about putting American V8s into the splendid Ace chassis. Shelby had initially been interested in Chevrolet's small block engine, but General Motors turned him down, no doubt because of concerns over competition for the Corvette. A.C.'s Charles Hurlock expressed interest in the proposition, and shortly thereafter, in October 1961, Shelby learned of Ford's new small block, slated for introduction in the 1962 intermediate Fairlane model. Ford was more than eager to do business for the exact reasons that Chevrolet declined.

Rightly regarded as one of the all-time great classic sports cars, the early AC Cobras remain some of the most iconic and collectible cars ever made.


THE MOTORCAR OFFERED

This highly original and beautifully preserved example of Shelby's legendary Cobra, chassis CSX2119, was invoiced to Shelby American on April 30th, 1963. Finished in Vineyard Green over a beige interior, the car was shipped to Los Angeles on May 2nd aboard the Loch Avon, ultimately ending up at Shelby's headquarters. After completion at Shelby American in August of 1963, CSX2119 was consigned to W.J. Janner, Car Sales Promotion, Ford Division, Ford Motor Company, Dearborn, Michigan, and was shipped to Dearborn aboard one of the FoMoCo trucks along with other early Cobras CSX2083, 2085, 2120, and 2122.

CSX2119 was invoiced to Jacques Passino, an executive at FoMoCo, in September of 1963. The invoice read: "1 Cobra-Ford chassis # 2119," ($5,195.00); with Class "A" accessories ($224.50); a luggage rack ($30); and WSW tires ($32.50), less the FoMoCo discount of $300, for a total of $5,182.00. During this time, CSX2119 was fitted with the factory hard top, and used as a Ford executive demonstration car for promotion in the Michigan area.

The Cobra was returned to Shelby American during the latter half of 1964 once its promotional duties had been satisfied, and it was then sold to Metke Ford of Bellevue, Washington. They notified Shelby American on 4/1/65: "Cobra #CSX2119 was recently purchased from us by James C. Bargelt (Bellevue, WA). After comparing notes with fellow Cobra owners at Pacific Raceways, Mr. Bargelt has asked that you send him direct, a dash plaque and to put him on your mailing list." Mr. Bargelt, an engineer at Boeing, also owned CSX2459, a USRRC competition Cobra, which he was known to have raced from 1966-68.

During Bargelt's ownership, he drove CSX2119 to watch the USRRC Road Races at Kent, Washington, and a dash plaque from this event was attached to the car. In 1966, the car had a minor incident to the left front, and as it was much easier at the time to replace a portion of the left front fender than to hammer it out, a factory fender was purchased from Shelby American; this metal was carefully crafted in and the paint blended very nicely to match the factory paint on the rest of the car.

In 1966, Bargelt sold CSX2119 to Michael W. Hyer of Mercer Island, Washington for $4,000. Hyer relocated to Blacksburg, Virginia shortly thereafter, bringing the small-block Cobra with him. CSX2119 remained in Hyer's ownership until recently; he states the car saw very limited use and was kept in storage until the late 1990s, resulting in total mileage of just 11,128 miles from new. CSX2119 therefore presents as a genuine, highly original and preserved, low original mileage Cobra that has always remained intact and complete.

Today, CSX2119 retains all of its major components, including its original engine. The car still has much of its factory original paint, as well as its original interior, hardware and bright work. The trunk is equally untouched, and complete with the original factory accessories, such as the spare tire, complete tool roll with Shelby jack and grease gun, soft top with mounts, side curtains and tonneau cover. When Hyer bought the car from Bargelt, he retained his complete Cobra Owners Club of America (COCOA) file, including CSX2119's retail buyer's form and Cobra new car warranty card, all of which are still with the car. Also included in the file are original letters from the COCOA president, Charles C. Green, and a notarized statement from Mr. Hyer, addressing the low mileage and originality of the car.

Recently, CSX2119 has received a mechanical refurbishment, and is said to drive and perform just as it should, delivering the type of experience only available with a low mileage, very original car. Chassis number stampings can be found on hinges and latches, and the car's original license plate from 1966 is still mounted on the car today, together with its expired 1970 registration sticker. Equipped with its factory hardtop and luggage tray, CSX2119 looks terrific, and wears a wonderful patina in and out. With one owner for over 47 years and less than 11,300 miles from new, CSX2119 is one of the finest early Cobras we have ever seen, and in its lovely original color of Vineyard Green, it is also one of the most attractive.