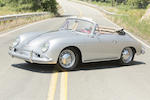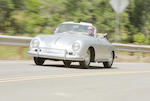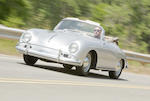 1959 PORSCHE 356A 1600 CABRIOLET
Coachwork by Reutter

Chassis no. 151991
Engine no. 74065

1,582cc OHV Flat 4-Cylinder Engine
2 Solex Carburetors
90bhp at 5,400rpm
4-Speed Manual Transaxle
4-Wheel Independent Suspension
4-Wheel Drum Brakes


*Delivered new to California
*Formerly owned by Tour de France cyclist Jonathan Vaughters
*Recent restoration to very high standards
*Elegant and sporting original color scheme
*Open-air Porsche motoring at its finest


THE PORSCHE 356A

Although Ferdinand Porsche had established his independent automotive design consultancy in the early 1930s, his name would not appear on a car until 1949. When it did, it graced one of the all-time great sports cars: the Porsche 356. The work of Ferry Porsche, the Type 356 was based on the Volkswagen designed by his father, Ferdinand, and like the immortal 'Beetle' employed a platform-type chassis with rear-mounted air-cooled engine and all-independent torsion bar suspension.

Having commenced manufacture with a short run of aluminum-bodied cars built at Gmünd, Porsche began volume production of the steel-bodied 356 coupé at its old base in Stuttgart, at first in premises shared with coachbuilders Reutter and then (from 1955) in its original factory at Zuffenhausen. In 1951 a works car finished first in the 1,100cc class at the Le Mans 24 Hours, thus beginning the marque's long and illustrious association with Le Sarthe.

The first phase of development saw the 356's engine grow to 1.3 and then to 1.5 liters; the original split windscreen replaced by a one-piece; and a Porsche synchromesh gearbox adopted. 1955 marked the arrival of the restyled 356A, the newcomer being readily distinguished by its rounded windscreen and 15" - down from 16" - wheels. At the same time, a 1,600cc engine replaced the old 1.5-liter unit and would be standardized on the successor 356B model. In production until 1965, the 356 is where the Porsche legend began and good examples have long been prized by collectors.


THE MOTORCAR OFFERED

An American car from new, this Reutter-bodied Porsche 356A T2 Cabriolet was originally delivered to C.W. Bonner of Fresno, California. Mr. Bonner, a lifelong resident of the Central Valley, owned and ran the Bonner Packing Co., a family company that was the largest privately held raisin packing firm in the world. Finished in Metallic Silver (#5806) over Red leather and vinyl interior and with a black top, Bonner's new Cabriolet must have looked the business driving down East Olive Avenue on the way to see Raisin in the Sun at the Tower Theater.

The car's later history is not well known, but by 2009 it had been acquired by Tour de France cyclist Jonathan Vaughters of Boulder, Colorado. The next year a complete restoration was performed, with the car trimmed in its original factory colors as noted on its Kardex — a copy of which is included in the sale. During the restoration new seats, top, carpet, and trim were fitted, while the engine and transaxle were rebuilt and the brakes serviced.

It appears Mr. Vaughters did not spend much time in the Cabriolet, as it was later sold having covered only a few miles. Only a few months ago the paint was refreshed to its current high gloss sheen. Complete with its spare wheel and tire, tool kit, and owner's manual, it is a beautiful example of an early 356 Cabriolet that retains its brilliant original color scheme and inherent sense of style and panache.