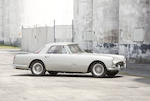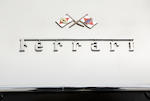 Ex-HRH Prince Bertil of Sweden and IAA Frankfurt Auto Show
1959 FERRARI 250GT SERIES 1 COUPE
Coachwork by Pinin Farina

Chassis no. 1471GT
Engine no. 1471GT

2,953cc SOHC V12 Engine
3 Weber Carburetors
240bhp at 7,000rpm
4-Speed Manual Transmission with Overdrive
Front Independent Suspension – Live Rear Axle
4-Wheel Disc Brakes


*Well-equipped, royally owned Ferrari
*Displayed at the 1959 IAA Frankfurt Auto Show
*Highly original and preserved, matching numbers example
*Delivered new in white with a silver roof and red interior
*Offered with extensive history file, owner's manual and tools


THE FERRARI 250GT

By the late 1950s, road car production had ceased to be a sideline for Ferrari and was seen as vitally important to the company's future stability. Thus the 250, Ferrari's first volume-produced model, can be seen as critically important, though production of the first of the line - the 250 Europa, built from 1953 to '54 - amounted to fewer than twenty. The 250 Europa's introduction heralded a significant change in Ferrari's preferred coachbuilder; whereas previously Vignale had been the most popular among Maranello's customers, from now on Pinin Farina (later Pininfarina) would be Ferrari's number one choice.

True series production began with the arrival of Pinin Farina's elegant Coupe on the 250GT chassis, 350 of which were built between 1958 and 1960 within the sequence '0841' to '2081'. However, the relatively small scale of production meant that cars could still be ordered with subtle variations according to customer choice, as well as enabling a handful of show cars and 'specials' to be constructed on the 250GT chassis. A number of important developments occurred during 250GT production: the original Colombo-designed Tipo 128C 3.0-litre engine being superseded by the twin-distributor 128D, which in turn was supplanted in 1960 by the outside-plug 128F engine which did away with its predecessor's siamesed inlets in favor of six separate ports. Developed from the 1.5-litre unit that powered Ferrari's first ever sports car - the Tipo 125C - this supremely versatile engine proved equally at home on both road and track, effectively establishing the worldwide reputation of the marque.

Maximum output on triple Weber carburetors was 240bhp, which was good enough for a top speed of 150mph, making the 250GT one of the fastest GT cars available. On the chassis side, four-wheel disc brakes became optional in 1959 and a four-speed-plus-overdrive gearbox the following year. Topped by Pinin Farina's high-quality and luxuriously appointed coachwork, these cars remain among the finest motorcars available to this day. More refined and practical than any previous road-going Ferrari, yet retaining the sporting heritage of its predecessors, the 250GT is a landmark model of immense historical significance.


THE MOTORCAR OFFERED

Offered here is 250GT Series 1 Coupe number 1471GT - arguably one of the most exciting examples of the model, both in terms of prominent ownership, show-car status and factory options. 1471GT started life in May of 1959, when its bare chassis was sent to the Torino facility of Carrozzeria Pinin Farina, to be clothed in their elegant Coupe coachwork. The seventh to last of the first series 128D chassis, 1471GT was factory equipped with four wheel disc brakes, and the offset-lever four-speed overdrive transmission. The craftsmen at Pinin Farina spent most of the summer building the coachwork for the new Ferrari, finishing it in an elegant two-tone livery of Grigio Argento on the top, and a Bianco lower half. A beautifully contrasting red was chosen for the interior.

1471GT was completed in October of 1959, and soon thereafter delivered to the official Ferrari importer and agency of Sweden, Tore Bjurstrom. Mr. Bjurstrom had big plans for the new Ferrari, and soon after taking delivery transported 1471GT to Germany for display at the 1959 International German Auto Show - IAA in Frankfurt. After the show, 1471GT returned to Sweden, where HRH Prince Bertil, the Ferrari's first owner, took delivery in late 1959. The Duke of Halland, Prince Bertil Gustaf Oskar Carl Eugén was 47 years old when he took delivery of his new Pinin Farina Coupe. A popular public figure in Scandinavia and throughout Europe, Bertil had a great passion for motorcars, and would own several Ferraris during his lifetime.

In 1961, 1471GT was sold on to Langdon 'Bill' Proctor, an American playboy residing in Switzerland. Mr. Proctor was known to rub shoulders with the Swiss elite, and surely felt right at home when arriving at exotic destinations in the silver and white Ferrari. 1471GT was registered on Swiss canton Vaud license plate VD 106426, and used often as daily transport by Procter. In November 1964, the Ferrari returned to Maranello, where it was serviced and maintained at Ferrari's factory Assistenza Clienti service center. At this point, the 250GT showed 53,190 kilometers on its odometer. Soon thereafter, Proctor decided to paint the entire car silver, and it is this color scheme that remains on the car until this day.

In 1966, having accumulated nearly 70,000 kilometers, 1471GT was treated to an engine rebuild at Garage Pesa SA in Lausanne, Switzerland. Near the end of the 1960s, Proctor sold 1471GT to Mr. Jon Lindsay, a young dental student living in Proctor's guest house at the time. Lindsay, an American living in Switzerland, must have felt that his father back home, Hamlin Lindsay, was missing out on the action, and soon gifted 1471GT to him. 1471GT was crated up, and by 1970 left on M/V Atlantic Crown to New York, USA. Hamlin Lindsay kept the silver Ferrari until his death in the mid-1970s, at which time it reverted to Jon Lindsay's ownership. By this time, Lindsay was practicing dentistry in the Monterey, California area.

1471GT remained in Lindsay's ownership until 1983, when purchased by a Bay Area engineer, Marc Wilcoxen. Wilcoxen would keep 1471GT for a decade and a half, before selling the car in July of 1999 to William Tipton, another Californian Ferrari enthusiast. 1471GT remained in Mr. Tipton's careful ownership for another decade and a half.

Today, 1471GT remains highly original and preserved throughout. The car's exterior paint is believed to be the coat applied by Mr. Proctor in the mid-1960's, and upon close inspection, some of the original white paint can be spotted in areas. The car's red interior is original, retaining a wonderful patina. 1471GT runs and drives, and a recent compression test showed good numbers on all twelve cylinders. Most importantly, the car still retains its original, matching numbers engine. Accompanied by an extensive history file including receipts, letters and shipping paperwork dating back to the 1960's, along with Marcel Massini's history report, 1471GT's provenance is spectacular. An owner's manual and tool roll is also included with this important Ferrari.

With motor show and celebrity ownership history, rare factory options and exceptional originality, 1471GT must be one of the most exciting examples of this legendary model available today.


Footnotes