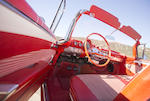 1960 CHEVROLET IMPALA CONVERTIBLE

Coachwork by Fisher
Chassis no. 01867A155463
Engine no. T0322F

348ci OHV V8 Engine
Single Four-Barrel Carburetor
320bhp at 5,600rpm
3-Speed Manual Transmission
Front Independent Suspension – Live Rear Axle
4-Wheel Drum Brakes


*Exceedingly original and extraordinarily well-preserved example
*Just 16,200 miles from new
*Maintained for decades in climate controlled showroom
*The top-of-the-line Chevrolet of its time
*1st Junior AACA Award Winner


THE CHEVROLET IMPALA

Originally applied to two-door hardtop coupe and convertible versions of Chevrolet's Bel Air in 1958, the Impala name was subsequently used in its own right to signify a top-of-the-range luxury trim level rather than a separate and distinct body style. Marketed as 'All New, All Over Again', Chevrolets were altogether more modern in appearance every year during this period; growing longer, lower and wider than the year before.

Americana at its best, the original Impala represents arguably the zenith of 1950s automotive styling when tail fins were the height of fashion in America and two-tone paintwork and extravagant chromium plating were the norm. All in all, the '60 Chevrolet is a spectacular car - big, clean and offering all the passenger and luggage space one could want - plus performance to match its sensational styling.


THE MOTORCAR OFFERED

Although barn-find cars are exciting and romantic in their rough and undisturbed state, the wholly grail in collector cars must be preserved and original cars, like the breathtaking Impala Convertible offered here. With just 16,200 miles and few devoted owners from new, this must be one of most original examples left.

Assembled at the Atlanta, Georgia-based Chevrolet plant, this top-of-the-line 1867 code 2-door 5-place Convertible was equipped with the high-output 348ci engine, and commanded the second highest sticker price of any Chevrolet when new in 1960, priced just $50 under the Impala Station Wagon. This exceptional Chevrolet has been a cornerstone of the current owner's exquisite Southern California collection for decades, and was purchased by him from the second owner who had used the car sparingly for parades and other special occasions. "It took me about 12 years to purchase this unique Chevy. I had heard about it in a Burger King restaurant in New York in the early 1980s", states the owner. "I was fascinated by the originality and how amazingly well it was preserved. I had to keep calling the guy for 12 years until he let me buy the car."

At the 1994 AACA fall meet in Hershey, Pennsylvania, the Impala earned a 1st Junior Award. The judges at the show were naturally impressed with the condition of the Impala, and very surprised when they discovered the car was in fact original and never restored. The Impala Convertible continues to impress today, and on a recent test-drive a Bonhams specialist experienced just how tight and sorted this car is - a feeling that only genuine low-mileage, original cars have. Well maintained and started and run regularly, this highly original Impala even retains the factory optioned tissue box underneath the dash - still intact with a very old box of tissues - and an oil change decal dating to 1963 is affixed to the door jamb. A true time-capsule top-of-the-line Chevrolet, this most impressive example would be a strong contender in any preservation class Concours judging, and a fine addition to any collection of Americana.