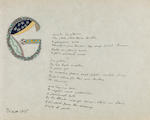 JOYCE, JAMES. 1882-1941.
Pomes Penyeach. Paris: Obelisk Press. London: Desmond Harmsworth, [September] 1932.
Oblong folio (255 x 328 mm). 31, [5] pp. On japon nacre paper. Text in facsimile of Joyce's manuscript. Tissue guards printed in green laid in for each of the poems. With 14 ornaments designed and illuminated by Lucia Joyce (one on the title-page and one for each of the 13 poems). Loose sheets as issued in original apple-green silk portfolio lettered in gilt, ribbon ties. Custom quarter morocco slipcase. Few pale foxmarks to first blank leaf, 2 leaves with slight marginal fingersoiling, small and pale corner stain to title and to one other leaf; some fading to silk portfolio; overall excellent.

COPY NUMBER ONE, SIGNED BY JAMES JOYCE, FROM A DELUXE EDITION OF ONLY 25 plus 6 hors-commerce. Pearson's census of this edition identifies the whereabouts of 15 copies, only 4 of those being in private collections. Of the surmised 6 hors-commerce copies, 3 are identified: the ones for Jack Kahane (of Obelisk Press), Sylvia Beach, and Hubert Foss (of Oxford University Press). The present exemplar, copy no 1, is not on the census. It has been in a private New York collection since the 1990s.
The production itself is exquisite. "...for a writer like Joyce who was always concerned with the physical appearance of his works, the 1932 Pomes Penyeach is an outstanding example of the integrity that can be achieved between poetry and its material presentation, between literary content and its appearance on the page ... The title page stresses the collaborative aspect of the project, as well as its handmade nature: both father and daughter's names appear, and we see the pen strokes of each in the title and design, respectively" (Domestico).
Lucia Joyce had illuminated her father's poems before and at this juncture James Joyce was very keen to provide her with meaningful work. He was laboring over the early chapters of Finnegan's Wake while she was suffering the onset of schizophrenia. Joyce convinced Jack Kahane to give Lucia Joyce a third of the net profits. When the edition proved unprofitable, he sent 1000 francs to the publisher instructing him to pay the money to Lucia without mentioning whose money it was (Ellman, p 662). See Domestico, "Pomes Penyeach" (Yale Modernism Lab, 2008). Pearson Obelisk A17; Slocum & Cahoon A27.