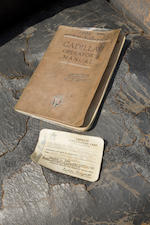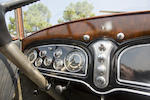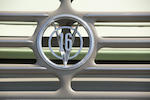 1932 Cadillac V16 452-B All Weather Phaeton
Coachwork by Fisher

Chassis no. 2458869
Engine no. 1400092

452ci OHV V16 Engine
Twin Detroit Carburetors
165bhp at 3,400rpm
3-Speed Manual Transmission
Front and Rear Leaf Spring Suspension
4-Wheel Drum Brakes

*Exceptionally original and preserved example
*One of just 13 All Weather Phaetons built by Fisher
*Just two owners from new
*Wonderful patina throughout
*A CCCA Full Classic®


The V16 Cadillac

Cadillac's development of the V16 was shrouded in the most complete secrecy yet seen in the automobile world and it was absolutely successful, a stunning accomplishment for an organization as large as General Motors and one which relied on a huge array of outside contractors and suppliers.

The new engine was sprung on an unsuspecting market in late 1929 in a flurry of announcements, dealer presentations, previews for privileged clients and public auto shows. The surprise was complete and, while competitors publicly scoffed at the V16's size and complexity, privately they marveled and quickly retired to their drawing boards where twelve cylinder engines bloomed like flowers in the spring. Only Marmon even bothered to try to emulate Cadillac's feat of creating the V16.

By adopting a relatively small 3" bore, Cadillac was able to place the cylinders close together, minimizing the engine's length and, more importantly, the length of the crankshaft. The crank ran in five main bearings and the combination of short crank length and plenty of bearings eliminated annoying harmonics. The torque of the 3" bore and 4" stroke Cadillac V16 was compatible with Cadillac's existing transmission and driveline. The V16's narrow 45° vee angle was chosen to minimize the engine's width so it would fit comfortably under the Cadillac's hood. Overhead valves with hydraulic clearance adjustment were chosen for quiet, reliable operation and for easy access to the valve train for service. The better breathing and specific power output of overhead valves was a side benefit.

With "enough" power assured and quality and silence promised, Cadillac looked for something else to distinguish its V16. It chose styling, and GM had just landed the man to provide it, Harley Earl, freshly arrived from Southern California.

Earl's talent had emerged at his father's company, Earl Coachworks, in Los Angeles. When it was bought by Don Lee, Earl's work was spotted by Cadillac President Larry P. Fisher. He had Earl design the LaSalle and following its acclaimed introduction, Earl was hired to run GM's new Art and Colour Department.

Art and Colour's singular design statement for the V16 was under the hood. Hidden from public view but very important to Cadillac in conveying the sleek, refined, subdued image of the V16's quiet, confident power, the V16 engine was as much a triumph for the stylists as it was for Cadillac engineering. Everything suggesting the minutiae of function was hidden. The spark plug wires traveled from the distributor to the plugs under covers. The valve covers, manifolds and even carburetors were monochromatic with only carefully selected details and highlights. There were no exposed oil lines. It was a sleek, modern statement of machine age design, carefully detailed and refined.

The first Cadillac V16s were enthusiastically received but soon ran into the reality of the Depression. Production ran virtually unchanged through 1931; 1932 ushered in a redesign with longer, lower bodies and freestanding headlights among other changes. Cadillac built only 300 V16s during 1932, a huge drop from the nearly 3000 built in the enthusiasm of 1930 and the reality of 1931, making the 1932 Cadillac V16s extremely rare. It was the last year for the classic flat radiator grille and open front fenders style as well, reflecting refinement of the classic look with which Harley Earl had worked for so long and with such success in Los Angeles.


The Motorcar Offered

This remarkable automobile is one of only 13 examples to have been bodied with Fisher's handsome All Weather Phaeton design, a truly classic style which provides totally enclosed coachwork as well as having a top that, when lowered, sits closely on its horizontal lines, providing a sleek and elegant profile rarely achieved by any coachbuilder. That just over a dozen of these cars were delivered most likely reflects its high price point at $5,195.

According to information supplied by automotive historian Bill Anderson, the V16 was first bodied with a Seven Passenger Sedan body and delivered to the Detroit, Michigan distribution center on May 23, 1932, however, days later on July 6, the factory received a rush order from Kruiedenier Cadillac is Des Moines, Iowa, the car was to be recovered, rebodied with as a Phaeton and shipped to them. And so, the car would have arrived with its first owner in the form in which it remains to this day. It is thought that in the early to mid 1950s the Cadillac received a light refreshing of its paint and chrome prior to its acquisition by Wilmer L. Hall of Richmond, Virginia in approximately July 1959. Mr. Hall noted his ownership on an original manual which comes with the car at this time.

Approximately a decade later it passed to the current ownership, that of a renowned East Coast collection, where it has rubbed shoulders with other high quality automobiles of the Classic Era. From close inspection today, it is clear that the car has had a simple and cherished life which has accounted for the honest and original order in which the car can be found today. The car's blue grey leather interior is for the most part the original, showing particularly well given its 80 year existence. At some point its top has been replaced, and there may have been some attention to its paintwork, but if so this has itself aged sympathetically to provide a consistency of condition throughout the car.

Offered complete with its shop manual and aforementioned operators manual and original identification card, this stunningly designed and very original Cadillac is deserving of close inspection.

A CCCA Full Classic®, this fine looking automobile offers potential for use in the multitude of events offered by this club, or indeed display in the growing number of preservation classes in Concours around the country.