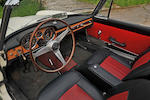 1965 FIAT-OSCA 1600S Cabriolet
Coachwork by Carrozzeria Pininfarina
Chassis no. 11 SA 023722
After WW2 the three surviving Maserati brothers founded Officine Specializzate per la Costruzione Automobili Fratelli Maserati - OSCA for short - to build limited edition competition cars. OSCA was a tiny company, never making more than 30 cars in a single year, all of which were intended for racing.

Its first offering, introduced in 1948, was the MT4 (Maserati Tipo 4), a small siluro powered by a 1,092cc overhead-camshaft engine, which was immediately successful in the hands of Luigi Villoresi. Enlarged in stages up to 1,491cc and given a twin-cam cylinder head, the OSCA engine was later taken up by FIAT, for whom it was 'productionised' by ex-Ferrari designer, Aurelio Lampredi. At the same time as its twin-cam engine was powering FIAT's range-topping sports cars, OSCA began producing its own GT cars, reversing the policy that had prompted the brothers to leave Maserati. In 1962 the engine was enlarged to 1,568cc for the otherwise virtually identical 1600S model. Power went up to 100bhp and the top speed to 175 km/h.

Combining Pinifarina styling with the Maserati brothers' twin-cam engine, this 1st-series FIAT-OSCA 1600S cabriolet has been in the same private collection for the last six years and is described as in generally good working order. The car comes with Italian libretto and affords the prospect of stylish open-top motoring in the coming summer months.

Mariant le style de Pininfarina au moteur double arbre des trois frères Maserati survivants, ce cabriolet Fiat OSCA 1600 S première série appartient à la même collection privée depuis six ans. Décrite comme étant en bon état de fonctionnement, la voiture accompagnée de son libretto italien est une promesse de plaisir de conduire cheveux au vent sous le soleil de l' été.