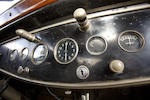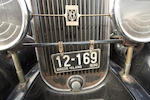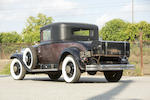 1930 Cadillac Series 353 V8 2-Passenger Coupe
Coachwork by Fleetwood
Engine no. 501725
353ci L-Head V-8 Engine
Cadillac Updraft Carburetor
95bhp at 3,000rpm
3-Speed Manual Transmission
4-Wheel Semi-Elliptical Leaf Springs and Semi-Floating Rear Axle
4-Wheel Hydraulic Drum Brakes

*Beautifully preserved example of a rare Cadillac
*Sporty Fleetwood coachwork
*Formerly resided at a Landmark Frank Lloyd Wright home
*Great CCCA touring car

The Series 353 V8

Cadillac first introduced its ground breaking V8 in 1915. Designated the Series 51, the new model set the tone for the direction of the industry. The V8 was so good that it remained relatively unchanged in the lineup until 1928, an amazing run for an industry that was changing rapidly. When the motor was finally altered for '28 the changes were subtle. The engine capacity was increased and the new Cadillacs received styling penned by Harley Earl that would define their early classic period. He imbued it with much of the European influenced flair he displayed with the LaSalle brand and each subsequent year Earl's subtle design changes would make the cars more refined and striking.

The Motorcar Offered

This 1930 Coupe is a rare bird indeed as few coupes were built in period and fewer survive today. The beautiful Fleetwood styling shines through in this elegantly proportioned car. In 1930 these Fleetwood bodies were identical to those on the V-16 chassis, so to find one that has not been switched is unusual since a large number of sporty Fleetwood V-8 bodies were cannibalized to replace the bulky formal bodies that were fitted to V-16 chassis in period.

This example survives in wonderful original condition. The paint and interior are extremely well preserved and it has a very appealing, authentic look that cannot be duplicated in a restored car. It is said to be a good running car and one that has been subject to quite a bit of recent mechanical work as well as new tires to insure it works as good as it looks.

This car has no doubt had an interesting life. While examining the file it was noticed that it was registered at 1031 Chicago Avenue in Oak Park, Illinois – the address of the famous Walter Gale House designed by none other than Frank Lloyd Wright. The house is considered a highly important work in Wright's career as it was one his first residential commissions.

A great opportunity to acquire a beautifully preserved sporty Cadillac from what many consider their finest period it is only made sweeter to know that such a special car resided at such at a land mark address.
Saleroom notices
Please note that this vehicle is titled under its engine number and its title is in transit.