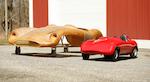 1958 Devin Junior
-One of a handful made, one of three known to exist
-Mechanical restoration by Don Breslauer
-Show quality paint and bodywork by John Van Alphen
-Concours interior by Ed Geyer
-Honda 5hp gasoline engine with electric start

The Devin Junior

In addition to his fiberglass bodies and SS cars, in 1958 Bill Devin made a handful of "gas-engine powered miniature sports cars" with the same spectacular Scaglietti styling. "Adorable" is the word. All 87 inches long on a 49 inch wheelbase and weighing 125 lbs., Devin Jr. had the lines of a Ferrari 750 Monza and a 3hp Briggs & Stratton engine capable of 25mph. Note the Scaglietti-style headrest, Fifties-style roll and pleat upholstery and totally cool style. What 9-year-old wouldn't love to drive this, then or now?

The Motorcar Offered

John and Lisa Weinberger, who own the Chicago Ferrari dealership, have a Devin Jr. painted to match their Ferrari 196 2.0-liter Testa Rossa vintage racer. Another Devin Jr. is said to be in California. The consignor spent years searching for this example, which he bought from the original owner in North Carolina, who had received it as a birthday present when a child.

It's been given a complete restoration by concours professionals and re-powered with a new 5hp, electric start Honda gas engine. It is painted Porsche Guards Red to match the consignor's Devin SS vintage racer, which has since been sold. This Devin Jr. has been an evocative display in an automotive-themed office and a successful concours participant, but will be equally at home in an upscale car collection, as a companion vehicle to a Ferrari or Devin race car or as a treasured gift to any car enthusiast, whether 9 or 90.
Footnotes