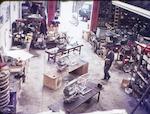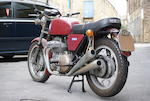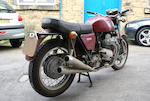 One owner from new; delivery mileage only
c.1973 Healey 1000/4
Frame no. HEA102
Engine no. HLBT101
When the BSA Group axed Ariel's entire four-stroke range in 1959, it brought an end to production of the unique 'Square Four', which had been around in various versions since late 1930. As the supply of spares dwindled, Redditch-based 'Squariel' enthusiasts the Healey brothers – George and Tim – began manufacturing parts, a venture that became a full-time business in 1967. The Healeys wanted to offer an updated Square Four as a complete motorcycle, and seeking suitable cycle parts turned to Roger Slater, who had obtained the UK manufacturing rights to Fritz Egli's spine-type frame. Metal Profiles supplied the front fork and the large drum brakes were sourced from Italy. Later versions had disc brakes and cast alloy wheels. The Healeys claimed that their new 1000/4 produced 50bhp, some ten horsepower more than the old Square Four, and weighed 80lbs less, all of which added up to a measurable improvement in performance. Hand built in small numbers, the Healey 1000/4 was expensive to make and demand for such a machine was necessarily limited. Production petered out towards the end of the 1970s. This rare Healey 1000/4 was purchased new by the vendor's late father and has remained in storage, unused, since acquisition. The odometer reading is 204 miles, which is believed to be the test mileage routinely completed prior to delivery. Ripe for restoration, the machine is offered with correspondence, Healey brochure and manufacturer's warranty document.