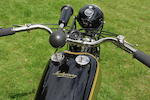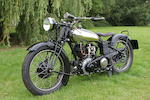 1929 Montgomery-JAP 1,000cc V-Twin
Registration no. KF 2040
Frame no. C564
Engine no. KTCY W98950
'These Montgomery machines are for the men who prefer a distinctive mount in appearance and performance. That extra degree of soundness – those little touches which distinguish the 'super' machine from the mere motor cycle, come naturally to the Montgomery and at a price that is amazingly low.' – Montgomery advertisement.

The Suffolk town of Bury St Edmunds is a long way from the British motorcycle industry's West Midlands heartland, yet this was where William J Montgomery chose to set up in business as a manufacturer in the early years of the 20th Century, although after WWI he relocated to Coventry. Like many of his contemporaries, including rivals Brough and McEvoy, Montgomery relied heavily on proprietary components, although the frame and forks were manufactured in-house. Indeed, Montgomery supplied frames and its own sprung fork to George Brough in the latter's early days. Montgomery had begun by manufacturing sidecars, and motorcycle combinations continued to be the mainstay of his business for many years.

The company diversified after WWI, extending its line-up to encompass a 147cc two-stroke at the more affordable end of the range while offering a 996cc v-twin at the other. A make that did not re-emerge after WW2, Montgomery is best remembered today for its 8-valve Anzani-engined v-twin: one of the Vintage era's first 'superbikes' and a worthy rival to the Brough Superior SS100.

This JAP-engined Montgomery was purchased in 2005 in semi-complete condition fitted with a number of incorrect parts and modifications such as a Brough fuel tank from 1937. It retains the original registration number, which was issued in the Liverpool area. The owner has found some photographs of 'KF 2040' in a repair shop (thought to be in Liverpool) in the 1980s.

The frame was stripped and sent for the alignment to be checked, though no repair was necessary. It was fitted with new bearings, etc and repainted in black, while the incorrect engine plates were replaced. The engine number prefix ('KTCY') indicates a twin-cam JAP unit as used by many makes of the day including Brough Superior, Coventry Eagle, etc. According to the engine number, this also dates from 1929. In general, the engine was in reasonable condition. A pair of new standard pistons was obtained from a supplier in Australia and a pair of cylinder liners made to accommodate them, thus enabling the engine to be returned to standard bore.

The crankshaft was sent to well-known specialists, Alpha Bearings in the Midlands, where it was overhauled with a new big-end pin and bearings, etc. The crankshaft drive has been fitted with a boss and an inter-changeable, self-aligning sprocket as fitted to a number of JAP motors, thus enabling the sprocket to be changed quickly without removing the entire unit. A test ride has revealed that the current drive ratio feels too low and that it could usefully be raised.

A Sturmey-Archer three-speed four-stud gearbox was fitted together with the gearbox mounted change lever. 'C'-section mudguards were manufactured and a new fuel/oil tank hand built. Exhaust pipes were hand made to suit the configuration and finished with a pair of coupled silencers. The correct Enfield hubs have been fitted and the wheel rims nickel-plated, while the wheels are shod with 'balloon' tyres to complete the period look.

The magdyno has been fully rebuilt and a new regulator supplied by Dave Lindsley, while the carburettor was extensively overhauled by well-known specialist Martin Bratby. The headlight is an original H52 type and both the ammeter and switch have been overhauled by specialists. All the cycle parts were treated to a professional re-paint and all brightwork re-nickel plated as was correct for the period. This work was carried out by a specialist based in Alton at a cost of over £3,000.

A rare example of one of the most famous British 'superbikes' of the 1920s, this beautifully restored Montgomery v-twin is offered with sundry restoration invoices and Swansea V5C registration document.
Saleroom notices
Please note that this machine dates from 1929, not 1924 as stated in the auction catalogue.