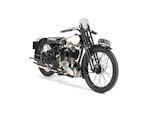 1931 Brough Superior 980cc SS80
Registration no. RT 7418
Frame no. 1075
Engine no. 50101/S
Quite what George Brough's father - Nottingham-based motorcycle manufacturer William Edward Brough - thought when his younger son cheekily added the word 'Superior' to the family name when founding his rival marque can only be imagined, but it is thanks to this act of youthful bravado that we have one of the greatest and most evocative names in motorcycling. W E Brough's machines had been innovative and well engineered, and his son's continued the family tradition but with an added ingredient: style. The very first Brough Superior of 1919 featured a saddle tank - an innovation not adopted by the rest of the British industry until 1928 - and the latter's broad-nosed, wedge-profiled outline would be a hallmark of the Nottingham-built machines from then on. Hand built in small numbers, the Brough Superior was - inevitably - expensive, but as its maker acknowledged, he 'never intended to produce (the) design as cheaply as possible.'

After the first handful of machines had been constructed in temporary premises towards the end of 1919, production shifted to what would be Brough's permanent home in Haydn Road, Nottingham where production proper commenced in 1920. J A Prestwich of London and Motosacoche of Geneva supplied v-twin engines for the MkI and MkII Brough Superiors respectively, though within a few years all models would be JAP-powered. The early MkI came with JAP's famous overhead-valve '90 bore' 986cc 50-degree v-twin engine as standard, though there was an alternative longer-stroke sidevalve version available for sidecar work. Gearboxes were sourced from Sturmey-Archer and (initially) forks from Montgomery, while frame and accessory manufacture was contracted out to specialists in the British motorcycle industry's Midlands heartland. With the arrival of the sporting SS80, the MkI, which more often than not left the factory with the sidevalve JAP installed, took on more of a touring role.

While equalling a Rolls-Royce for quality of construction and finish, in spirit the Brough Superior was more akin to the sporting Bentley. In its maker's own words, the Brough Superior was 'a type of machine designed from the experienced solo rider's point of view.' To prove the point, Brough lost no time in demonstrating his machine's capabilities in the most attention-grabbing way possible - by racing at Brooklands. Introduced in 1922, the JAP-powered SS80 (so-called because of its guaranteed 80mph top speed in road trim) achieved instant fame when a stripped-for-racing version (nicknamed 'Spit and Polish') ridden by George became the first sidevalve-engined machine to lap the Surrey track at over 100mph. Even more surprising was the fact that this landmark figure had been achieved on its maker's Brooklands debut. That particular Brough Superior SS80 - subsequently re-christened 'Old Bill' - went on to win 51 out of 52 races contested, only failing in the last when a tyre burst.

'RT 7418' started life as a sidecar outfit with Ipswich Police. The Brough Superior Club has an excellent picture of the combination, and its rider, when new (copy on file). Its accompanying copy Works Order Form records the original engine as '10925/S', and this unit is known to still exist in a Morgan.

How would you like to win a Brough Superior SS80 for only 5p? Well, in the 1970s the Brough Superior Club needed to raise funds, so member Bill Gibbard - author of the book, 'Maintaining Your Brough Superior' - donated the SS80, by now in solo trim, to the Club as a raffle prize in 1972. Bill had bought the frame from Mike Staines in the late 1960s and assembled it into a complete machine using an engine he had in stock (see letter on file). Tickets were sold for 5p each or 50p for a book of ten. 'RT 7418' was first prize, second prize was 10 gallons of oil and 5 gallons of oil was third prize. The SS80 was won by a lucky ticket-holder and shortly afterwards was sold on to Club member James Geoffrey 'Geoff' Stone of North Wootton, Norfolk who campaigned the machine for several years. 'RT 7418' is pictured in the Brough Superior Club Newsletters of January 1987, July 1988 and May 2012 (copies available).

The current owner acquired 'RT 7418' in June 2004 and the following year the machine was sent to noted Brough Superior specialist Tony Cripps for professional restoration. Starting easily and a joy to ride, 'RT 7418' is presented in generally 1st class condition and is taxed and MoT'd to June 2103. The machine is offered with Brough Superior Club correspondence; BSC raffle 'flyer'; old-style continuation logbook (issued 1965); various photographs; old/current Swansea V5/V5C documents; and a substantial quantity of expired tax discs and MoT certificates dating back to 1975.
Saleroom notices
The Engine no. is KTCY/M 50101/S