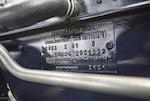 1947 Chrysler Town and Country Convertible
Chassis no. 7402722
Wood-bodied station wagons began as utility vehicles, often cataloged in the manufacturers' commercial lines. During the 1930s, however, the style developed a certain vogue, particularly as prestige manufacturers like Packard and Chrysler began offering them. In 1941, Chrysler created a sensation with the Town & Country, a stylish barrel-backed four-door wood-bodied station wagon. Based on the six-cylinder Windsor line, it came in either six- or eight-passenger form and had swing-open clamshell doors at the rear. About 2,000 were built in 1941 and '42 before automobile production was suspended for World War II.

After the war, Chrysler had designs on a vastly expanded Town & Country line, and made plans for five body styles. The sedan-wagon was eliminated, but a brochure was published for two- and four-door sedans, a three-passenger roadster, and both hardtop and soft-top convertibles. In the end, only the four-door and the soft-top made it to production. Reportedly seven prototype hardtops were built, and a single two-door; the roadsters seen on the auction circuit are latter-day replicas. Production sedans were Windsor sixes, convertibles were in the eight-cylinder New Yorker line. In 1949, only the convertible was offered, with painted panels outlined in wood; the following year brought a final hardtop as the only model. For 1951, the Town & Country name began a long run on Chrysler steel-bodied station wagons.

This Town and Country is presented in the same color in which it would have been delivered, Newport Blue a fitting and desirable livery which contrasts well with the wood and chrome trim. This is matched by its blue leather and taupe Bedford Cord interior and fawn canvas top. The car comes from a well-known Chrysler collector in the New England region who has taken great efforts to maintain it to its high standard, meticulously servicing its mechanical needs including engine bay rewiring, rebuilds of the clock and radio, as well as the gas sending unit, all of which enhance its usability.

This beautiful Woodie Town and Country drives much as it did when new and is ready for exhibition or country rides. With its classic Americana character, this car would make a fine addition to the most pedigreed collection.