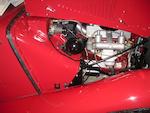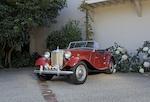 Concours condition, former prize winning
1951 MG TD
Chassis no. TD 9487
'The Midget is the survival of what, in the opinion of many people, is the right sort of small sports car. It caters for those who look upon motoring not as a means to an end, but as an end in itself. Many thousands of these little cars are succeeding admirably in providing their owners with something that will, at one moment, journey forth and do the shopping and, at the next, take part in serious competitive events or tackle a 400-mile journey with zest.' The Autocar, 15th May 1953.

The penultimate T-Series Midget, the TD appeared in 1949. A larger car than its predecessors, the TD owed much to the contemporary Y-Type saloon, using a narrowed and modified version of the latter's box-frame chassis, on which sat an all-new body roomier than before but retaining the classic looks of the traditional MG sportscar and the well-tried 1,250cc XPAG four-cylinder engine. This saloon parentage was far from a handicap, for the Y-Type was a later and more advanced design than the TC Midget, employing independent front suspension and rack-and-pinion steering. Although thoroughly traditional both in appearance and its coachbuilt method of construction, the TD body offered greatly increased 'elbow room' to its occupants when compared to that of the TC.

This exceptionally fine 'TD' was the subject of a 'frame off/nut and bolt' restoration in 2001, with a North Carolina based specialists Hinckley Restorations. Acquired by the current owner shortly after completion of the work, the rebuild has garnered praise at the number of car shows which he has exhibited the car. This included a 'best in show' at the Miami Beach Concours a few years back and display at the British Invasion in Stowe, VT, as well as regular use within the South Florida branch of the Antique Automobile Club of America.

After a nearly a decade of enjoyment, the current owner has decided to pass the car on, creating an opportunity for another like minded enthusiast to acquire, drive and show this very handsome MG.
Saleroom notices
Please note that this lot is withdrawn from the auction.