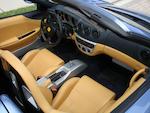 9,200 miles from new
2003 Ferrari 360 Spider
Chassis no. 3FFYT53A830134238
Ferrari's most successful model since the 308, the F355 was always going to be a hard act to follow. Clearly, in order to surpass the outstanding F355, its successor would have to break new ground rather than offer mere incremental improvements. By starting with a clean sheet of paper in designing the 360, Ferrari and its partner Pininfarina succeeded in doing just that, the new car attracting superlatives that put even its illustrious predecessor in the shade. Just about the only item carried over from the F355 was its glorious V8 engine, enlarged from 3.5 to 3.6 litres for the 360, producing 400bhp. Mounted longitudinally behind the similarly disposed engine, the 360's six-speed gearbox could be ordered with the F1-inspired paddle-operated gearchange pioneered on the F355. In every other respect the 360 was entirely new, the most striking break with Ferrari tradition being the body's frontal treatment: gone was the omnipresent oval grille, replaced by two separate intakes set low into the front wings. A larger car than the F355, the 360 owed its radical new shape to the quest for increased downforce, generating four times as much as its predecessor yet achieving the impressively low Cd of 0.33.

There was further innovation beneath the skin: a lighter, stiffer aluminum spaceframe/monocoque replacing the old tubular steel arrangement, resulting in a dry weight around 220lbs less than that of the F355. Although it was also more powerful (by 20bhp) than its predecessor, the only straight-line performance increase claimed was a marginal reduction in the 0-60mph time to 4.5 seconds, top speed being unchanged at 183mph. Nevertheless, the 360's on-the-road dynamics constituted a significant advance, its best time around Ferrari's Fiorano test track being some three seconds faster than the F355's.

Despite its prodigious performance the 360 is no mere 'racer on the road' but a thoroughly modern automobile employing state-of-the-art technology: computer-controlled variable damping; electronic drive-by-wire throttle; traction control and anti-lock brakes. Proportional power-assisted steering and a driver's airbag are other features calculated to make the car reassuringly user-friendly.

With its spaceframe structure, the 360 was intentionally designed to be offered in open form, and it wasn't long before Ferrari's 20th road going convertible could be purchased. In building the 360 Spyder much was learned from its predecessor and the rather cumbersome and not always effective top mechanism was replaced with a far more efficient and workable system.

Perfect for the Sunshine State, this open topped Ferrari literally glistens in its summery paint scheme of Azzuro California Metallic. Coding well with this is its dark blue top and specially ordered interior which features Carbon Fiber Racing Bucket seats, trimmed in businesslike tan leather. It's also loaded up with some of the best options on these cars including: front and rear challenge grills, Scuderia shields, two piece Alloy wheels shod with Potenza S-02 tires, red brake calipers and an awesome sounding Capristo exhaust system, so no one will miss you coming down the road!

With only 9,200 miles on the clock it is ready to be enjoyed having just been completely serviced by Ferrari of Fort Lauderdale, its factory air-conditioning is blowing cold and its has an unlimited mileage warranty for the next 18 months.

An absolutely immaculate and great looking open Ferrari.
Saleroom notices
Please note this car is titled under the correct chassis number, ZFFYT53A830134238.