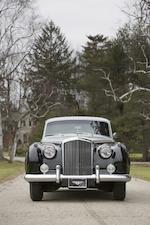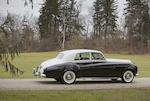 Original Beverly Hills delivery, with factory air-conditioning
1961 Bentley S2 Sedan
Chassis no. B350 LBS
In the face of increasing competition from faster rivals and the development of its aging six-cylinder engine nearing its end, Rolls-Royce turned to V8 power as the 1960s approached. The V8 was, of course, the predominant power unit in Rolls-Royce's most important export market – the USA - so it was only natural that the Crewe firm would study the best American designs, principally those of Chrysler and Cadillac, for inspiration.

Introduced in the autumn of 1959, the Rolls-Royce Silver Cloud II and Bentley S2 appeared externally unchanged from their 'Cloud and S-Type predecessors, though the duo's performance was considerably enhanced by the new 6,230cc aluminum-alloy V8 engine. Although wider and shorter than the 'six' it replaced, the new power unit fitted relatively easily within the engine bay, relocation of the steering box from inside to outside of the chassis frame being the most obvious alteration to the previous arrangements. Externally the new models appeared virtually unchanged, while beneath the skin Rolls-Royce's own four-speed automatic transmission was now the only one on offer and power steering had been standardized. Immensely successful both at home and abroad, the Silver Cloud II and Bentley S2 remained in production until the autumn of 1962. While production of the S2 reflected its popularity, the ratio of home market right hand drive cars, to export left hand drive models weighed heavily in favor of the British variants. For this reason, it is far rarer to see left hand drive cars on the market these days.

This is a very fine original left hand drive example of the model which has benefited from limited ownership throughout its fifty years. It is documented on factory records as having originally been ordered new by Shirley C. Burden of fashionable Beverly Hills, California. She requested the car arrive in Tudor Grey paintwork with a Scarlet Red interior and it is noted as receiving a whole host of extras including Sundym glass throughout, part refrigeration, electric windows, a bench type front seat, a companion in the rear center arm rest, Dunlop 'Buffalo' white wall tires and it was left ready for wiring with a Cadillac aerial. Shipped in August 1960, the car was guaranteed on January 3, 1961. Some time later the car passed into New England ownership, where it has resided for much of its life, always being well-maintained by marque specialists.

The result is that the car remains extremely straight and solid to this day. Aesthetically, it has received a repaint in Shell Grey over black, and is coachlined to match its bold interior. The latter appears to be original to the car and must have been Connollised at some point, but presents extremely well with only modest wear for its age.

A well spec'd car, with such modernity as power steering, windows and a/c, all in all it makes for a relatively modern and easy driving experience, combined with the understated elegance and hand built quality of another era.