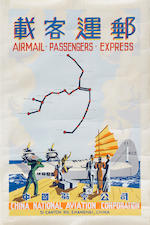 LYON, HYLAND "BUD." 1908-1973.
A large collection of photographs, correspondence, and memorabilia, much of it relating to Lyon's years in China, 1934-1941, but also including early and late material, as follows:
Box 1
Album of Lyon's early years, with photographs of him as an infant, child and young man, along with early letters to his grandmother.
Album of Lyon's Hollywood years, 1925-1934, including film stills and images of him as an auto mechanic, actor, stunt man, and pilot.
LYON'S CORRESPONDENCE FROM CHINA: 89 letters (Autograph Letters Signed and Letters Signed), approximately 250 pp, 4to and 8vo, various places in China and the Pacific, September 14, 1934 to July 21, 1940, on various letterheads including the CNAC, Nan-Hu Airfield, and several ocean liners, most to his grandmother but a few other correspondents, being a clear, detailed first-hand narrative of his years in China in the service of the CNAC, the Young Marshal, and others.
Box 2
A large collection of documents and photographs relating to CNAC, the aviation ground school at Nan-Hu Airfield, and his work post-Xi'an Incident with the Young Marshal's family. Includes correspondence and a large series of telegrams sent back and forth between Lyon, Julius Barr, James Elder, and other influential figures.
4 small metal luggage tags stamped "Marshal Chang Hsiao Liang" and individually numbered (26, 129, 172, 300).
11 Autograph Letters and Notes Signed by Edith Chao, to Mr. Lyon, along with several canceled checks also signed by her, and together with a checkbook bearing an inscription identifying it as the Young Marshal's.
Box 3
A collection of early photos relating to Lyon's childhood and film career.
Approximately 20 Autograph Letters Signed of Dee St. Claire, the showgirl Lyon followed to China, c.1935; together with a signed photograph of St. Claire.
A small accordion file with printed cards, many annotated, of Lyon's China contacts.
Typed transcriptions of Lyon's letters, likely by his grandmother Jane Hunter, housed in blue 3-ring binder.
A collection of Lyon's auto and pilot's licenses from China, etc.
A large piece of shrapnel removed from Lyon's body, 1930s.
A small address book and journal, dated March-July 1937, describing an illness and hospital stay, plus his movements about Hangkow with Elder and Julius Barr.
Box 4
Original correspondence from Jane C. Hunter, Lyon's grandmother, 1930s-1950s, covering his years in China. Over 200 letters containing much news of family and life in US, commentary on Bud's letters home.
Trunk 1
21 3-ring binders featuring Lyon's typed narrative illustrated with photographs and clippings, titled "China in the Raw" and covering the years 1935-1941, quoting heavily from his own writings as well as news sources.
Approximately 4000 frames of 35 mm film negatives housed in 9 red leatherette albums and consecutively numbered: images of Lyon's years in China.
6 red leatherette albums, oblong 8vo, each with mounted gelatin silver prints of Lyon's images, various sizes (2 x 3 inches to 5 x 7 inches), including images of city and country life in China in the 1930s, the various CNAC airplanes Lyon worked on, Chinese in formation, and atrocities committed by Japanese troops, among others.
Trunk 2
A large collection (exceeding 2000) of loose silver gelatin prints of Lyon's photos of China, most 4 x 5 inches, many with his photographer's stamp, some identified in pencil. Views of people, places, and events in China, 1935-1941.
Trunks 3-4
Lyon's personal papers from his later years, including documentation relating to patent efforts and machine shop business, personal correspondence and photographs. Together with a large collection of clippings and newspapers from his years in China.
Other items include: Lyon's CNAC pilot's blazer, 3 lithographed CNAC posters from the period, and a set of embroidered CNAC "wings"; a collection of travel labels from passenger liners and hotels throughout the far east; a collection of stamps of the period; a calligraphic wall hanging; and a canister of film featuring an early newsreel biography of the Young Marshal.

"CHINA IN THE RAW."
The sheer volume of Hyland "Bud" Lyon's written and photographic record of his years in China—along with the other memorabilia he collected—tells us that he was well aware of his unique position as a witness to history.
The photographs speak for themselves. The correspondence is equally rich: Lyon had an open and affectionate relationship with his maternal grandmother, and his letters to her are lively and detailed. In a letter dated January 2, 1935, he describes how he landed his first job in China: "on the morning of Nov. 27th, I got a telephone call from Frank Cole, who is the chief mechanic for Marshal Chang Hsueh-Liang, one of the modern Chinese heroes. Frank asked me to come out to Lunghwa aerodrome right away; said he had a job for me. Lunghwa is about 10 miles south of Shanghai proper ... when I got there I learned that the Marshal had purchased 2 airplanes in the States and they had just arrived that morning, completely disassembled and crated ... Marshal Chang's equipment ordinarily is kept at Hangchow, which is the army aviation base 100 miles inland, or Hankow, which is a smaller army post 575 miles inland, but because of the size of the crates, they decided to assemble the planes at Shanghai, and fly them upriver." Though the job for the Young Marshal was only to last a few weeks, the CNAC execs who watched Lyon work over the next few weeks quickly decided to offer him permanent work (this after having rejected him when he first applied earlier in the year).
Lyon soon found himself flying all over China, repairing CNAC's airplanes and occasionally salvaging crash scenes, all the while taking photographs and writing letters home. The presence of the Communist "bandits" and the KMT military did not escape his attention. After a tour "in the sticks" with CNAC, he was hired once again by the Young Marshal's team, soon working as a co-pilot alongside the Marshal's chief pilot and operations manager, Julius Barr.
Quickly Lyon became one of the Young Marshal's "insiders," alongside Barr, Englishman Jimmy Elder (manager of all operations for the Young Marshal), and Royal Leonard (personal pilot for Chiang Kai-shek). In late 1936 Lyon found himself assigned teaching duties at the ground school at Hankow, placed there by Elder. Somehow he and one other pilot found themselves at Xi'an on December 12, as Lyon reveals in a one-page manuscript found among his papers, dated December 15, 1936: "We are entirely surrounded by police and troops and are not allowed to leave the airfield or to touch our personal property. In fact we cannot even relieve ourselves without being accompanied...." During the period of the Xi'an Incident, Lyon and the other pilots ferried parties back and forth, and Lyon was definitely on board when Zhang Xueliang returned to the capital after the release of Chiang Kai-shek. On January 18, 1937 he wrote to his grandmother: "Things are still unsettled here, we don't know yet how they will turn out as the Northern armies and Nanking seem to be no nearer to a settlement than they were three weeks ago. I am still, for the most part playing bodyguard to Jim Elder and keeping him company as much as possible. Fortunately, Miss Chao, a very beautiful and charming girl, who is really the Marshal's second wife ... was able to get out of Sian on the 9th, and arrived here on the 11th. A very lucky break for her. The plane which brought her arrived after dark ... and Mr. Elder and I met her at the airfield and escorted her to her home ... Whenever she does have to go out, I am always called to accompany her." The same letter reports on Lyon's apparent espionage activities: keeping tabs on a gang of five Russians who frequently tail the American crew; reporting the capture of another spy, known by the alias "Pick," a mercenary who last worked for a European power who became a double agent for the Communists. From April 4, 1937: "For the past three and a half months, in fact ever since the day the revolt started (Dec. 12), Mr. Elder; Barr; Leonard; and I have been doing everything and anything possible to assist in straightening things out for the Marshal, to preserve his personal property (what we could), protect members of his family against political fanatics, etc. Each and every one of us has had a number of singularly unusual and outstanding experiences during this period of extremely varied operations.... " In fact Lyon would continue to work on behalf of the Young Marshal until 1941. He gives some details in his letters, but another rich primary source is the large collection of telegrams, many written in code, between Lyon, Barr, Elder, and other members of the inner circle.
Footnotes