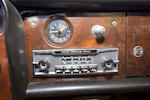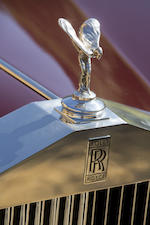 1964 Rolls Royce Silver Cloud III Drophead Coupe
Chassis no. SFU.259
Engine no. S2148
6230cc OHV V8 Engine
220bhp (estimated)
4-Speed Automatic Transmission
Independent Front Suspension - Live Rear Axle
4-Wheel Drum Brakes

*Current owner since the early 1970s
*Unrestored original condition
*Rarely seen Drophead Coupe coachwork
*A rare and desirable Silver Cloud variant
*Black leather interior


The Silver Cloud III Drophead Coupe

The Rolls Royce Silver Cloud was introduced in 1955. As the last model built on a separate chassis, custom-bodied cars could be provided for those who wanted a personalized version of Rolls Royce's most popular model. With the Silver Cloud II's release in 1959, the six-and-a-quarter liter L410 V8 was introduced to address a perceived need for greater acceleration and torque.

Debuting in 1963, the 3rd series of the Rolls Royce Silver Cloud featured revisions to its interior and engine as well as a reduction in weight. Carburetors were upgraded from 1 ¾-inch to 2-inch units, and the compression ratio was raised to 9:1. This resulted in a minor increase in power, and to address the problem of breaking crankshafts in the 2nd series, the crankshaft in the 3rd series was nitride hardened. The 1964 Silver Clouds further benefitted from wider front seats.

Formed from a 1961 merger of the Rolls Royce-owned coach builders H.J. Mulliner and Park Ward, Mulliner Park Ward was Rolls Royce's division responsible for bespoke bodies. One of the most notable models they produced were the Fixed Head Coupe and Drophead Coupe, built from 1964 to 1966. They are known for their angled headlights at the front of an avant-garde body, and as they were meant for owner-drivers, the dashboard received a more contemporary look.


The Motorcar Offered

One of only 328 specially coachbuilt Silver Cloud III models, and roughly 100 Mulliner Park Ward drophead coupes, SFU.259 was dispatched to dealer H.R. Owen Ltd. on May 15, 1964. It featured a power operated roof with cover, Dunlop white-wall tires, luggage straps, electric windows on both doors, and a Hirschmann electric antenna. It also benefitted from Continental springing and tailpipe, as well as a heavy gauge frame.

Originally delivered in Rouge Irisé over off-white leather, it has been refinished in more restrained burgundy over black leather, with the latest respray in 2003. The current ownership dates back to the early 1970s. Coming out of long-term private ownership, this coachbuilt Silver Cloud III Drophead Coupe represents the absolute pinnacle of British luxury motoring in the mid-1960s.
Saleroom notices
Please note that some time during the 1960s, this Silver Cloud III was converted to left-hand-drive. This statement appears in the hard copy Quail Lodge Auction catalog but did not appear online. Please note that the title for this vehicle is in transit.