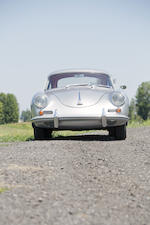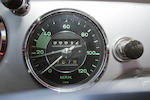 1961 Porsche 356B 1600 Super Coupe
Chassis no. 117474
Engine no. 085561
1,582cc OHV Flat 4-Cylinder Engine
Dual Solex Carburetors
75bhp at 5,000rpm
4-Speed Manual Transaxle
4-Wheel Independent Suspension
4-Wheel Drum Brakes

*Matching numbers example
*Desirable Super specification
*Longtime Pacific Northwest car
*High quality restoration by Tom Black's Garage
*Great choice for tours and rallies


The Porsche 356B

Porsche's Type 356, introduced in 1948, is acknowledged to be one of the world's great sports cars. Over a 15-year production run, the handsome and durable 356 evolved from a streamlined little aluminum-bodied coupe powered by a VW-derived, 46hp 1100cc air-cooled flat four to a powerful autobahn burner carrying a complex, two-liter four-cam boxer Carrera engine of 130 horsepower. Its steady development brought not only coupes, but luxurious cabriolets and more spartan Speedsters and roadsters, more than 76,000 examples in all by the time production ceased in 1965.

The 356B, produced from 1960 through 1963, represents the mid-point in this design's progression. In what is known as "T5" form, the B introduced new front and rear sheet-metal, while retaining the curved front trunk lid and rounded fenders of the 356A series. The B also added some features demanded by American customers, such as raised front and rear bumpers with over-riders to better protect the body from parking mishaps. The headlamps were raised, a larger hood handle added, and front vent windows appeared in the doors. Mechanically, the gearbox and drum brakes were upgraded. A new steering wheel and column refreshed the interior, along with redesigned rear seats.


The Motorcar Offered

This very attractive, matching numbers 356B 1600 Super Coupe is believed to have been sold new in the Northwest, and spent its entire life in that area. It is known to have enjoyed long-term ownership by the late Todd Webb, a Porsche expert and well-known amateur racing driver, and was placed into secure storage until 1999, when Webb's estate offered it for sale.

It was acquired by a Portland enthusiast who entrusted it to Tom Black's Garage for a two-year, bare-metal cosmetic restoration that was completed in 2005. The body was resprayed in its original Silver Metallic. The window frames were re-chromed; new body seals, body decos, and new bumper guards were sourced. New red leather and correct square-weave carpeting were installed by Guy's Interiors in Portland, known for its Pebble Beach-quality upholstery work. 356 specialist Heckmann and Thiemann Motors performed a complete engine overhaul in 2006. The transaxle and drum brakes were also rebuilt. The original AM radio was replaced with a slightly newer but period-correct Blaupunkt AM/FM radio. With total mileage reported to be under 100,000, this very attractive little 356 coupe is described by the consignor as being in excellent condition and a highly enjoyable driver.

More than half of all the 356s built are believed to survive, and this classic model enjoys a strong support community around the world. Well-restored examples are always in great demand. This 356B coupe would be a perfect starting point on which to base a Porsche collection, or serve as a fast and comfortable ride for vintage rallies and club events. It is supplied with a correct tool kit and jack, all restoration and service receipts from 1999 forward, and a collection of 356 literature accrued during the consignor's ownership. A Certificate of Authenticity has been applied for. A fine classic Porsche that is eminently usable still today, this attractive 356B merits close inspection.
Footnotes