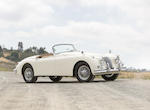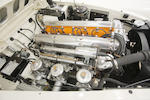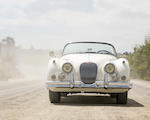 1959 Jaguar XK150S 3.4-Liter Roadster
Chassis no. T831474DN
Engine no. VS1456-9
3,442cc DOHC Inline 6-Cylinder Engine
3 SU Carburetors
250bhp at 5,500rpm
5-Speed Manual Transmission
Front Independent Suspension – Live Rear Axle
4-wheel Disc Brakes

*Comprehensive restoration by Classic Showcase
*Sensibly upgraded for long-distance touring
*Matching numbers original engine
*Jaguar Heritage Certificate included
*Genuine high-performance 'S' model


The Jaguar XK150S

The ultimate expression of Jaguar's fabulous 'XK' series of sports cars arrived in 1957. The XK150 was a progressive development of the XK120 and XK140, retaining the same basic chassis, 3.4-liter engine and four-speed Moss transmission of its predecessors. It benefited from a new, wider body that provided increased interior space and improved visibility, courtesy of a single-piece wrap-around windscreen that replaced the XK140's divided screen. Cleverly, the new body used many XK120/140 pressings, the increased width being achieved by means of a 4"-wide central fillet. A higher front wing line and broader radiator grille were other obvious differences, but the new model's main talking point was its Dunlop disc brakes. Fade following repeated stops from high speed had been noted on the earlier, drum-braked cars, but now the XK had stopping power to match its prodigious straight-line speed.

The XK150 was available at first only in fixed and drophead coupé forms; the open roadster version didn't appear until the following year. At 190bhp, the engine's maximum power output was identical to that of the XK140, so performance was little changed. 'Special Equipment' and 'S' versions came with 210 and 250bhp respectively, the latter delivering an astonishing 0-60mph time of 7.3 seconds and a top speed of 136mph. This was achieved by the introduction of the Weslake-developed 'straight-port' cylinder head, high-compression pistons, triple 2" SU carburetors and twin electric fuel pumps. The car regularly recorded in excess of 130mph in magazine road tests. 'The Jaguar XK150 is undeniably one of the world's fastest and safest cars. It is quiet and exceptionally refined mechanically, docile and comfortable... we do not know of any more outstanding example of value for money,' declared The Autocar.


The Motorcar Offered

This left-hand-drive XK150S is confirmed by its Heritage Certificate to have been dispatched on October 14th, 1958 to Jaguar Cars New York. It was finished in cream with red upholstery and a black top before purchase by its first owner, Mario Riedmann of Alkali Lake, British Columbia.

Retaining its original matching numbers engine, the Jaguar has benefited from a comprehensive nut and bolt restoration by Classic Showcase, the result being an ideal mix of a car that can be enjoyed on the road as well as shown at Concours events.

During this restoration the car was stripped to bare metal in preparation for primer, sealer, paint, base, clear coat, and finally, color sanded and buffed for a superb finish. The engine was rebuilt to factory specifications, while an upgraded 5-speed transmission was fitted for long-distance touring. The clutch system and hydraulic systems were restored, and a new wiring loom was fitted. The radiator and gas tank have both been replaced, while the suspension components and rear end have been restored. Brightwork was replated and the door glass was replaced. A new properly tailored upholstery and top were fitted, and today the car gleams in Old English White over a Biscuit interior. This entire process was documented on a DVD that accompanies the car. The 150S models are some of the most highly prized Jaguars of the 1950s, renowned for their excellent driving attributes and great looks; here is a great example for the owner looking to experience a 150 as Sir William Lyons intended.