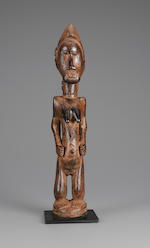 Baule Female Figure, Ivory Coast
Wood
height 18 3/4in (47.6cm)

Provenance:
Harry A. Franklin Gallery, Beverly Hills
Brian Leyden, New York, acquired from the above in 1978
Private Collection, New York, acquired from the above

This finely carved stylized female figure has an exceptional and highly abstract face with individualized facial features including the right eye raised above the left, a T-shaped straight nose, rectangular open mouth, and a square prognathous chin. Her finely carved, high vertical crest coiffure has different elements on each side. Her head rests on a slightly buckled cylindrical neck which rests on squared shoulders. Her back is slightly swayed and a gently bulging stomach below pendulous breasts. The hips and legs are carved in the round with bent knees above flat feet carved in low relief with ankles and toes indicated. Her arms are comfortably bent at the elbows with her hands gently resting on her stomach. This woman of importance is adorned with raised scarifications on her cheeks, chin, neck, shoulders, back and stomach. The overall encrusted patina together with burnished patina on the nose and breasts from cultural handling and caring indicate this is a work most likely carved in the 19th century or earlier.