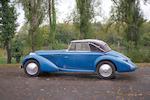 L'une des 51 modèles T150C produites
1938 Talbot Lago T150C 'Lago Spéciale' cabriolet
Chassis no. 90039
Au moment de la liquidation de l'ensemble Sunbeam-Talbot-Darracq, en 1935, le major A. F. "Tony" Lago racheta l'usine Darracq de Suresnes et y continua la production, vendant les voitures sous le nom de Darracq au Royaume-Uni et de Talbot en France. La marque redynamisée était engagée à la fois en endurance et en Grand Prix, et en 1937 remporta le Grand prix de France et le Tourist Trophy. Dès lors, s'engagea un combat sans fin contre les voitures allemandes et italiennes soutenues par des fonds publics. Il y eut néanmoins de bons résultats dans l'immédiat après-guerre, comprenant trois victoires en Grand Prix du champion français Louis Rosier, et au moment de l'entrée en guerre, en 1939, Tony Lago avait réussi à hisser la marque parmi les meilleures en Europe.

Les première Lago reprenaient le châssis à entretoises en X à suspension avant indépendante, mais avec un trio de moteurs six cylindres conçus par Walter Becchia, un 2, 7 litres 15 CV, un 3 litres 17 CV et un 4 litres 23 CV, ce dernier avec chambres de combustion hémisphériques et soupapes en tête inclinées, à commande croisée. La boîte pré-sélective Wilson était montée sur les modèles les plus gros. La dernière routière d'avant-guerre de la marque, la 4 litres T150C, était proposée sur deux empattements, 2, 65 m, comme les voitures de compétition d'usine les T150 C SS, et 2, 95 m pour le roadster sport Lago Spéciale à la mécanique identique. Malgré leur plus grande longueur, pour recevoir des carrosseries plus habitables, ces dernières ne pesaient que 130 kg de plus que la version courte et étaient souvent engagée en compétition par leur propriétaire. La puissance variait de 140 ch sur les versions client à 155 ch sur les voitures d'usine.

Le modèle fut reconduit en 1946, sous le nom de Record, avec des freins hydrauliques, une boîte Wilson et une version 4, 5 litres de 170 ch du classique moteur longue course à tiges croisées. Pour la compétition, il y avait la Grand Sport sur châssis court avec un moteur de 190 ch, ce modèle servant de base à la voiture de Rosier qui gagna les 24 Heures du Mans 1950 et à la monoplace de Grand Prix.

À conduite à droite, comme toutes les voitures de luxe françaises d'avant-guerre, cette Lago Spéciale est l'une des 51 T150C produite (y compris les versions SS). Ce cabriolet d'usine, châssis n ° 90039, fit partie à différents moments des collections de Peter Mullin et William Marriot, en Californie du sud pendant de nombreuses années, profitant d'un climat sec. On nous signale que le moteur original a été remplacé par un moteur à soupapes en tête (à chambres non hémisphériques) Talbot-Lago. Inclus dans la vente, le moteur original à chambres hémisphériques est complet avec ses liaisons, son couvre-culasse et tous ses collecteurs. Le moteur est associé à une boîte pré-sélective Wilson à quatre rapports.

Quelques-unes de plus belles 150C furent carrossées par Figoni & Falaschi, mais la plupart, comme celle-ci, reçurent une carrosserie d'usine. 90039 est remarquable par sa coque de radiateur aérodynamique, sa grille verticale et son aileron sur le coffre, des traits particuliers à cette voiture, partagés avec les carrosseries Figoni & Falaschi, considérées comme l'expression ultime de ce modèle. Connu pour n'avoir jamais été accidentée et dépourvu de rouille, le châssis a été récemment rénové professionnellement, sinon la voiture n'a pas été restaurée. Les documents comprennent un titre de circulation américain. On nous signale que la voiture a acquitté ses taxes pour la Suisse (mais pas pour l'union européenne).

Il est rare de pouvoir acquérir une Talbot-Lago, donnant à ce projet de restauration fondamentalement sain un intérêt tout particulier pour le collectionneur averti. Vendu dans l'état, il représente une excellente opportunité d'acquérir une sportive d'avant-guerre rapide et compétitive, appartenant à l'une des marques européennes les plus prestigieuses et éligible pour la plupart des courses historiques les plus prestigieuses.

One of a mere 51 models of T150Cs produced
1938 Talbot Lago T150C 'Lago Speciale' Cabriolet
Chassis no. 90039

On the dissolution of the Sunbeam-Talbot-Darracq combine in 1935, Major A F 'Tony' Lago bought the Darracq factory at Suresnes and continued production, selling his cars as Darracqs in the UK and Talbots in France. The revitalised marque embraced both sports car and Grand Prix racing, and in 1937 achieved victories in the French Grand Prix and the Tourist Trophy; from then onwards it was an uphill struggle against the state-subsidised might of the German and Italian opposition. There were, however, many notable successes in the immediate post-war years, including three Grand Prix wins for French Champion Louis Rosier, and by the coming of war in 1939 Tony Lago had succeeded in creating a marque ranked alongside the very best in Europe.

The first Lago-built cars retained the existing X-braced, independently front suspended chassis but were powered by a trio of new six-cylinder engines designed by Walter Becchia: 2.7-litre 15CV, 3.0-litre 17CV and 4.0-litre 23CV, the latter featuring inclined overhead valves set in hemispherical combustion chambers and opened by crossed pushrods. Wilson pre-selector transmission was retained on the larger models. The marque's ultimate pre-war road car, the 4.0-litre T150C, was available in two different chassis lengths: 2.65m as used for the factory's T150C 'SS' competition cars and 2.95m for the mechanically identical 'Lago Speciale' sports roadster. Despite its greater length, necessary to accommodate more opulent coachwork, the latter weighed a mere 130kg (59lbs) more than the former and was often raced by its owners. Power outputs varied between the 140bhp available to customers and the 155bhp attained by the works team.

The model was revived in 1946 as the Record, now sporting hydraulic brakes, Wilson pre-selector gearbox and a 170bhp, 4.5-litre version of the classic long-stroke, cross-pushrod engine. For serious competition work there was the short-wheelbase Grand Sport, with 190bhp engine, and it was this model which formed the basis of the Rosiers' 1950 Le Mans winner as well as the monoposto Grand Prix car.

Right-hand drive, like all quality French sports cars of the pre-war era, this Lago Speciale is one of 51 T150Cs produced (including the SS version). A factory-bodied cabriolet, chassis number '90039' previously formed part of the private collections belonging to Peter Mullin and William Marriot, and resided in southern California for many decades, benefiting from the dry climate. We are advised that the original engine has been replaced with an overhead-valve (non-hemispherical) Talbot Lago unit. Included in the sale, the original 'hemi' cylinder head is complete and comes with linkages, valve cover and all manifolds. The engine is coupled to a four-speed Wilson pre-selector gearbox.

Some of the best-known 150Cs were bodied by Figoni & Falaschi but most, like this example, had factory bodywork. '90039' is noteworthy for its streamlined radiator shell, vertical grille and the fin down the boot: features unique to this particular car and similar to those of Figoni & Falschi, which are regarded as the model's ultimate expression. Reportedly undamaged and rust free, the chassis was professionally refurbished recently but otherwise the car is un-restored. Accompanying documentation consists of a USA Certificate of Title. We are advised that the car is tax paid in Switzerland (but not in the EU).

Talbot Lago T150Cs rarely come to market, making this fundamentally sound restoration project of particular interest to discerning collectors. Sold strictly as viewed, it represents an excellent opportunity to acquire a potentially fast and competitive pre-war sports car belonging to one of Europe's premier marques and eligible for the most prestigious historic race series.

Saleroom notices
Le deuxième paragraphe devrait se lire: «Les premières voitures Lago construites ont conservé l'existant, châssis avant en X suspendu indépendamment, mais ont été alimentées par un trio de nouveaux moteurs six cylindres conçus par Walter Becchia: 2,7 litres 15CV, 3,0 litres de 17CV et de 4,0 litres 23CV ; ce dernier, lorsqu'il est installé dans la T150C, Lago Spécial et Lago SS, avec des soupapes en tête inclinées définies dans les chambres de combustion hémisphériques et ouvert par poussoirs croisés », et non comme indiqué dans le catalogue. The second paragraph should read: 'The first Lago-built cars retained the existing X-braced, independently front suspended chassis but were powered by a trio of new six-cylinder engines designed by Walter Becchia: 2.7-litre 15CV, 3.0-litre 17CV and 4.0-litre 23CV; the latter, when installed in the T150C, Lago Special and Lago SS, featuring inclined overhead valves set in hemispherical combustion chambers and opened by crossed pushrods,' and not as printed in the catalogue.