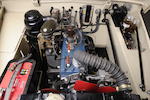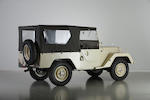 1957 Minerva C22 'Tout Terrain' 4x4
Chassis no. 10/002
Ne disposant pas des ressources nécessaires pour produire un nouveau modèle après la Seconde Guerre mondiale, Minerva s'engagea dans une série de partenariats avec les constructeurs britanniques, assembla la berline Standard Vanguard sous licence et finit par conclure un accord avec Rover pour l'assemblage des Land Rover destinées à l'Armée belge.

Les Land Rover de 80 pouces d'empattement étaient fournies sous forme de lots d'organes mécaniques « CKD » (totalement démontés) que Minerva carrossait en acier en fonction des spécifications de l'Armée belge. Les Land Rover britanniques étaient carrossées en aluminium et il existait bien d'autres différences de style entre les versions belges et britanniques. La production concerna aussi les modèles « 86 pouces » introduits en 1954, mais le contrat conclu entre les deux firmes se termina en 1956. À cette date, Minerva qui produisait aussi une version civile de la Land Rover dut développer son propre 4x4 après la rupture avec Rover.

Ce type – la « Tout Terrain » - fut produit sur châssis court C20 (empattement 2,05 m) ou long C22 (2,20 m) les versions militaires étant les M20/M22. Solution assez inhabituelle, la caisse était monocoque et elle était totalement détachable de l'ensemble moteur-transmission-suspension avant porté par un sous-châssis séparé. Le moteur était un Continental 2,3 litres et il existait une version Diesel. Très peu de C20/C22 furent produites – certaine sources indiquent moins de 100 et seulement trois C22 – et les survivantes sont rares. Cette C22 en magnifique état est proposée avec ses papiers belges et un catalogue d'usine.

1957 Minerva C22 'Tout Terrain' 4x4
Chassis no. 10/002

Lacking the resources to produce a new car of its own after WW2, Minerva engaged in a series of collaborations with British manufacturers, assembling the Standard Vanguard saloon under license and then concluding a deal with Rover for the assembly of Land Rovers for the Belgian Army.

The 80"-wheelbase Land Rovers were supplied as 'CKD' (Completely Knocked Down) kits of running gear, which Minerva then bodied in steel to meet the Belgian Army's requirements. British-built Land Rovers had aluminium bodies and there were numerous stylistic differences between the British and Belgian versions. Production switched to the 86" model when that was introduced in 1954, but in mid-1956 the contract between the two companies was terminated. By this time Minerva was also producing a civilian version of the Land Rover but was forced to develop a 4x4 of its own following the break with Rover.

This was the 'Tout Terrain', which was made as the short chassis C20 (wheelbase 2.05m) and long chassis C22 (2.20m), the military versions being the M20/M22. Somewhat unusually, the body was of monocoque construction and could be detached in its entirety from the engine/gearbox/front suspension assembly, which was carried on a separate sub-frame. The engine was a 2.3-litre Continental and there was also a diesel option. Very few C20/C22s were made - some sources say fewer than 100 with a mere three C22s - and survivors are very rare. This magnificent condition C22 is offered with Belgian registration papers and factory brochure.