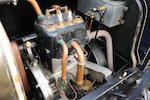 Autrefois dans la collection Sullivan à Hawaii
1911 Delahaye Type 48 Open Drive Opera Coupé
Engine no. 5432
Fondée à Tours en 1894 par Émile Delahaye, qui construisait depuis le début des années 1880 des moteurs thermiques stationnaires et pour les bateaux, la marque qui portait son nom acquit rapidement une excellente réputation pour sa fiabilité et son originalité de conception. Contrairement à la plupart de ses concurrents, Delahaye fabriquait lui-même ses moteurs.

Cette bicylindre Delahaye est mentionnée dans le registre du Veteran Car Club of Great Britain comme datant de 1911 et était parfaitement connue de cette organisation à l'époque où elle portait l'immatriculation britannique SL 10. Ces voitures bicylindres étaient très appréciées pour les trajets urbains, avec leur châssis agile sur lequel on montait généralement des carrosseries légères. Il est difficile de savoir si cette voiture a fait ses débuts sous cette forme ou si elle a reçu ce traitement plus tard au cours de sa carrière. Quoi qu'il en soit, sa carrosserie rappelle les créations du début du XXe siècle et offre un habitacle confortable et bien équipé pour voyager.

À l'instar de l'une des deux Detroit de cette vente, il semblerait que cette voiture ait également passé un moment dans la collection Sullivan à Hawaï et soit revenue en Grande-Bretagne dans les années 1990, lorsque ce lot de voitures a été dispersées sous le marteau de Malcolm Barber, et qu'elle fut acheté par Charles H. Brown. Au cours de ces 22 années, la Delahaye n'a pas été beaucoup utilisée, sa seule apparition remarquée eut lieu au concours d'élégance Louis Vuitton au Hurlingham Club de Londres en 1997. Dans son état actuel, la peinture est un peu fatiguée, mais ses garnitures intérieures sont encore assez fraîches. À notre connaissance, elle n'a pas roulé depuis un certain nombre d'années et nous recommandons vivement une révision générale avant de la remettre sur la route. Une fois remise en route, elle fera une bonne concurrente dans les manifestations d'ancêtres et sera éligible pour les rallyes britanniques du Veteran Car Club pour mono et bi-cylindres.

Ex-Sullivan Collection, Hawaii
1911 Delahaye Type 48 Open Drive Opera Coupé
Chassis No. 5432

Founded in Tours in 1894 by Emile Delahaye, who had been building internal combustion engines for boats and stationary applications since the early 1880s, the marque bearing his name quickly established a reputation for reliability and originality of design. Unlike the vast majority of their contemporaries, Delahaye always made their own power units.

This twin cylinder Delahaye is listed by the Veteran Car Club of Great Britain in their handbook as dating from 1911 and was clearly known to this organisation at one time, being formerly registered under the British number 'SL 10'. Such twin cylinder cars were popular for town use, providing a nimble chassis, upon which lighter weight formal carriages were common. This particular car may well have started life in this guise or have been configured later on in its life as such, it is not easy to discern this. All the same, its coachwork which resembles a turn of the century carriage, provides a commodious and well appointed compartment in which to travel.

Like one of the Detroit Electrics, it seems that this car had also spent some time in the Sullivan Collection in Hawaii and returned to the UK in 1990, at the dispersal sale of this group of cars held under the gavel of Malcolm Barber, it was acquired by Charles H. Brown at that auction. Over the course of the last 22 years the Delahaye saw limited use, its only noted exhibition being at the Louis Vuitton Classic Concours d'Elegance at London's Hurlingham Club in 1997. As it stands today the car's external cosmetics show some age, although its upholstery remains in tidy order, but to our knowledge it has not been run for a number of years and we therefore recommend it be re-commissioned before being returned to the road. Once active again, it would provide an attractive and interesting entry for the local events of the Teuf Teuf Club and would also be eligible for the 'Singles and Twins' Rallies of the Veteran Car Club in the U.K.
Footnotes